This gluten free butter cookie recipe turns out perfect icebox or spritz (cookie press) cookies every time. They hold their shape and can be as simple or as fancy as you like!
How to make gluten free butter cookie dough
I've always made this butter cookie dough by dumping all of the ingredients (dry first, then wet) in a food processor and processing it until it's smooth. Using a food processor ensures that the dough is completely uniform in color and texture.
If you don't have a food processor or simply don't want to use your food processor because you hate cleaning it like I do, you can make the cookie dough by hand (well, in a bowl). Just be sure that the butter is at soft room temperature.
If you press on the butter with your finger, it should leave an indentation but the butter should not be leaking liquid at all. Simply gather the dough together by squeezing it in your hand a bit, and then placing it in plastic and kneading it until it's smooth.
Tips and tricks for using a cookie press to make gf butter cookies
If you're making spritz cookies, use the dough immediately after making it, without chilling the dough at all. To use a cookie press of any kind, your dough must be at room temperature so that it is able to travel through the press and out of the disk at the end without crumbling. It must also stick to the baking sheet, which it will as long as your baking sheet itself is not warm or greasy, and is not nonstick.
I have a cookie press made by Kuhn Rikon, and it was well-priced and serviceable. But it doesn't seem to be available anymore without a more expensive set. If I were going to make a purchase today, I'd go with the OXO Good Grips Cookie Press (affiliate link; feel free to shop around!).
If your cookie dough is the right consistency (which it will be if you use this recipe, and follow the instructions carefully), the cookie press should work properly and without a problem. About 95% of the time, I have absolutely no problems making spritz cookies in my cookie press. So why do I dream of sneaking up on it, and choking it to death with my bare hands? Because of that 5% of the time when it just won't cooperate.
Open the chamber of your press by lifting on the plunger and placing your butter cookie dough inside. Choose a disk (I like the simple flower shape the best), place it in the end of the press, place them both on the end of the chamber, and turn it to seal.
Once the press is closed, press the lever until you're certain that the dough is all the way at the end of the chamber, right by the extrusion disk. Then, place the press upright onto an ungreased baking sheet. If the dough isn't sticky, or the baking sheet isn't clean, the dough will not stick to the sheet.
Click just once on the lever per cookie, wait a moment to ensure that the shape is sticking to the baking sheet, and lift the press straight up into the air. The dough will stick to the baking sheet, not fall from it like it would if you were using a piping bag.
How to make icebox butter cookies
If you're put off by the whole cookie press business, do not make yourself crazy. Just make this recipe as icebox cookies.
Make the dough, place it on a piece of unbleached parchment paper, shape it into a cylinder, square the edges, and chill the dough completely. Then simply slice into 1/4-inch thick cross-sections and bake.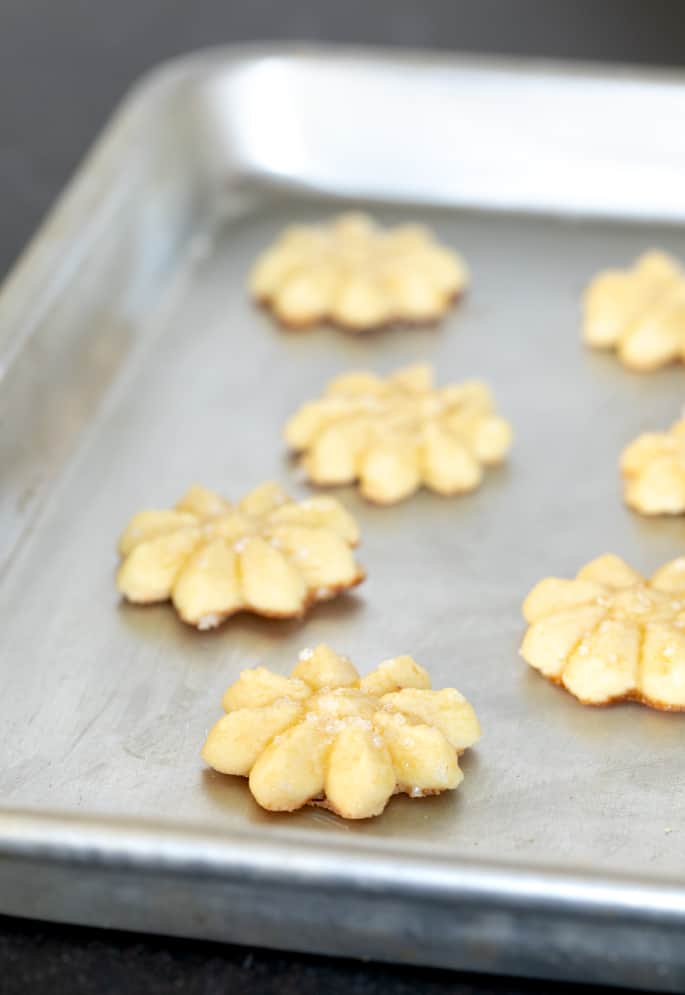 The egg white wash and coarse sugar coating
Butter cookies aren't very sweet, and their buttery goodness just melts in your mouth. Since they're a bit plain, though, I like them best when they have a coating of coarse sugar on top.
What coarse sugar to use
I've found that the best way to get the sugar to adhere to the cookies is to brush them with an egg white before sprinkling the coarse sugar. My favorite gluten free coarse sugar is made by Chef's Select and I used to purchase it on Amazon.
I'm afraid it's no longer available, and I'm having some trouble finding it. This appears to be the same brand, but I'm afraid I don't know anything about the seller. I can't recommend Wilton or CK brands, because I don't feel comfortable that they're allergen-friendly enough.
When I run out of Chef's Select, I'm expecting that I'll be able to find it again somewhere. If not, I'll just use Sugar in the Raw. Its only sin is not being clear white in color. ?
Be careful brushing with egg wash
When you brush spritz cookies with egg wash, the cookies may stick to the unlined baking sheet after they've been baked. The egg white wash tends to act like a glue to keep the sugar in place, but also to adhere the cookie to the baking sheet.
You can skip the egg white wash on spritz cookies, and just use lukewarm water instead to help the coarse sugar crystals stick to the raw cookies. If you do use the egg white wash with the spritz cookies, just allow the cookies to cool for 5 minutes (no more!) and run a edge of a small offset spatula or knife under the cookies to pry them from the baking sheet. Then, allow the cookies to finish cooling completely.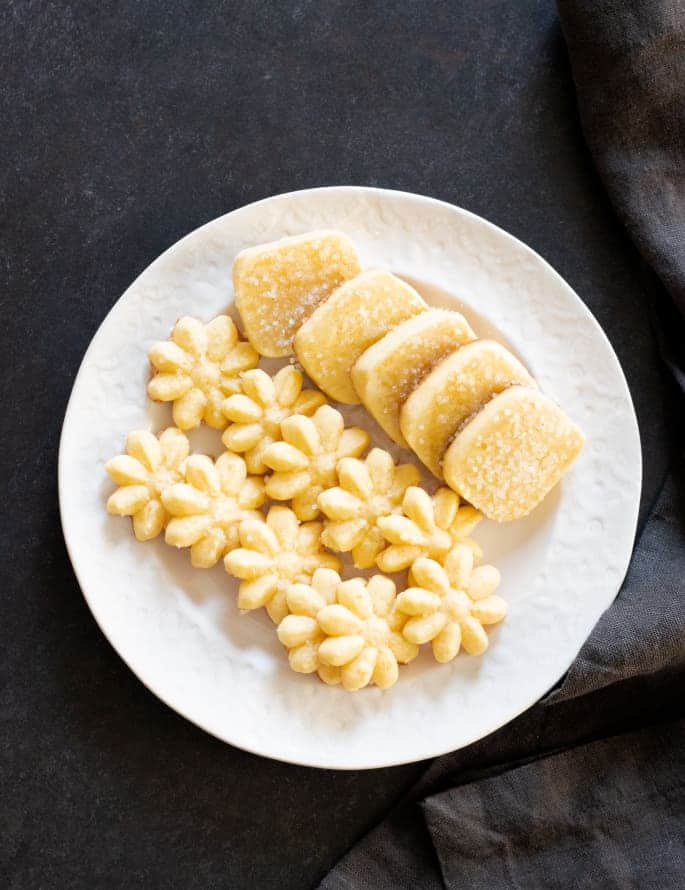 Ingredients and substitutions
Dairy-free: Since these are butter cookies, it's tough to make them without butter, but I think it's worth a try. My favorite butter replacements in general are Melt brand or Miyoko's Kitchen brand vegan butter.
If you can't find either one of those, try using half (56 g) Earth Balance buttery sticks and half (56 g) Spectrum brand non hydrogenated vegetable shortening. That mix helps to approximate the flavor and moisture balance of real butter.
Eggs: There are 3 egg yolks in this recipe, and I'm honestly not sure how to replace them. You can try using coconut cream in their place, gram for gram. But I'm afraid I've never tried anything like that, so you'll have to experiment.
You can either leave off the egg white wash and coarse sugar coating, or try using water in to help the sugar crystals stick.
Flavorings: In place of vanilla extract, I really like using almond extract in its place (but use a little less, since almond extract is much stronger in flavor). You could also try another flavoring oil, but be careful not to add too much or you'll overpower that lovely buttery flavor.