Moist and tender gluten free gingerbread cake, perfectly spiced and ready for the holidays or any time at all. Make this easy snack cake in one bowl!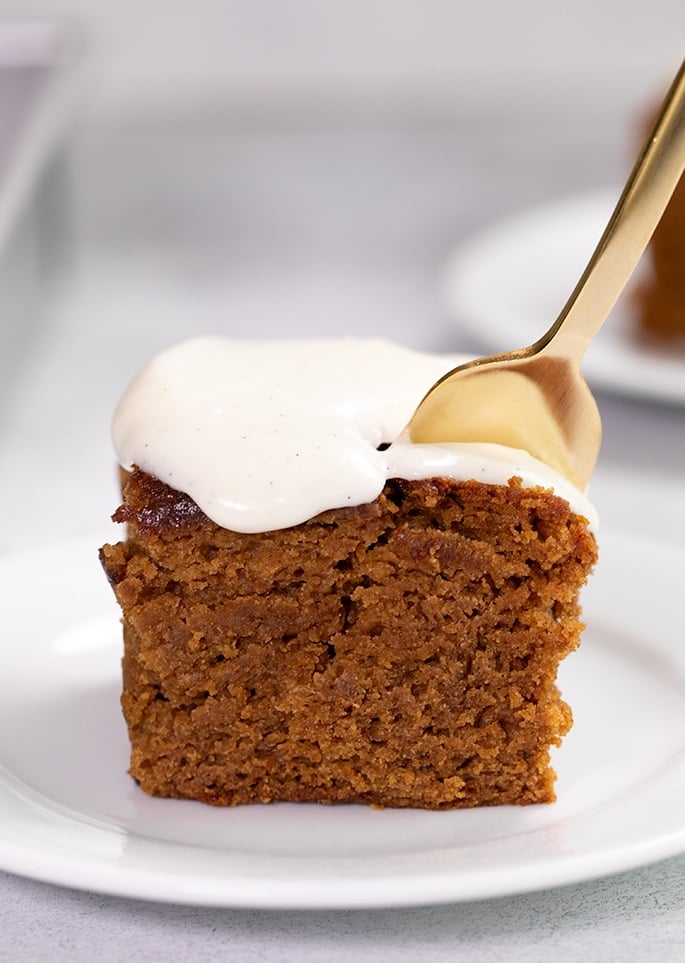 Why this simple gluten free gingerbread cake recipe is the best
I first developed the recipe for this gluten free gingerbread cake way, way back in 2011. All these years later, the recipe still works exactly as written. I'm usually a hopeless tinkerer, but this cake is undeniable, just as it is.
If you look at the list of ingredients, at first glance it might seem a bit long. But this is one of those dump-'em-in one after the other recipes, with the batter made in one large bowl. You don't even have to mix the wet ingredients together with the dry until everything has been added.
The recipe calls for 2 full teaspoons of each ground cinnamon and ground ginger. But the spices are perfectly balanced with honey, maple syrup, and molasses.
The batter is quite thick, and relatively sticky from all the liquid sugars. A moistened spatula is all it takes to spread it into an even layer in a lined baking pan.
An 8-inch square pan makes a very thick cake, which I really love. But it does take longer to bake. If the center jiggles at all, the cake most definitely is not done.
You may find you have to continue baking past the 40-minute mark until a cake tester comes out with no more than a few moist crumbs attached. If you're the impatient type, you can bake the cake in a 9-inch square pan, and it should be done in about 35 minutes.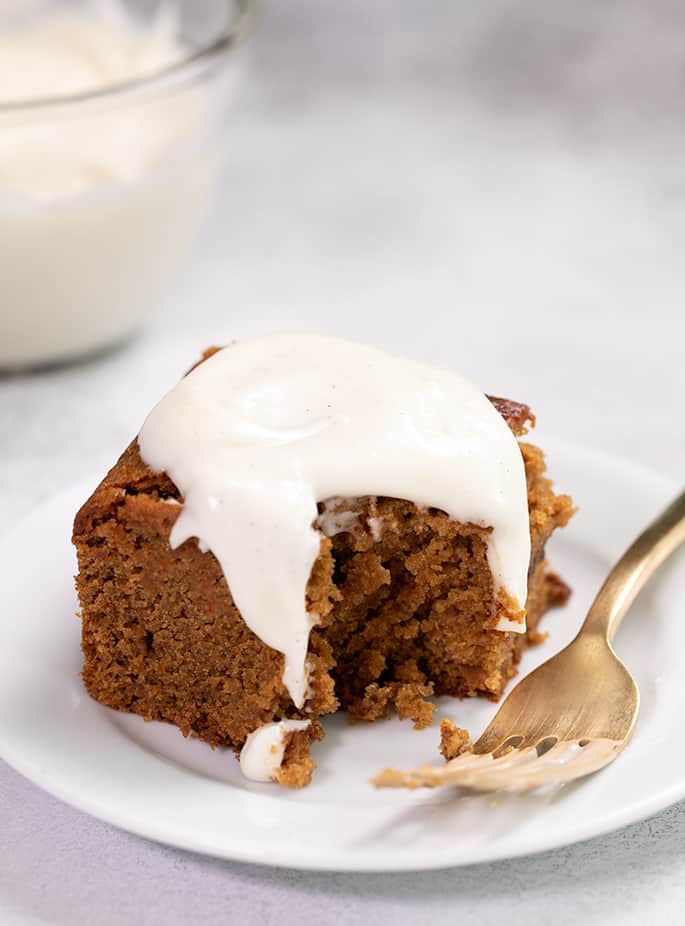 How to make the rich cream cheese glaze
This recipe includes a sub-recipe for a cream cheese glaze, which is what you see on the slice above. It's not cream cheese frosting, which is like buttercream but with cream cheese in place of some butter.
This is a rich confectioners' sugar glaze. The glaze is made by adding a bit of cream cheese to confectioners' sugar, then thinning it with some water (or you could use milk) until you reach the proper consistency.
You want the glaze to be thickly pourable. If you make it thick enough, you can easily spread it, too. I like to serve it with each slice, rather than adding it to the top of the cake when it's whole.
If you look closely, you'll also find some tiny flecks in the glaze. That's some vanilla bean seeds that I added, but it's mostly because they look gorgeous in photos—especially with a bright white glaze that tends to look too white.
Does this gluten free gingerbread cake freeze well?
Well, it freezes successfully, but it's not really my favorite cake to make ahead of time and freeze for later use. The crumb is so moist it's almost sticky, for lack of a better word.
Because of that crumb, it's the type of cake that sticks to your fingers if you touch the top once it's cool. You know the kind?
Because of that amazing texture, I find that it's very hard to wrap tightly and freeze without damaging the cake. If you were to cool the cake completely, then wrap it to freeze it, even the best plastic wrap is likely to stick to the cake when you remove it.
But if appearances don't matter that much to you, or you know that you plan to slather the cake with the cream cheese glaze, then freezing it is fine. The taste will be spot-on.
Gluten free gingerbread cake: ingredient substitution suggestions
Gluten free dairy free gingerbread cake
If you can't have dairy, try vegan butter in place of butter in the cake batter. My favorite brands are Melt and Miyoko's Kitchen.
I also think that virgin coconut oil, the kind that's solid at room temperature, would work, although the taste may suffer a bit. Do not replace the butter with a neutral oil. You do need the extra 2 tablespoons of oil, but you should not make the cake with 8 more tablespoons of oil in place of butter.
In place of dairy in the glaze, you can use a simple sugar glaze, or use your favorite non-dairy cream cheese. I personally do not have a favorite nondairy cream cheese, since I have never tried one that actually captures the lovely slightly-tangy, rich and creamy essence of cream cheese.
Gluten free egg free gingerbread cake
There's only 1 egg in the whole, generously sized cake. You can probably replace it with a "chia egg" (1 tablespoon ground white chia seeds + 1 tablespoon lukewarm water, mixed and allowed to gel) would most likely work well.
Can you replace any of the sugars in this gluten free cake recipe?
I do not recommend attempting to make this cake with sugar alternatives. There are way too many sugars, and sugar is not only a sweetener. Sugar also provides bulk, and tenderizing to baked goods.
There are so many types of sugar in this cake, and yes, they're all essential to total recipe success. They're all well-balanced, and produce not only the right texture, but the right balance of flavors.
Molasses has a similar consistency to honey, but the flavor is very different. You can replace the molasses with honey, if you're willing to sacrifice taste. You should not replace the honey with more molasses, since the taste will be overpowering.
Pure maple syrup has much more liquid in it than molasses or honey, and a more mild, subtle taste. You cannot replace it with either molasses or honey without adding a bit more water. I'm afraid I do not know how much, so I can't offer any guidance. It would take trial and error.
Brown sugar is nothing more than refined granulated sugar with some molasses added. You might be able to use all granulated sugar in place of the combination of granulated and light brown sugar, and add a bit more molasses. I would add 1 teaspoon unsulphured molasses.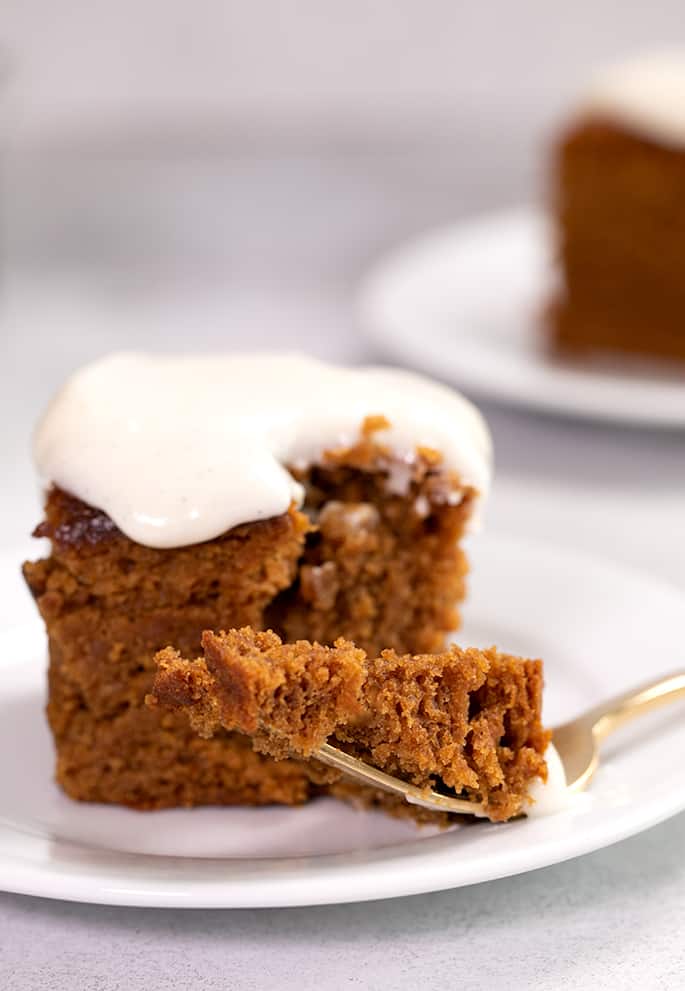 How to make gluten free gingerbread cake, step by step
Perfectly Spiced Gluten Free Gingerbread Cake
The most tender gluten free gingerbread cake you've ever had, with all the right warm winter spices and plenty of molasses, maple syrup, and honey. It's your new favorite snack cake!
Ingredients
For the cake
2 ½

cups

(

350

g

) all purpose gluten free flour blend

(I used Better Batter; please click thru for appropriate blends)

1 ¼

teaspoons

xanthan gum

omit if your blend already contains it

1 ½

teaspoons

baking soda

½

teaspoon

baking powder

½

teaspoon

kosher salt

2

teaspoons

ground cinnamon

2

teaspoons

ground ginger

½

cup

(

100

g

)

granulated sugar

½

cup

(

109

g

)

packed light brown sugar

2

tablespoons

(

42

g

)

unsulphured molasses

6

tablespoons

(

126

g

)

pure maple syrup

4

tablespoons

(

84

g

)

honey

8

tablespoons

(

112

g

)

unsalted butter

melted and cooled

1

(

50

g (weighed out of shell)

)

egg

at room temperature, beaten

1

cup

(

8

fluid ounces

)

warm water

2

tablespoons

(

28

g

)

neutral oil

(vegetable, canola, grapeseed, etc.)
For the cream cheese glaze
1

cup

(

115

g

)

confectioners' sugar

2

ounces

cream cheese

at room temperature

¼

teaspoon

lukewarm water

plus more by the drop
Instructions
Make the cake.
Preheat your oven to 350°F. Grease and line an 8-inch square baking pan and set it aside.

In a large bowl, place the flour, xanthan gum, baking soda, baking powder, salt, cinnamon, ginger, and granulated sugar. Whisk to combine well.

Add the brown sugar and mix to combine, breaking up any lumps.

Create a well in the center of the dry ingredients and add the molasses, maple syrup, honey, butter, egg, water, and oil, and mix to combine well. The batter will be thick.

Pour the batter into the prepared pan, and smooth the top with a moistened spatula.

Place the pan in the center of the preheated oven. Bake until a toothpick inserted in the center comes out with, at most, a few moist crumbs attached (40 to 50 minutes).

Remove the pan from the oven and allow to cool in pan for 10 minutes before transferring to a wire rack to cool completely.
Make the glaze.
While the cake is cooling, make the cream cheese glaze. In a small bowl, place the confectioners' sugar, cream cheese, and 1/4 teaspoon of lukewarm water.

Mix until a very thick paste forms. Add more water by the drop, mixing to combine well after each addition, until you have a thickly pourable glaze.

When the cake is cool, slice into squares and serve with a dollop of cream cheese glaze.
Notes
Originally posted on the blog in 2011 (!). Recipe unchanged, photos and video new, text mostly new.