Light, flaky and extra tender, this recipe for gluten free cream cheese buttermilk biscuits is the foolproof formula for soft biscuits you've been looking for.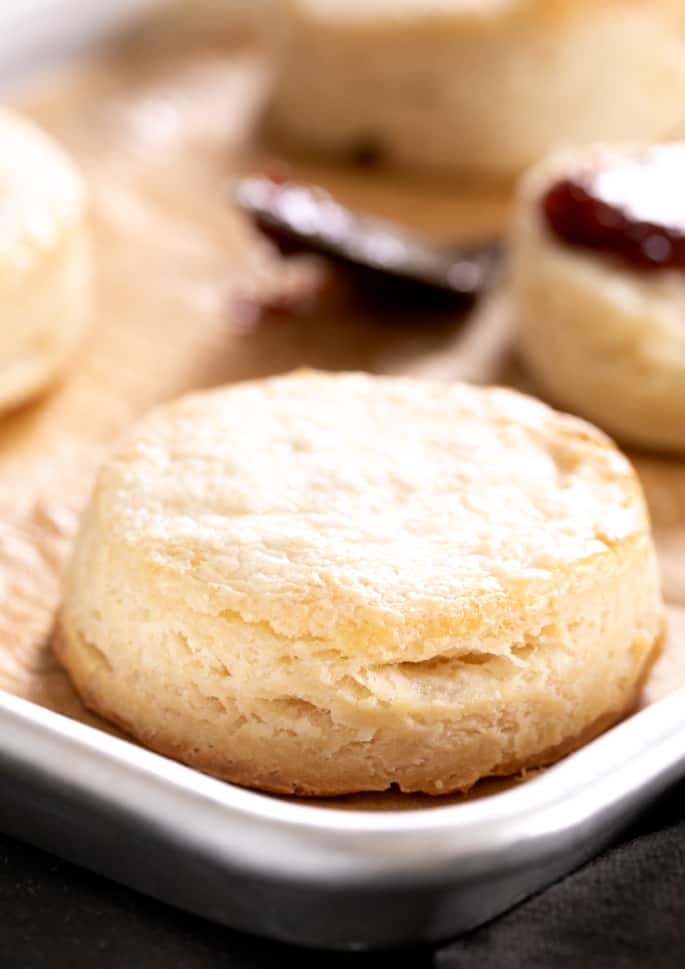 How are cream cheese biscuits different?
Cream cheese buttermilk biscuits are, of course, similar to traditional flaky all-butter biscuits. Both types of biscuits are beautifully layered and flaky. But cream cheese biscuits are the impossibly tender biscuit you maybe didn't even know you wanted.
The ingredients in butter biscuits and cream cheese biscuits are largely the same (flour, chemical leaveners, salt, butter, and buttermilk). Plus, in both types of biscuits, all of the ingredients must be kept cold so that the fats expand in the heat of the oven and create the flaky layers we love.
But when you add cream cheese to the mixture, it creates a tenderness inside each flaky layer that is hard to describe. Plus, the lightly tangy flavor from the mixture of butter, buttermilk, and cream cheese will have you hooked at the first bite.
How to make sure your biscuits are tender, not tough
Since traditional buttermilk biscuits are made with chemical leaveners (baking powder and baking soda), not yeast, it's rare that biscuits simply don't rise at all in the oven—assuming your leaveners are fresh. If you've had trouble in the past with baking biscuits, the, it's most likely been a problem with texture.
When conventional, gluten-containing baked goods are tough when they're meant to be tender, it's usually a result of having overworked the dough, which overdevelops the gluten. But even though we're using gluten free flours, our baked goods can still end up tough instead of tender.
The most common reasons for tough biscuits are: overworking the dough (yes, that's still an issue with gluten free flours!), over measuring the flours (be sure to bake by weight, not volume), using the wrong flours which are gritty and unbalanced, or using too much flour in shaping the dough.
Of course, if you want the easiest biscuits ever, you can try our gluten free drop biscuits. They're not flaky like these layered biscuits, but they're ready in minutes with almost no handling at all.
Can you freeze these biscuits?
Yes! All of my gluten free biscuit recipes can be frozen, it's just a matter of when you freeze them. These cream cheese buttermilk biscuits can be frozen raw, after they're shaped and before the tops are brushed with milk.
Just freeze them fully on the baking sheet, and pile them into a freezer-safe container until you're ready to bake them—then brush and bake from frozen. You'll have to add a few minutes to the baking time, but it'll be less added time than you think.
You can also freeze these biscuits after they're baked and cooled. Keep in mind that it's even more important to wrap each individual biscuit very tightly in a freezer-safe wrap. They're more likely to take on freezer burn after they're baked and cooled than when they're frozen raw.
Ingredients and substitutions
Dairy-free: Making cream cheese buttermilk biscuits without dairy is a tall order, but good news! I think it's possible. In place of the butter, I recommend using half (4 tablespoons) Earth Balance buttery sticks and half (4 tablespoons) Spectrum nonhydrogenated vegetable shortening. Both fats should be chilled, but you can't chill the shortening too much or it will become rock solid.
In place of the cream cheese, if you have a favorite nondairy cream cheese alternative, try using that. You may have to use less moisture (from the buttermilk; more on that in a moment) since nondairy cream cheese tends to be softer.
In place of buttermilk, try using plain nondairy yogurt for half of the volume and unsweetened nondairy milk for the other half. Add the liquid slowly, though, since your buttermilk may be thinner than the original.
Corn-free: In place of cornstarch, you can try using arrowroot powder. Potato starch is also a pretty good substitute for cornstarch, although it's even lighter.
Sugar-free: Just leave out the granulated sugar, and you'll have a sugar-free biscuit. It just helps round out the flavor of the biscuits, but it's not necessary for structure or even tenderness of the biscuits.