When I asked my 9 year-old daughter, whose hands you see above, to hold this bowl of gluten free chicken and dumplings for a photo the other week, she couldn't believe that I hadn't yet posted this recipe on the blog. "You've already made it so many times, Mom." She's right. I've really been getting into a groove with the slow cooker—enough that I'm thinking maybe I should add a "slow cooker" recipe category.* So even though we've already made easy gluten free chicken and dumplings using my recipe for gluten free cream of chicken soup, I couldn't help trying to see if I could make it even easier in the slow cooker. And for me, a slow cooker recipe just isn't right if it calls for all sorts of stovetop prep ahead of time. At that point, I'd rather just make the whole thing on the stovetop, you know?
Well, judging from how many times I've made this for my family (nearly a dozen over as many weeks), you can surely guess that it works perfectly in the slow cooker. And (bonus!) it makes perfect use once again of those gluten free biscuits from GFOAS Bakes Bread (or from the blog!) that I always have chilling in my kitchen.
*Update: I added that Gluten Free Slow Cooker Recipe category! What in the world was I waiting for?!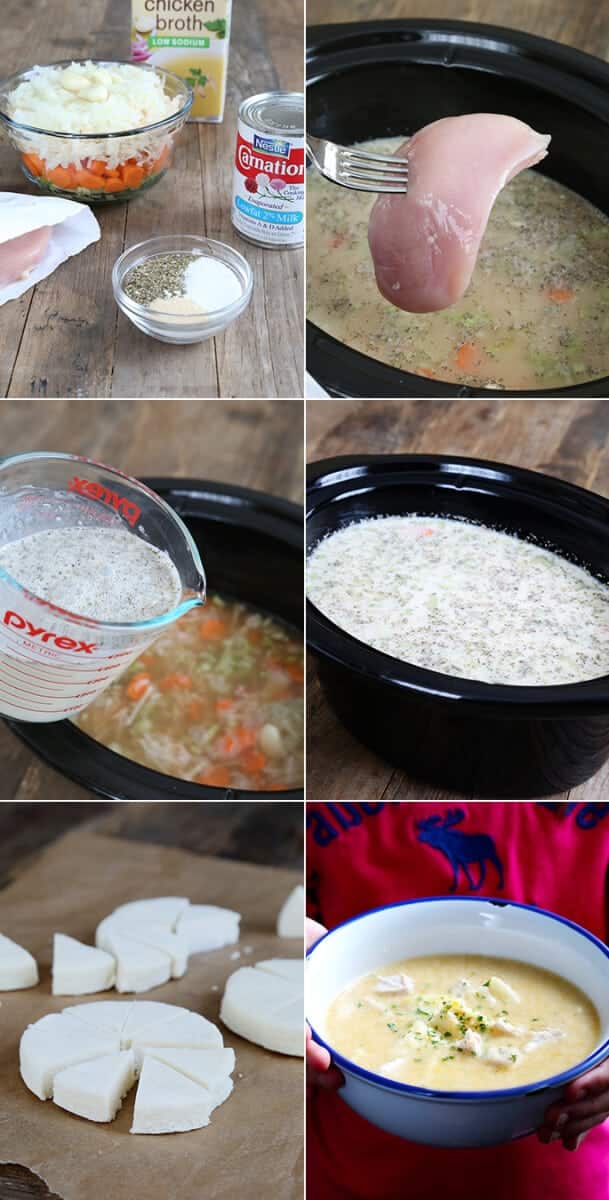 I like to puree the soup after it's finished cooking as not all of the members of my family enjoy staring directly at their vegetables while they eat them. They love the taste of the soup, but especially for my cooked-vegetable-hating 12-year-old, they enjoy it that  much more when it's pureed.
But if you don't have an immersion blender and simply don't want to complicate an otherwise perfectly and deliciously trouble-free dinner by blending hot liquid in a regular blender, skip that step. But whatever you do…
Don't skip the biscuits! The dumplings cook perfectly in the soup when you remove the cooked chicken, turn the slow cooker to high and add them at the end.
Mine pretty consistently cook in about 30 minutes, but if your slow cooker runs a bit cooler (one of mine runs a bit on the hot side) it could take closer to 45 minutes or an hour. And dinner is served. You just can't beat cooking in the crockpot.
Oh, and if you're looking for a spicier chicken dish that you can still make in the slow cooker, this slow cooker butter chicken from Jacqui at Dishing Delish looks amazing!
Slow Cooker Gluten Free Chicken and Dumplings
Ingredients
1 recipe gluten free biscuits (I used the Extra Flaky Buttermilk Biscuits from page 227 of GFOAS Bakes Bread, but the Gluten Free Biscuits from the blog would work just fine, too—try using buttermilk in place of milk or cream), chilled
2 tablespoons (28 g) extra virgin olive oil
4 cups (32 fluid ounces) chicken stock
3 cups (24 fluid ounces) milk
1 1/2 cups peeled and chopped carrots (from about 4 medium carrots)
1/2 cup chopped celery (from about 2 medium stalks)
1 medium onion, peeled and grated
1 1/2 cups (9 ounces) peeled and shredded russet potatoes
4 cloves garlic, peeled and crushed
3/4 teaspoon kosher salt
1/4 teaspoon freshly ground black pepper
1/2 teaspoon garlic powder
1 1/2 pounds boneless skinless chicken breasts
1 12-ounce can evaporated milk
5 tablespoons (45 g) basic gum-free gluten free flour blend (or an equal amount superfine sweet white rice flour)
2 teaspoons herbs de Provence (or substitute 1 teaspoon dried rosemary + 1/2 teaspoon dried thyme + 1/4 teaspoon dried basil + 1/4 teaspoon dried parsley)
Instructions
Using a sharp knife, slice each chilled biscuit round into 8 wedges. Place the wedges on a baking sheet and place in the freezer while the soup cooks.

Grease the liner of a 6-quart slow cooker with the olive oil. Add the chicken stock, milk, carrots, celery, onion, potatoes, garlic, salt, pepper and garlic powder, and mix to combine. Add the chicken breasts, and stir to separate the breasts from one another. Into a measuring cup with at least a 2-cup capacity (or another similarly-sized container with a pour spout), pour the evaporated milk. Add the flour blend and whisk until the flour is fully dissolved and the mixture is smooth. Add the herbs de Provence, and whisk again to combine. Pour the evaporated milk mixture into the slow cooker liner, and mix to combine.

Cover the slow cooker and set to low. Allow to cook for 5 to 6 hours, or until the chicken is cooked all the way through and the vegetables are very tender. Remove the chicken from the slow cooker and, while it still warm, shred it with two forks. Cover the chicken and set it aside. Using an immersion blender, puree the rest of the ingredients in the slow cooker (alternatively, you can blend the mixture in a blender, taking care not to overfill the blender as you'll be blending hot liquids, or simply leave the ingredients whole).

Turn the slow cooker to "high" and add the frozen biscuit wedges to the soup. Mix gently to combine. Cover the slow cooker and allow to cook until the biscuits are cooked through (between 30 minutes and 1 hour on "high," depending upon your slow cooker). Serve the soup immediately, and top each bowl with an equal amount of the shredded chicken.