Almond-flavored Paleo quick bread, made with dried cherries and covered in a chocolate glaze. Baked in a special way to ensure that it never, ever burns but still bakes to perfection!
This Paleo quick bread is a bit of an achievement. As I find my footing with Paleo recipes, I'm finding that what I really miss in Paleo baked goods more than anything is for the outside to have a different texture than the inside.
If it's bread, it should be crusty on the outside (like these Paleo rolls). And if it's quick bread, it should have something of a crust on the outside, too, but it shouldn't burn. And almond flour has a tendency to burn.
We need to make sure that the almond flour doesn't burn before the quick bread bakes all the way through. That can be a struggle with almond flour baking recipes.
That's why the instructions in this recipe call for baking the loaf farther away from the oven's heat source, on the top rack. They also call for keeping a simmering pan of water on the bottom rack.
I even tried baking this Paleo quick bread in a water bath. It just took foreeeeeeever to bake and I ran out of patience. but my family ate it anyway because there was no way I was going to throw out all that almond flour!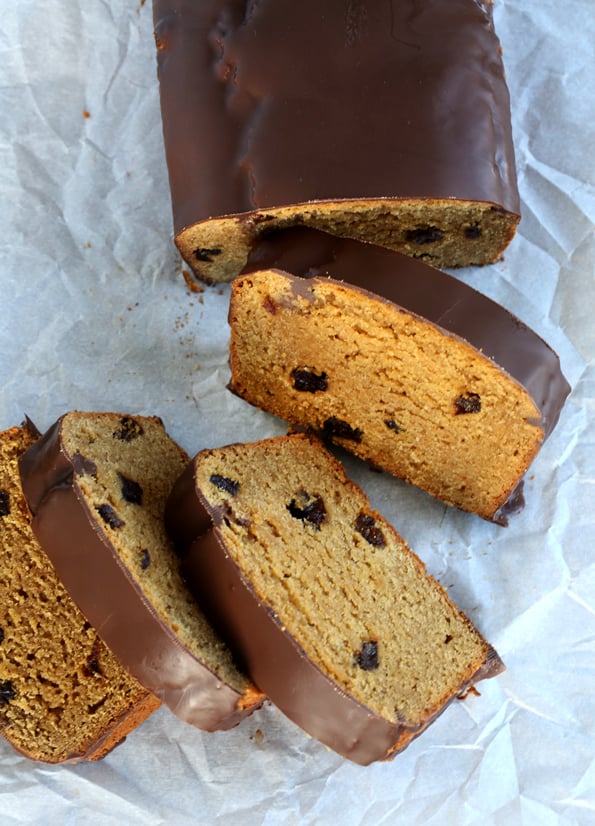 This Paleo quick bread really holds its own. The almond flavor is prominent, for sure. If you don't want to use the almond extract because it's not 1000% Paleo-legal, just leave it out.
The loaf itself is moist but not wet like almond-flour breads can be. The cherries and the chocolate glaze really balance everything out beautifully.