Almond-flavored Paleo quick bread, made with dried cherries and covered in a chocolate glaze. Baked in a special way to ensure that it never, ever burns but still bakes to perfection!
This Paleo quick bread is a bit of an achievement. As I find my footing with Paleo recipes, I'm finding that what I really miss in Paleo baked goods more than anything is for the outside to have a different texture than the inside.
If it's bread, it should be crusty on the outside (like these Paleo rolls). And if it's quick bread, it should have something of a crust on the outside, too, but it shouldn't burn. And almond flour has a tendency to burn.
We need to make sure that the almond flour doesn't burn before the quick bread bakes all the way through. That can be a struggle with almond flour baking recipes.
That's why the instructions in this recipe call for baking the loaf farther away from the oven's heat source, on the top rack. They also call for keeping a simmering pan of water on the bottom rack.
I even tried baking this Paleo quick bread in a water bath. It just took foreeeeeeever to bake and I ran out of patience. but my family ate it anyway because there was no way I was going to throw out all that almond flour!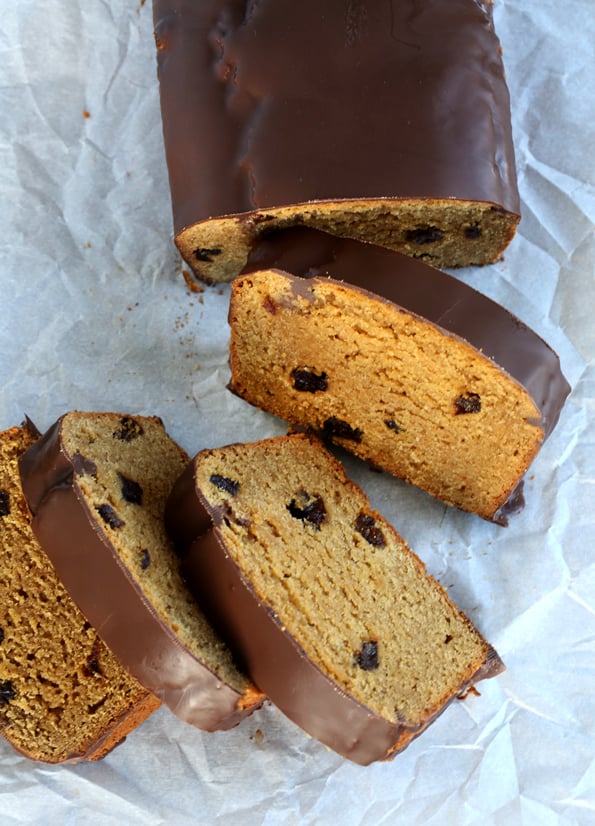 This Paleo quick bread really holds its own. The almond flavor is prominent, for sure. If you don't want to use the almond extract because it's not 1000% Paleo-legal, just leave it out.
The loaf itself is moist but not wet like almond-flour breads can be. The cherries and the chocolate glaze really balance everything out beautifully.
Chocolate Glazed Cherry Almond Paleo Quick Bread
Yield:
1 loaf Paleo quickbread
Ingredients
3 cups (336 g) blanched almond flour (I recommend only using Honeyville or nuts.com brand)
3 tablespoons (24 g) coconut flour
7 tablespoons (63 g) tapioca starch/flour (I recommend only using Authentic Foods or nuts.com brand)
1/2 teaspoon baking soda
1 1/2 teaspoons Paleo baking powder*
3/4 cup (120 g) coconut palm sugar, processed into a fine powder
1/2 teaspoon kosher salt
3 ounces tart dried cherries, roughly chopped
5 tablespoons (70 g) virgin coconut oil, melted and cooled
1/3 cup (2.6 fluid ounces) unsweetened almond or coconut milk
3 eggs (180 g, out of shell) at room temperature, beaten
2 teaspoons pure almond extract (optional)
3 ounces dark chocolate, chopped
*To make your own Paleo baking powder, combine 1 part baking soda + 2 parts cream of tartar + 1/2 part arrowroot or tapioca starch/flour.
Instructions
Preheat your oven to 325°F. Grease a standard 9-inch x 5-inch loaf pan and set it aside. Place another loaf pan on a rack in the lowest position in your oven, and carefully fill it 3/4 of the way full with warm tap water, and close the oven door.

In a large bowl, place the almond flour, coconut flour, tapioca starch/flour, baking soda, baking powder, coconut palm sugar and salt, and whisk to combine well. Remove about 1 tablespoon of the dry ingredients, place in a small bowl with the dried cherries and toss to coat. Set the cherries aside.

Create a well in the center of the dry ingredients, and add 4 tablespoons (56 g) of the coconut oil, the milk, eggs and almond extract, mixing vigorously to combine well after each addition.The mixture will be relatively thick. Add the dried cherries and reserved dry ingredients, and mix until the cherries are evenly distributed throughout the batter. Scrape the batter into the prepared pan and smooth into an even layer with a wet spatula. Place the pan on a rack in the top third of your oven, and bake until firm to the touch and a toothpick inserted in the center comes out mostly clean (with a few moist crumbs attached, but not wet like there is any remaining wet batter in the pan), about 1 hour.

Remove the loaf from the oven and place the pan on a wire rack to cool for 10 minutes before turning the loaf out onto the wire rack to cool completely. While the loaf is cooling, make the glaze. Combine the chopped chocolate and the remaining 1 tablespoon (14 g) virgin coconut oil in a small, microwave-safe bowl and melt on 60% power in the microwave in 30-second bursts, stirring until smooth. Allow the glaze to cool at room temperature until it begins to thicken before pouring over the top of the cooled loaf of quickbread. Allow the glaze to set before slicing and serving.