Gluten free cheesecake brownies are the perfect mix of rich chocolate brownies and creamy cheesecake baked together easily in a muffin tin.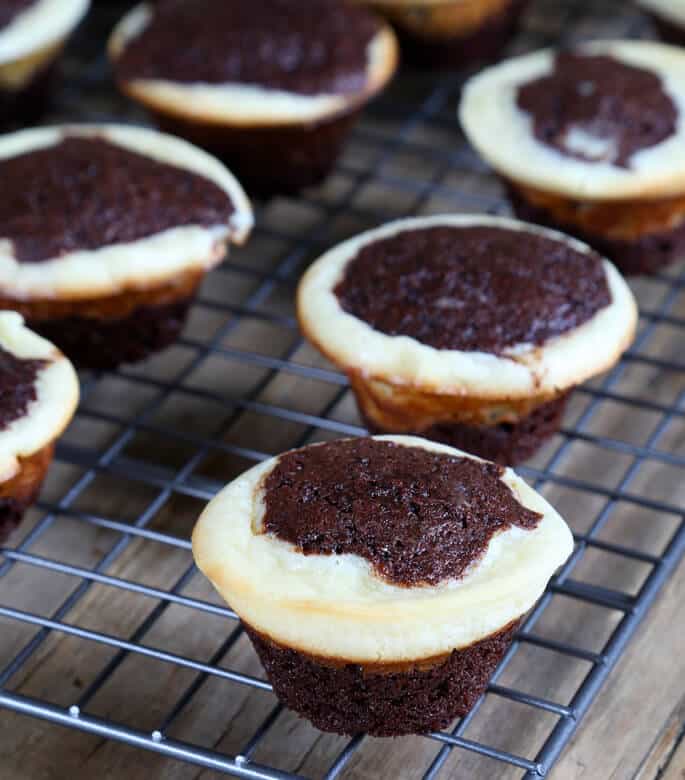 Believe me when I tell you that I've tried really really hard to bake a classic cheesecake without a crust in either a muffin tin or an actual cookie. I've failed spectacularly, but I am determined to keep trying. These gluten free cheesecake brownies are an excellent consolation prize.
Here, we use a rich and fudgy chocolate brownie as the perfect sturdy base. Then, pour a classic cheesecake filling on top of each brownie base.
The cheesecake bakes just enough as the brownie batter sets, but not too much. I would never offer you overbaked cheesecake. That would be almost criminal.
Plus, cheesecake with brownies are a lot like Reese's Peanut Butter Cups. Two great tastes that taste great together.
Two bite cheesecake brownies made one way…
If you would like to make small cheesecake brownies in a miniature muffin tin, the method calls for 3 layers of batter. First, add a base of brownie batter. Then, top with some cheesecake mixture, and finally more brownie batter.
When you bake these in a miniature muffin tin, they bake much faster. If you have a thick layer of brownie batter and a thin layer of cheesecake without a small topping of brownie batter, the cheesecake tends to overbake.
Full-sized cheesecake brownies baked another way
When you make the cheesecake brownies in a standard 12-cup muffin tin, you don't get the 2-bite effect of the miniatures. But you do get away with two layers of batter.
First, divide the brownie batter evenly among the prepared wells of the standard muffin tin. Smooth the tops with wet fingers.
Then, top with the cheesecake mixture. There's no need to cover the cheesecake layer during baking with more brownie batter. They'll bake perfectly as is.
Ingredients and substitutions
I don't have great news for making this cheesecake brownie recipe while avoiding additional common allergens.
Dairy
There are ways that you could make the brownie layer without dairy. You could try replacing the butter with vegan butter (Melt and Miyoko's Kitchen brands are best), or even Earth Balance buttery sticks. The milk can be nondairy.
But the cream cheese in the cheesecake layer stops us in our tracks. I have not ever found a dairy-free cream cheese that tastes like the "real" thing.
Eggs
You might be able to replace each of the eggs in the brownie recipe with a "chia egg" (1 tablespoon ground white chia seeds + 1 tablespoon lukewarm water, mixed and allowed to gel). You might be able to replace the egg white with the brine from a can of chickpeas (called aquafaba).
But if you replace the egg in the cheesecake with a "chia egg," I don't expect that you'll get the right texture. If you decide to give it a try, let us know how it turns out!