[pinit] I can still call these brigadeiros "3-ingredient" even though they have an optional 4th, right? Ah, the joys of being one's own editor… I first made brigadeiros at home late one night during the week of the photo shoot for my next cookbook, Gluten Free Classic Snacks. My youngest child (and my most frequent hand model, much to the irritation of my other 2 children) was in the final stages of a third grade country project for school, and it was time for my bit: making a traditional Brazilian food to share. It had to be typical, portable, and bite-sized. And for my purposes, it had to be dead simple!
Despite having a crackerjack food stylist for the new book, I was doing all of the prep work (photo shoots are crazy expensive, and my publisher only pays a fraction; the rest comes out of my pocket—or my sweat equity!) and I was already overextended. Enter brigadeiros. If you search around the Internet for recipes, you'll find plenty. But I needed it to be as simple as can be. Three ingredients were about as many as I could handle, so every ingredient other than chocolate and sweetened condensed milk was negotiable.
There are a couple tricks of the trade. First, keep the flame low low low. Second, keep stirring. The sugar in the sweetened condensed milk burns quite easily. And even if it doesn't flat-out burn, if it scorches at all, it will clump and leave your candy with a rather unpleasant texture. Plus, take a good look at the texture of the mixture on the right in the above photo. That's the fudge-like consistency you're seeking. Just don't rush it!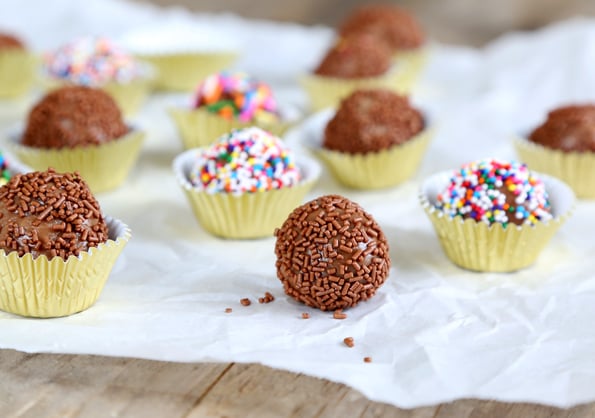 As long as you keep stirring, and keep that heat low, you'll be rewarded with a super simple taste of Brazil. And if your kid ever has a country project and she picks Brazil and works her little heart out and you need to send in a typical, bite-sized recipe, I've got you covered. :)