Discover how to make ice cream without cream and even without sweetened condensed milk, and enjoy smooth, creamy treats all year long.
Can you really use milk instead of heavy cream for ice cream?
Yes, you can make ice cream at home without heavy cream. And it will still have the proper dreamy ice cream texture you love.
You can't leave out the heavy cream in a classic ice cream recipe, or just replace it with milk, though. You need a different recipe, and now you have it!
What ingredient makes ice cream soft?
There are lots of ingredients that can help keep ice cream soft. As long as your recipe has some of them, in the right amounts, your ice cream should still be scoopable and creamy.
There are two main factors that make ice cream soft. Part of that soft texture is the creaminess we all love. And part of it is ingredients that don't become completely solid in your freezer (by lowering the freezing point of the churned mixture).
The potential ingredients that don't freeze solid in ice cream, and help keep it soft, are:
Here, we're using sugar and fat. In our recipe for 3 ingredient no-churn vanilla ice cream, we get the sugar from sweetened condensed milk, and fat from the condensed milk and the heavy whipping cream.
Both evaporated milk and cream have water, which does freeze solid. But they also both have enough fat and sugar to interrupt the formation of ice crystals.
You'll also find that ice cream that has too much water is less fun to eat because it will taste colder in your mouth. That's what made the "ice milk" of my youth, part of the war against fat in the 1990's, a poor substitute for the ice cream I really wanted!
Can I make this recipe without evaporated whole milk?
No, you can't make this ice cream without cream and without evaporated milk. Evaporated whole milk is just milk that they have reduced to contain less water.
I did try making this recipe without evaporated milk, and only with whole milk in its place. I also tried making it with lowfat milk and lowfat evaporated milk.
Without the fat and with more water, the results were all icy and extremely cold. The taste was good, but the texture was like cold sand.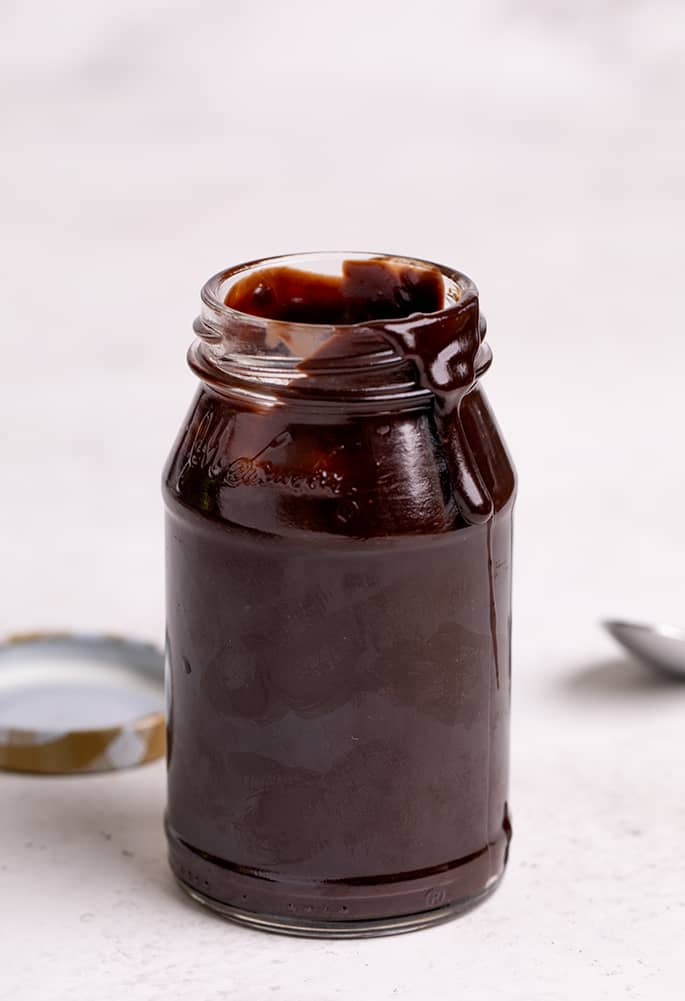 How do you make hot fudge sauce from scratch?
Hot fudge sauce is made easily from scratch by simmering some milk gently with granulated sugar to create a simple syrup. Adding some cocoa powder and melting in chopped chocolate (even chocolate chips will work in a pinch) creates a rich chocolate flavor.
The butter helps to make the sauce richer and thicker. We have a whole set of recipes for homemade ice cream toppings. Hot fudge sauce is just one of them, so feel free to experiment with your favorite toppings—or enjoy this creamy no-cream ice cream plain.
Ingredients and substitutions
Dairy
This is an all-dairy-all-the-time recipe. If you'd like a dairy-free ice cream recipe, which is also without cream, I recommend trying our recipe for dairy free no churn ice cream.
For a full explanation of why you need whole milk and why you need evaporated milk, please scroll up.
The dairy in the hot fudge sauce is in the whole milk and in the butter. You can replace the whole milk with coconut milk or another unsweetened nondairy milk with fat, and the butter with vegan butter.
Guar gum
Guar gum is similar to xanthan gum, which is used frequently in gluten free baking. It's made from guar beans, and unlike xanthan gum, is not the product of bacterial fermentation.
You can make this ice cream without guar gum, and it will still taste great. It will, however, be a bit icier. A little bit goes a very long way.
Guar gum is a very common stabilizer in ice cream. It thickens the mixture, and helps create a smooth mouth feel.
Ice cream with cream already has the creamy, velvet mouth feel we expect from ice cream. Guar gum is an optional ingredient here, but it significantly improves the texture of this ice cream without cream.
Xanthan gum is another common thickener, particularly in gluten free baking. But it is much more effective in baking; guar gum is the right choice for cold recipes.
How to make ice cream without cream
Make ice cream without cream, and enjoy smooth, creamy treats all year long.
Print Recipe
Save
Saved!
Pin Recipe
Ingredients
For the ice cream
1 ½

cups

(

12

fluid ounces

)

12 fluid ounces whole milk

chilled

¾

cup

(

150

g

)

granulated sugar

12

ounces

evaporated whole milk

chilled

¼

teaspoon

guar gum

optional

1

teaspoon

pure vanilla extract

optional
For the hot fudge sauce
½

cup

(

100

g

)

granulated sugar

⅛

teaspoon

cream of tartar

2

tablespoons

(

10

g

)

unsweetened cocoa powder

¼

cup

(

2

fluid ounces

)

whole milk, at room temperature

divided

2 ½

ounces

bittersweet or semisweet chocolate

chopped

2

tablespoons

(

28

g

)

unsalted butter

chopped

Scant ½

teaspoon

kosher salt
Instructions
Prepare your ice cream machine
If necessary, freeze the bowl of your ice cream machine for the recommend time.
Prepare the mixture
In a small, heavy-bottom saucepan, place the granulated sugar and 1/4 cup of the whole milk. Over medium-low heat, whisking frequently, bring the mixture to a very gentle simmer.

Continue to simmer the mixture until sugar is dissolved, and the mixture has become syrupy.

Shake the can of evaporated milk vigorously, then open the can and pour it into a 4 cup or larger measuring cup or mixing bowl with a pour spout. Add the remaining whole milk and the sugar mixture, and the optional vanilla, and whisk to combine.

Add the optional guar gum, and whisk until it's fully dissolved into the liquid.

Pour into container with remaining milk, evaporated milk and vanilla, and whisk to combine well. Place the measuring cup or bowl into the refrigerator and chill until cold (about an hour).

Pour the chilled mixture into the bowl of your ice cream maker, and process according to the manufacturer's directions, or until thickened.

Transfer the processed ice cream to a freezer-safe container, cover tightly, and freeze for about 4 hours or until it reaches the consistency you like best.
Make the hot fudge sauce
In a medium-size, heavy-bottom saucepan, place the granulated sugar, cream of tartar, cocoa powder, and whole milk, and mix to combine well.

Place the saucepan over medium heat, and bring to a simmer. Reduce the heat to medium-low, and continue cooking until the mixture thickens and reduces by almost one-quarter (about 3 minutes). It will first seem thinner as the sugar melts into the liquid, then eventually thicken.

Remove the pan from the heat, add the chocolate, butter and salt, and whisk to combine well. Transfer to a heat-safe container with a lid, and allow to cool slightly before serving.

Store in the refrigerator, and warm in a water bath on the stovetop or in the microwave before serving.