Picture the gluten free white sandwich bread you've been missing in your life, and know that the wait is over. It's that simple. This soft and tender bread bends and squishes, and has a lovely bakery-style crust.
A history of gluten free bread
When I nailed the recipe for this gluten free bread way back in 2010, I knew lunch would never be the same again. In the very best way.
When the first edition of the very first Gluten Free on a Shoestring cookbook came out, I was downright terrified that someone would take it upon themselves to post this entire recipe online, without permission. The horror!
It was truly revolutionary when I first created it, even though now it seems like old school gf bread. And I felt super protective of this recipe that I'm sharing with you today, which is straight out of the second edition of my first cookbook.
Now, I won't lie: when I first learned that my son had to be gluten free for life, I distinctly remember saying, "wait, so you're telling me he can't have a cupcake at a birthday party?" ? (Clearly, we've come a long way since then!)
Of course, it quickly became clear that bread ? was going to be the biggest day to day issue with going gluten free. Especially in our bread-obsessed culture, we all define ourselves by whether we eat bread, how much we eat of it, and what type of bread we eat.
A batter-style gluten free bread recipe
This batter-style bread doesn't look or behave anything like conventional yeast bread when it's raw or even when it's baking. That didn't matter to me at all when I first developed the recipe.
I still have such vivid memories of researching every possible additional ingredient I could add to this bread to help support the dough during its rise. I finally settled on apple cider vinegar and cream of tartar, plus egg whites, and of course xanthan gum (you simply can't make gluten free bread that doesn't fall apart without it).
Before that, I wasted a ton of expensive ingredients. But it was all worth it. Every failed recipe attempt eventually led to this bread recipe.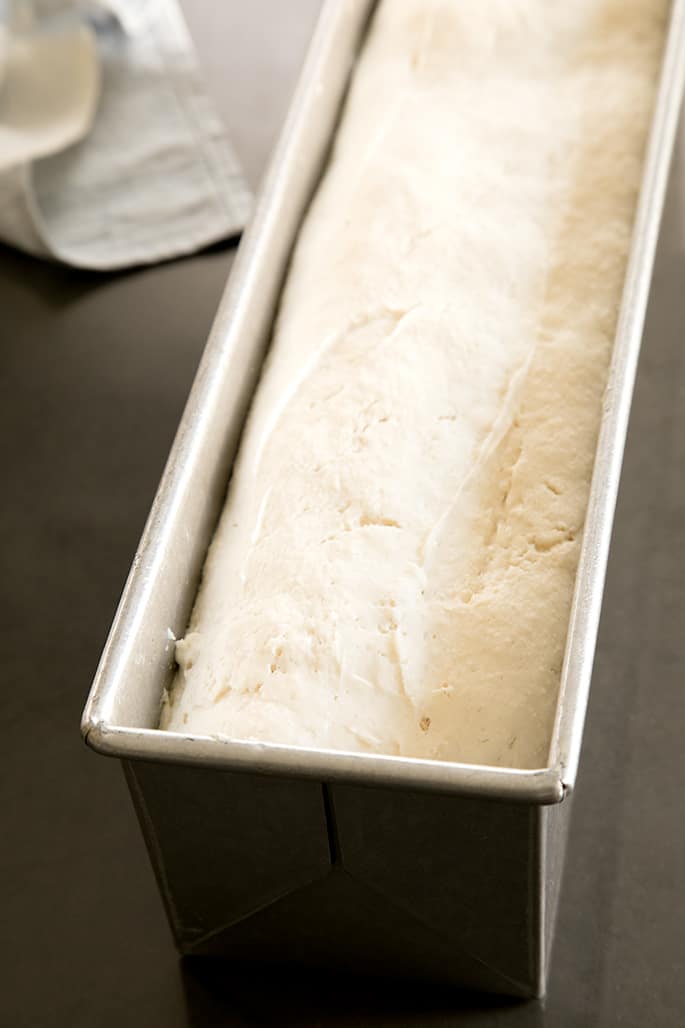 What is this bread dough like?
If you have any experience baking conventional yeast bread, this bread dough will seem completely unfamiliar to you. This batter-style gluten free yeast bread dough is more like a loose cookie dough than it is conventional bread dough.
You need a mixer paddle attachment to mix it, most definitely not dough hooks! The one drawback of this bread is that I've never made it with total success with a bowl and spoon. Mixing all of the ingredients until they're truly smooth and fully incorporated is just really hard without a stand mixer.
It's a bit fragile once it's risen, so handle with care. If you'd like to add seeds to the bread, do it after the dough has risen. Just brush the top lightly with melted butter and sprinkle with seeds.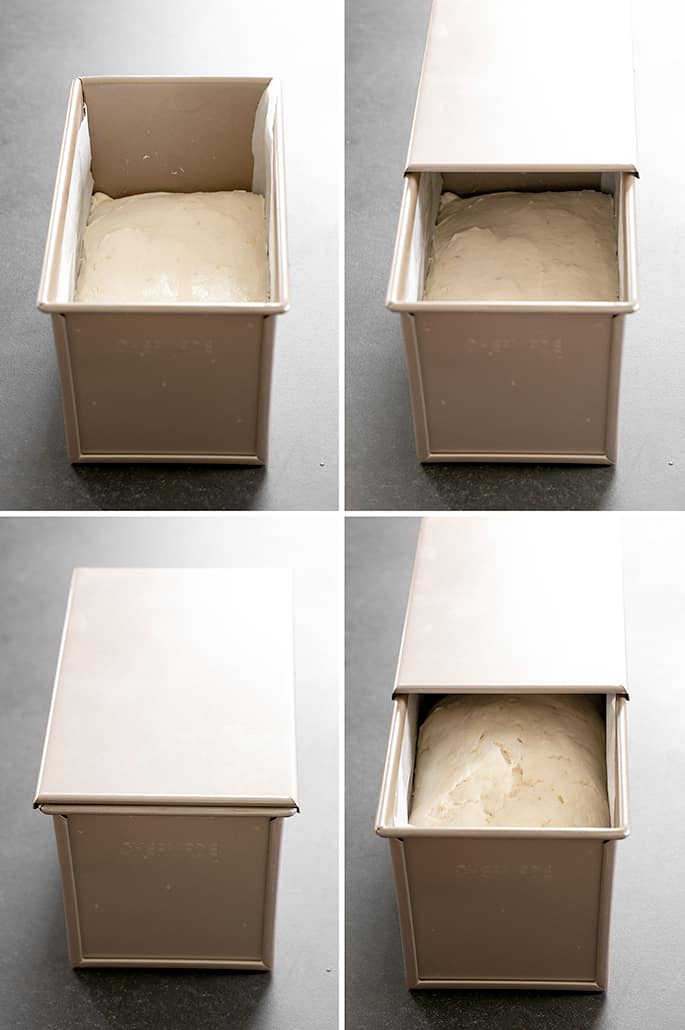 Baking the bread in a Pullman loaf pan
I had always wanted to try making it in a Pullman loaf pan. That was the only way to see if I could get those perfect, no-dome slices that are truly made for sandwiches.
Baking in a Pullman pan (which is that taller, narrow pan with a lid that slides on) also tends to make softer bread. The moisture in the bread is trapped inside the pan during baking, and the bread absorbs it as it bakes.
The photo below is a loaf baked in a 2 pound Pullman loaf pan. The photo above is the bread rising in a 1-pound Pullman loaf pan.
You can make a 1-pound Pullman loaf, or a 2-pound Pullman loaf. The baking time is nearly the same, as the pans are much longer but also considerably more narrow.
For the 1-pound Pullman pan
For the 1-pound pan, you don't do anything different to prepare the bread dough. When it's ready to rise, use the Pullman cover instead of plastic wrap, then bake for about 40 minutes with the lid on. Remove the lid and allow the top to brown.
For the 2-pound Pullman pan
For the 2-pound loaf pan, double the recipe and be sure to mix the ingredients with a bit of extra care. The instructions are the same as for the 1-pound pan for rising and baking.
Ingredients and Substitutions
As always, unless specifically indicated otherwise, I haven't made this recipe with any substitutions. These are mostly just my best-educated guesses for how to accommodate other dietary restrictions. Proceed with caution when modifying any recipe!
Dairy
That one's easy. Just replace the butter with Earth Balance Buttery Sticks and reduce the salt to 1 teaspoon. Use any nondairy milk you like, just be sure it's not nonfat and is unsweetened. I really like unsweetened almond milk here.
Egg
That's a little harder since the recipe calls for egg whites, not a whole egg. I've never tried this recipe with any substitutions to make it egg-free, but I'd recommend trying a "chia egg" (1 tablespoon ground chia seeds + 1 tablespoon lukewarm water, mixed and allowed to gel). If you try it, let us know how it goes!
More gluten free bread information
If you're waiting for the right ingredients or just need a sandwich while the bread rises, I've reviewed 8 gluten free brands of bread that I really like. I've also compiled 10 secrets to baking gluten free bread.
I'm happy to share everything I know with you! If you're ready for the next step, I'm there for you, too. When yo're ready, join me in learning about baking with my gluten free bread flour blend.
Gluten Free White Sandwich Bread | Your First Loaf
Yield:
1 standard loaf of bread
Ingredients
3 cups (420 g) all purpose gluten free flour (I used Better Batter)
2 1/4 teaspoons xanthan gum (omit if your blend already contains it)
2 1/2 teaspoons (8 g) instant yeast
1/4 teaspoon cream of tartar
2 tablespoons (25 g) granulated sugar
2 teaspoons (12 g) kosher salt
1 1/2 cups (12 fluid ounces) warm milk (about 95°F)
4 tablespoons (56 g) unsalted butter, melted and cooled (plus more for brushing if using seeds)
1 teaspoon apple cider vinegar
2 egg whites (50 g), at room temperature
Toasted sesame seeds for sprinkling (optional)
Instructions
Grease or line a 9-inch x 5-inch loaf pan (or slightly smaller) and set it aside.

In the bowl of a stand mixer fitted with the paddle attachment, place the flour, xanthan gum, yeast, cream of tartar and sugar. Whisk together with a separate, handheld whisk. Add the salt, and whisk again to combine. Add the milk, butter, vinegar and egg whites, mixing on low speed after each addition. Scrape down the sides of the mixer bowl as necessary during mixing. Turn the mixer to medium-high speed and mix for about 3 minutes. The dough will be thick, smooth and quite wet.

Scrape the dough into the prepared loaf pan. Cover the dough with lightly oiled plastic wrap and allow it to rise in a warm, draft-free place for 30 to 45 minutes or until it's about 150% of its original size. It should be overflowing the top of the loaf pan by at least 1/2 inch when you retrieve it but it will not have doubled in volume. It may take longer to rise properly in colder, drier weather and less time in warmer, more humid weather. When the dough has nearly reached the end of its rise, preheat the oven to 375°F.

Remove the plastic wrap, and using a sharp knife or lame slash the top of the loaf about 1/4-inch deep. If using the optional seeds, brush the top of the risen bread gently with melted butter, and sprinkle with the seeds. Place the pan in the center of the preheated oven. Bake for 45 minutes to 1 hour, or until the internal temperature of the bread reaches about 195°F on an instant-read thermometer. The outside will form a thick, brown crust. Allow to cool for about 10 minutes in the pan before transferring to a wire rack to cool completely. To freeze this bread, cool completely and then slice, wrap tightly, and freeze. Defrost as many slices at a time as you need in the toaster.

From the book Gluten-Free on a Shoestring: 125 Easy Recipes for Eating Well on the Cheap Second Edition, by Nicole Hunn. Excerpted by arrangement with Da Capo Lifelong, a member of the Perseus Books, LLC, a subsidiary of Hachette Book Group, Inc. Copyright © 2017.