With a crisp outside and chewy inside these boiled gluten free plain bagels are more than just a roll with a hole. No fancy ingredients required!
A New York bagel, of a kind
When I first started developing recipes for bagels, I was inclined to make a true New York bagel: one that has a relatively tight crumb, and is intensely chewy.
That's the kind of bagel I grew up in NY eating from the local bagel store in town. The kind where teens worked after school. The kind that is required at a proper gluten free breakfast or brunch.
When I lived in New York City, I ate at places like Ess-a-Bagel and H&H Bagels. They had bigger, puffier bagels.
They were still chewy, but they also had a much more airy crumb. To me, they tasted fluffy. But they're not truly fluffy. These gluten free plain bagels are like those bagels of my young adulthood.
They're not the roll with a hole that you get from somewhere like Dunkin Donuts (bless their hearts). No one aspires to that sort of bagel, not even Dunkin Donuts.
Same goes for all the packaged gluten free bagels you can buy—at least all the ones I've tried. They are bagel-shaped bread.
These bagels are amazing fresh out of the oven. Pile a chunky chicken salad on one, and try to conceal your pleasure before you even take a single bite.
They're also awesome toasted. First, why would anyone do that with a true fresh bagel?
But if you're planning to toast your bagel, you may as well make a big batch, let them cool completely, slice them through the middle, and freeze them. Defrost at room temperature, and toast to perfection.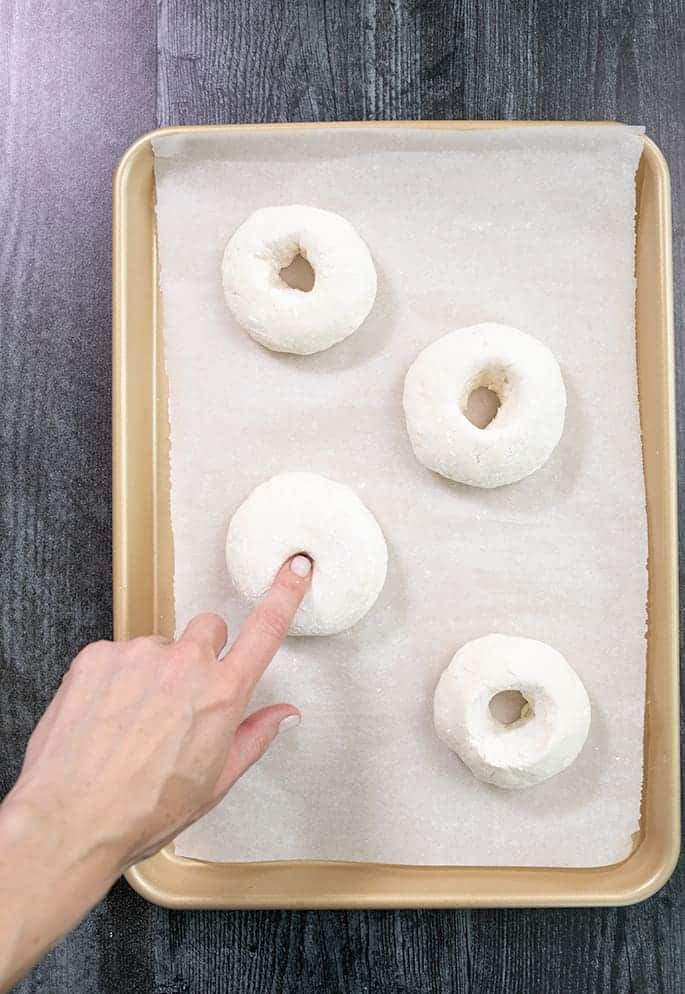 How to shape a bagel
Bagels are sometimes shaped by rolling out a cylinder of dough, about 1 1/2-inches thick and then joining the ends together to create a round. That is not the way I shape or recommend shaping bagels.
If you shape your bagel like that, the edges may separate during boiling or even during baking. Plus, a bagel tastes no different if it's shaped that way. Maybe it's just for showing off? We do not need that.
I prefer to shape my bagels the easy way. Create a round of your portioned piece of dough as you would any other round of dough.
A smooth round piece of bread dough is shaped by cupping your hand around the dough, with the pinky edge of your hand resting on the surface and your hand in a C shape (or a backwards C if you're right handed like I am). Move your hand around in a circle, maintaining contact with the surface on the side of your hand at all times.
Then, poke a floured finger into the center and rotate the dough around that finger in concentric circles. If you're a visual learner and are sighted, watch the how-to video. You'll get the hang of it.
Why bagels must be boiled and then baked
After the shaped pieces of dough rise just enough (you only want it to rise to be about 1 1/2 times its original size), you're going to boil them in a molasses bath. That's just 6 cups water with 1 teaspoon kosher salt and 1 tablespoon unsulphured molasses brought to a rolling boil.
If you have a cakey bread dough, no amount of boiling is going to give you a chewy dough. But if you have the right recipe with the proper balance of regular pantry-style gluten free ingredients like this recipe, boiling your shaped and risen bagels will keep them from rising too much in the oven.
When the bagels' oven rise is just a bit restricted, you are rewarded with a chewy bagel. Be sure not to let them rise too much once they're shaped, or your bagel dough will soak up water like a sponge and disintegrate during boiling.
Ingredients and substitutions
Dairy
The dairy in this recipe comes from butter and milk powder. The milk powder you use can be nonfat dry milk or whole milk powder. Whole milk powder makes a slightly richer result.
To replace the milk powder with a dairy-free alternative, coconut milk powder should work. I like Native Forest brand, but there are many others available now, including Anthony's brand.
In place of butter, vegan butter should work. I like Miyoko's Kitchen or Melt brand vegan butters best.
Eggs
If you can't have egg whites, you can try replacing the egg white with an equal amount, by weight, of aquafaba, which is the brine from a can of chickpeas. Try beating the aquafaba until foamy with a whisk before adding it to the dough.
In place of the egg wash on the outside of the bagels, try using melted butter or cream!
Tapioca starch/flour
There is no other starch that I can recommend as a perfect substitute for tapioca starch/flour. It provides structure, stretch and a smoothness to the dough that I've really come to rely upon in many bread recipes.