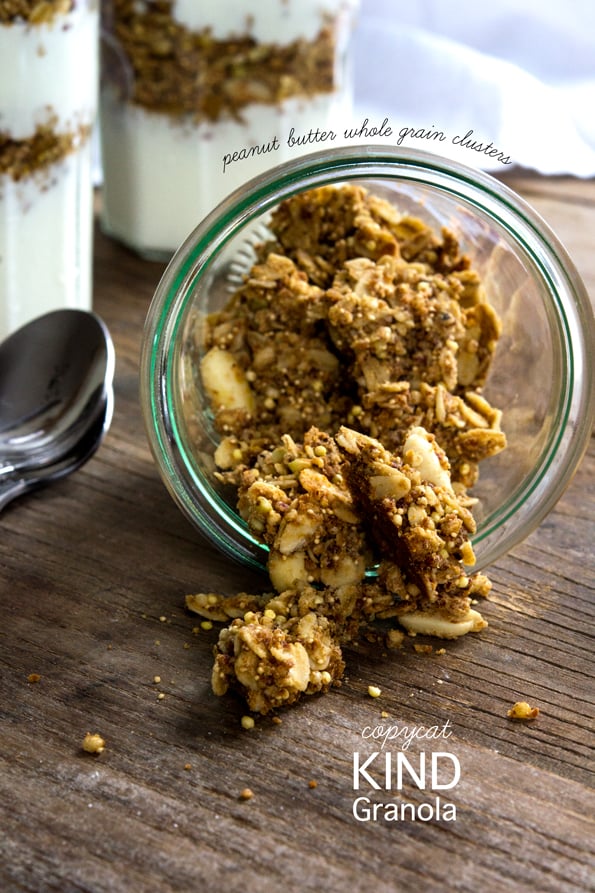 [pinit] I was just reading through the post about my first copycat recipe for KIND Granola (Maple Quinoa Clusters), and I laughed out loud. By myself. At what I said. I'm not sure what this says about me (don't tell me/okay tell me/don't tell me), but I pretty much don't remember writing whatever I've written after I've written it. Even when I go back and edit it, it's like someone else wrote it. Sometimes, someone who seems like a bit of a doofus wrote it. But sometimes, every once in a while, it's like someone totally funny wrote it. Don't tell me what that says about me (tell me). Anyway, I'm back with more copycat KIND gluten free granola and you know what? This variety (peanut butter whole grain clusters gluten free granola) is even better than the first. The mellow peanut butter flavor and the light sweetness in this granola is perfect with plain yogurt. Perfect!
Now I KNOW you. I know you're going to ask me if you can sub out the oats for something (nope), the peanuts for something (definitely), the peanut butter for something (another nut butter, perhaps) and on and on. Please remember that this is a copycat recipe. That means that I start with the ingredients the manufacturer used, and try to stick as closely as possible to them. So … KIND uses canola oil? So did I. Ditto whey powder. (Oh, and if you're wondering that's healthy chocolate syrup drizzled on top of that peanut butter goodness parfait above).
They used soy crisps, and since I can't really figure out precisely what those are (and didn't necessarily think it was worth the while), I used crispy brown rice cereal. And I'm sure glad I did. Something else you could use? Puffed quinoa. Have you had that stuff? Oh heavens. So nice and crunchy! So healthy!
Layer this peanut butter granola with plain yogurt and let it sit in the refrigerator for a bit. Make it ahead, and take it for lunch. Or enjoy it for breakfast. The peanut butter starts to mingle with the tang of the plain yogurt, and the crunch softens a little but not too much. Oh it's good. It's just, well, worth it. And since I'd have to sell a kidney to buy KIND Granola on a regular basis, making it myself at home is much kinder and gentler.
Gluten Free Granola: Copycat KIND Peanut Butter Whole Grain Clusters
Yield:
About 5 cups granola
Ingredients
1/2 cup (128 g) smooth natural peanut butter
1/2 cup (112 g) canola oil (substitute any oil you prefer – this is a copycat recipe so I used what KIND uses)
7 tablespoons (70 g) brown rice flour*
1 teaspoon lightly flaked sea salt (or kosher salt)
4 tablespoons (32 g) whey powder (I used Niblack brand, and I find it at Whole Foods)
3/4 cup (120 g) coconut palm sugar
1/4 cup (50 g) whole grain amaranth
1/4 cup (50 g) whole grain millet
1/4 cup (45 g) buckwheat groats
1/4 cup (40 g) quinoa
1 cup (30 g) gluten free crispy brown rice cereal (like Erewhon Crispy Brown Rice Cereal)
3 cups (300 g) certified gluten-free old-fashioned rolled oats
1 cup (140 g) shelled and skinned blanched peanuts (you can use dry roasted, if you prefer)
*Please be sure that every ingredient you are using is certified gluten-free, free from all potential sources of cross-contamination with gluten-containing grains. I purchased most of these grains online from nuts dot com.
Instructions
Preheat your oven to 275°F. Line a half-sheet (13-inches x 18-inches) rimmed baking sheet with unbleached parchment paper, and set it aside.

In a small, heavy-bottom saucepan, place the peanut butter and oil and mix to combine. Place the pan over medium heat, stirring frequently, until the peanut butter is melted and the mixture is smooth. Set it aside to cool briefly. In a large bowl, place the brown rice flour, salt, and whey powder, and whisk to combine well. Add the coconut palm sugar, amaranth, millet, buckwheat, quinoa, brown rice cereal, rolled oats and peanuts, and mix to combine well (working out any lumps in the sugar). Add the oil and peanut butter, and mix to combine well. Make sure all of the grains are coated well with the peanut butter and oil.

Scrape the mixture onto the prepared baking sheet, and spread into an even layer. Place in the center of the preheated oven and bake for 10 minutes. Remove the baking sheet from the oven, stir carefully to redistribute all of the ingredients and return to the oven. Bake for another 10 minutes. Again, remove the baking sheet from the oven, stir carefully to redistribute all of the ingredients and return to the oven. Bake for a final 10 minutes, or until the granola is lightly golden brown all over.

Remove the baking sheet from the oven and allow the granola to cool completely, undisturbed. Transfer the granola to a lidded glass container, breaking up large chunks into smaller ones. Seal and store at room temperature.