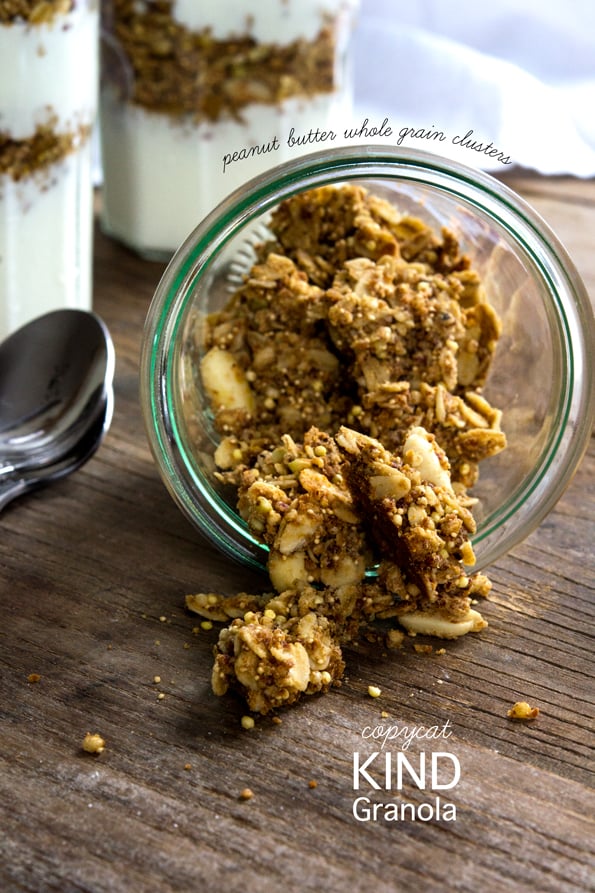 [pinit] I was just reading through the post about my first copycat recipe for KIND Granola (Maple Quinoa Clusters), and I laughed out loud. By myself. At what I said. I'm not sure what this says about me (don't tell me/okay tell me/don't tell me), but I pretty much don't remember writing whatever I've written after I've written it. Even when I go back and edit it, it's like someone else wrote it. Sometimes, someone who seems like a bit of a doofus wrote it. But sometimes, every once in a while, it's like someone totally funny wrote it. Don't tell me what that says about me (tell me). Anyway, I'm back with more copycat KIND gluten free granola and you know what? This variety (peanut butter whole grain clusters gluten free granola) is even better than the first. The mellow peanut butter flavor and the light sweetness in this granola is perfect with plain yogurt. Perfect!
Now I KNOW you. I know you're going to ask me if you can sub out the oats for something (nope), the peanuts for something (definitely), the peanut butter for something (another nut butter, perhaps) and on and on. Please remember that this is a copycat recipe. That means that I start with the ingredients the manufacturer used, and try to stick as closely as possible to them. So … KIND uses canola oil? So did I. Ditto whey powder. (Oh, and if you're wondering that's healthy chocolate syrup drizzled on top of that peanut butter goodness parfait above).
They used soy crisps, and since I can't really figure out precisely what those are (and didn't necessarily think it was worth the while), I used crispy brown rice cereal. And I'm sure glad I did. Something else you could use? Puffed quinoa. Have you had that stuff? Oh heavens. So nice and crunchy! So healthy!
Layer this peanut butter granola with plain yogurt and let it sit in the refrigerator for a bit. Make it ahead, and take it for lunch. Or enjoy it for breakfast. The peanut butter starts to mingle with the tang of the plain yogurt, and the crunch softens a little but not too much. Oh it's good. It's just, well, worth it. And since I'd have to sell a kidney to buy KIND Granola on a regular basis, making it myself at home is much kinder and gentler.