Deep, rich and intensely chocolatey, this gluten free chocolate fudge cake is for the chocolate lovers who live among us.
For chocolate lovers
I took a good, long look at an (apparently) fabled Wellesley Fudge Cake (that I had never before heard of), and made the cake into a deeper chocolate experience. The frosting is spreadable chocolate frosting perfection.
I've honestly never seen (or eaten!) anything quite like this chocolate fudge cake. It's for chocolate lovers only, but if you're not into such depth, we have at least 9 other amazing gluten free chocolate cakes here on the blog.
A better type of chocolate frosting
As soon as I saw those swirls, I knew exactly how the frosting would taste—as I had tasted it in my dreams. Even the best buttercream frosting (chocolate or not) just isn't going to sparkle and shine like that.
Like everyone else, I consider buttercream frostings to be essential to cake-making, but I'm always hoping they're not going to be tooth-achingly sweet in that too-much-confectioners'-sugar sort of way.
If you get the consistency just right, you can, of course, spread buttercream frosting. But not like this.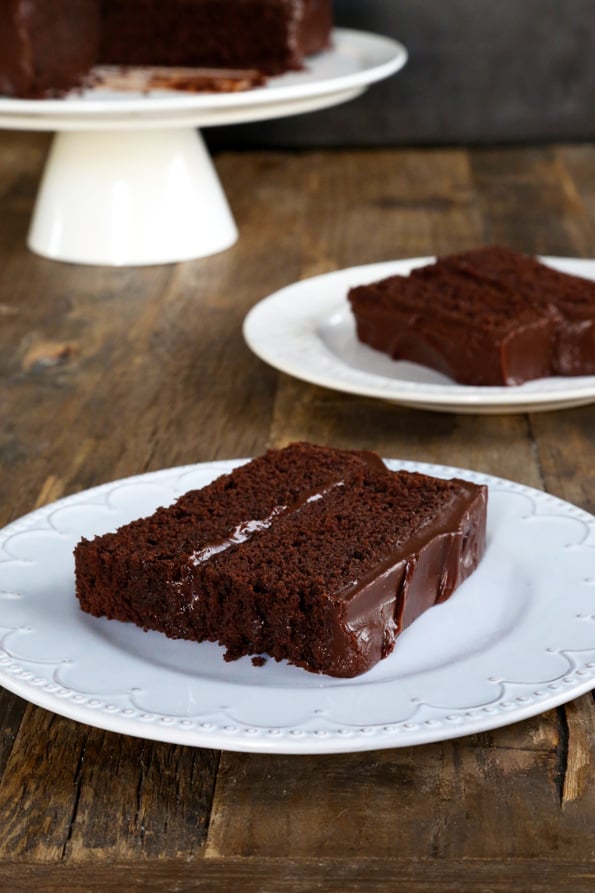 This is the sort of frosting that you simply must sample with a spoon. If you find that you have chilled it for a bit too long, just let it settle at room temperature for a bit in the bowl. The frosting is ready when you can stir it thickly with a spoon.
Needless to say, this is my go-to chocolate frosting from now until the end of time. The method is simple, and the results are truly spectacular.
This is the gluten free chocolate fudge cake for the ages. Write it out on an index card and pass it off as your own. I won't tell, and you'll be famous for it!
Gluten Free Chocolate Fudge Cake
Ingredients
Cakes
12 tablespoons (168 g) unsalted butter, chopped
4 ounces unsweetened chocolate, chopped
2 1/2 cups (350 g) all purpose gluten free flour (I used Better Batter)
1 1/4 teaspoons xanthan gum (omit if your blend already contains it)
2 teaspoons baking soda
1/2 teaspoon baking powder
1/2 teaspoon kosher salt
1/2 cup (40 g) unsweetened cocoa powder (I have used both Dutch-processed and natural cocoa powders—both work fine)
1 1/2 cups (300 g) granulated sugar
2 eggs (120 g, weighed out of shell) + 1 egg yolk at room temperature, beaten
2 teaspoons pure vanilla extract
1 3/4 cups (14 fluid ounces) buttermilk, at room temperature (try souring some almond milk if you need dairy-free)
Fudge Frosting
3 1/2 cups (400 g) confectioners' sugar
1/2 cup (40 g) unsweetened cocoa powder (I have used both Dutch-processed and natural cocoa powders—both work fine but I much prefer the Dutch-processed)
8 tablespoons (112 g) unsalted butter
1 1/2 cups (327 g) packed light brown sugar
1/2 teaspoon kosher salt
1 cup whole milk
4 ounces bittersweet chocolate, chopped
1 teaspoon pure vanilla extract
Instructions
First make the cakes. Preheat your oven to 350°F. Grease well two 8-inch square pans and set them aside.

Place the chopped butter and chopped unsweetened chocolate in a medium-sized heat-safe bowl on top of a small, heavy-bottomed saucepan that contains a small amount of simmering water, making sure that the bottom of the bowl doesn't touch the surface of the water. Allow the water to simmer, stirring the chocolate and butter occasionally, until the mixture is melted and smooth. Remove the bowl from the saucepan and set aside to cool briefly.

In a large bowl, place the flour, xanthan gum, baking soda, baking powder, salt and cocoa powder. Set the bowl of dry ingredients aside. To the bowl of melted chocolate and butter, add the sugar, eggs and egg yolk and vanilla, mixing to combine after each addition. Create a well in the center of the dry ingredients, and add the buttermilk and then the chocolate and butter mixture, and mix to combine. The cake batter should be thick and glossy. Divide the batter evenly between the two prepared pans, and smooth the tops with a wet spatula. Place in the center of the preheated oven and bake, rotating once during baking, until a toothpick inserted in the center of each cake comes out with no more than a few moist crumbs attached (about 25 minutes). Remove from the oven and allow the cakes to cool in the pans for 10 minutes before inverting onto a wire rack to cool completely.

While the cakes are cooling, make the frosting. Sift the confectioners' sugar and cocoa powder into a medium-sized bowl, and set it aside. In a medium-sized, heavy-bottomed saucepan, place the butter, brown sugar, salt and milk, and whisk occasionally over medium heat until it reaches a simmer. Continue to cook, whisking occasionally, until the mixture has begun to reduce (about 4 minutes). Remove from the heat and add the chopped chocolate and vanilla. Whisk until the chocolate is melted. Add the sifted confectioners' sugar and cocoa powder, and whisk until combined. The frosting will be pourable. Place a piece of plastic wrap directly on the surface of the frosting (to prevent it from forming a skin), and refrigerate until it has begun to thicken and is spreadable (about 20 minutes).

Assemble the cake. Once the frosting has reached the proper spreadable consistency, place one overturned cake layer on a flat surface and cover the top and sides of the cake generously with frosting. Top with the second inverted cake layer, and frost the rest of the cake. Allow to set at room temperature or in the refrigerator until ready to serve. Slice thickly.

Adapted from the Siftingfocus.com Wellesley Fudge Cake.