Deep, rich and intensely chocolatey, this gluten free chocolate fudge cake is for the chocolate lovers who live among us.
I took a rework of an (apparently) fabled Wellesley Fudge Cake (that I had never before heard of), and made the cake, well, a deeper chocolate experience. The frosting is spreadable chocolate frosting perfection. I've honestly never seen (or eaten!) anything quite like it.
As soon as I saw those swirls, I knew exactly how the frosting would taste—as I had tasted it in my dreams. Even the best buttercream frosting (chocolate or not) just isn't going to sparkle and shine like that.
Like everyone else, I consider buttercream frostings to be essential to cake-making, but I'm always hoping they're not going to be tooth-achingly sweet in that too-much-confectioners'-sugar sort of way. If you get the consistency just right, you can, of course, spread buttercream frosting. But not like this.
C'mon now.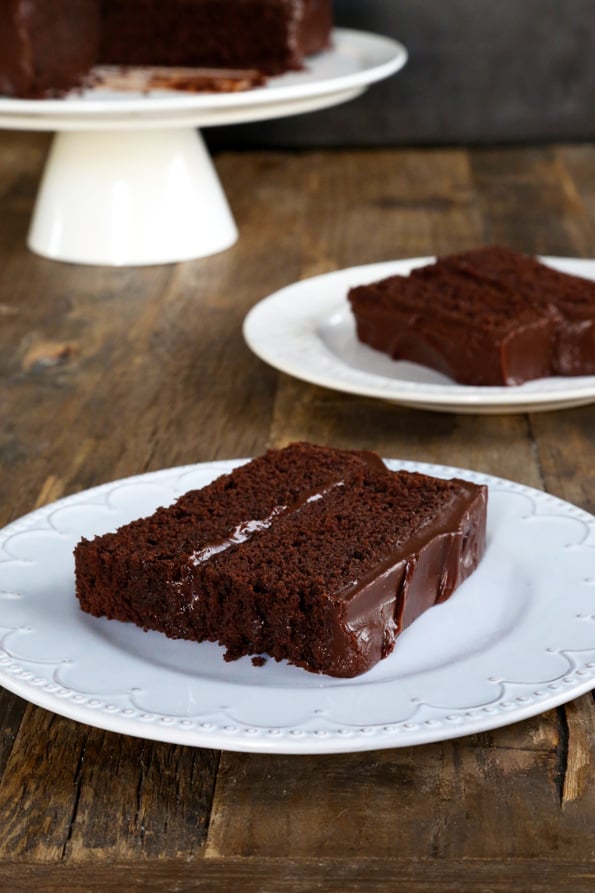 This is the sort of frosting that you simply must sample with a spoon. If you find that you have chilled it for a bit too long, just let it settle at room temperature for a bit in the bowl. The frosting is ready when you can stir it thickly with a spoon.
Needless to say, this is my go-to chocolate frosting from now until the end of time. The method is simple, and the results are truly spectacular. This is the gluten free chocolate fudge cake for the ages. Write it out on an index card and pass it off as your own. I won't tell, and you'll be famous for it!