[pinit] Gluten-Free on a Shoestring Bakes Bread is coming! I promise it. It will not be delayed again (PROMISE). I know that many of you pre-ordered (thank you thank you thank you). I know what a leap of faith that is (the Look Inside feature on amazon isn't even live yet!). I appreciate it more than you know. More than words can say. And since this is the Internet, words and pictures are all we have to connect us. I can't bake for you, you can't hear my voice and we can't hug it out (at least not yet). I don't take any of it for granted. Please do know that. You know that, though, right?
About that delay … I think I can put your mind at ease. Although yes, the official pub date was delayed by another week (but it's all printed and on its way to my publisher (and me!) right now), my publisher has been promised by their Amazon.com rep that Amazon will still do everything they can to ship pre-orders on November 25. That's in 10 days! That's a week from Monday. That's … soon! Stay calm, Nicole. Stay calm. Oh, hey, and Mel of Kitchen Cafe fame has posted the recipe for Gluten Free Hawaiian Rolls from the book—and is running a giveaway right now! So be sure to click on the link and enter (and get that preview recipe)! (p.s. I think she kind of loved the book)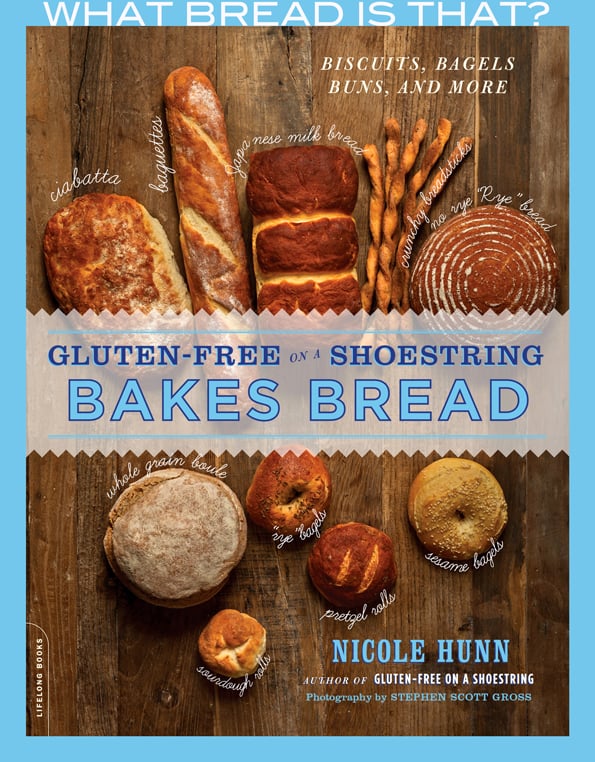 [pinit]
Since, aside from giveaways, there isn't a whole lot I can do for you in the meantime, I want to do everything I possibly can. Many of you have written to me to ask me, what do we need to get started once the bread book comes (finally!). And when you saw Mel's post, you saw that you needed whey protein isolate* (see "recipe" below for discussion of dairy-free alternatives) and Expandex modified tapioca starch to make the Gluten Free Bread Flour that makes such beautiful gluten free bread. I can help with that. Scroll down and you'll find a "recipe" with the list of everything you need (with descriptions wherever necessary) to get started as soon as you get the book, including sources for those less common ingredients.
Now I know I've said it a million times before but it bears repeating: this is NOT the same gluten free bread dough you're used to. It's not like cookie dough. It doesn't pull apart in shards, and … you don't mix it with a paddle. It's so special that, when you shape it, you actually get surface tension on the top of, say, a loaf of bread or a roll. You don't "pour" the "batter" into a loaf pan. You shape it. But to get that smooth and stretchy dough, you need a machine with dough hooks.
"What if I don't have a stand mixer? They're expensive!" I know, right?! So expensive. I have had one forever, but since I know that they're simply out of reach for many, I tested a few of the handheld mixers with dough hook attachments. And, frankly, some of them just don't work. But I found one that does. The KitchenAid 5-speed handheld mixer, which comes with dough hooks, does a really good job of approximating a stand mixer, at a much, much lower price. (This is Gluten-Free on a Shoestring, after all!)
"Why can't you just give me a stand mixer?" Well, that is another possible solution, I guess, right? Next week, I will announce another giveaway that you can enter to win the 6-quart KitchenAid stand mixer of my dreams (it's way better than the one I have! and that is not an affiliate link), sponsored by KitchenAid. And that giveaway will include lots of other amazing things, including a possible chance to win A Day of Baking … with ME! I will fly out to your house and be at your disposal for a day, but that's all going to be announced next week!! That's the one I'm the most excited about, of course. Before I get ahead of myself, here's what you'll need to hit the ground running when you pre-ordered copy of Gluten-Free on a Shoestring Bakes Bread ships on November 25!: