**UPDATE**This giveaway has closed! BIG Giveaway winners will be notified shortly. And GOOD NEWS! We reached the 500 order threshold, and the BIGGER Giveaway winner will also be notified by email shortly! Thank you so much for playing along and for all your amazing support of the new book! LOVE YOU!
Welcome to the Bakes Bread BIG & BIGGER Giveaway! BIG is the 6-quart KitchenAid Stand Mixer and the Brod & Taylor Folding Proofer and Yogurt Maker that you can enter to win today if you have either pre-ordered my new bread book or are seriously considering it (details below) (you don't have to pre-order to win, but I really hope you do!).
Now for BIGGER: Help me reach 500 orders between now and the official publication date of Bakes Bread (December 10, 2013), and I'll give away a day of baking with me in your kitchen!! I'll pull the winner from these same giveaway entries. But this BIGGER giveaway (of me!) will only be triggered if there are 500 new orders placed for the bread book by 11:59 pm EST December 10, 2013. So if you haven't pre-ordered, now is the time!! Tell your friends who are on the fence, or your relatives who are getting you the book for Christmas to go for it now instead! I'll take planes, trains and automobiles to get to you (well, in the U.S. and Canada), and be at your disposal all day long. We'll pick a mutually convenient day, and we can spend it baking whatever you'd like to bake from the new book! Want to invite 25 of your closest friends? Pack 'em in! You'd rather an intimate, chatty day together? It'll be our secret. Just promise me one thing: you'll make some bread dough at least a few days ahead of time and have at least some of it proofing in the refrigerator before I get there. That way, we'll at least be able to finish some bread during the day. If you want, we can stock your refrig with buckets and buckets more dough when I'm at your crib. Oh, and I'll bring you some of my very own 1-year-old Gluten Free Wild Yeast Sourdough Mother Starter from Chapter 5 of the new bread book for you to raise as your very own!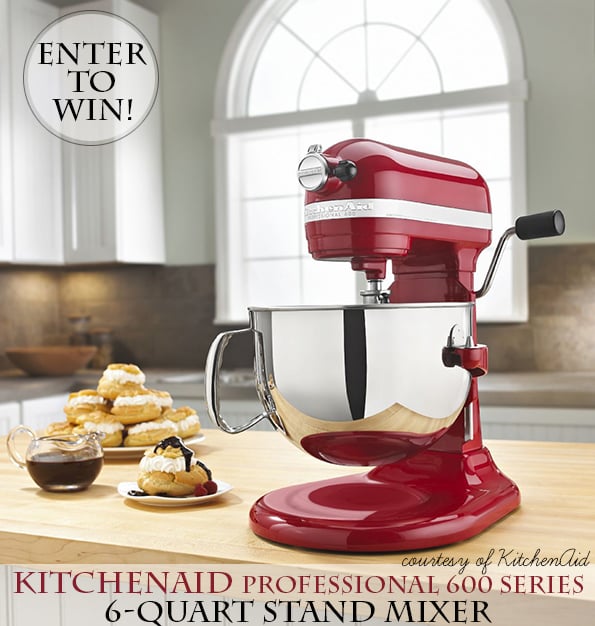 Now for the BIG giveaway details. This part is a sure thing: enter now to win a 6-quart KitchenAid mixer and a Brod & Taylor folding proofer and yogurt maker by leaving a comment below now. Tell me that you have either already pre-ordered a copy of Bakes Bread, or are at least seriously considering it (you don't have to order to enter, but I sure hope you will!), and tell me your BIG Bread Plans (details below). Even if you already entered the Bread Memories Giveaway (that one closes tomorrow) enter this one too! The same order qualifies you to enter every giveaway.
That mixer above? It's the KitchenAid stand mixer of my dreams. For the time being, for me it exists only in my dreams. Since you do need a machine with a dough hook to create the smooth and stretchy dough that is a cornerstone of the Gluten Free Bread Revolution, I reached out to KitchenAid and asked if they would be willing to give away a stand mixer here. I'm not above begging for some graft for my peeps, you know? This crazy awesome stand mixer has a monstrous capacity, and the dough hook that gives all other dough hooks envy (size does matter). From the KitchenAid website: "The Professional 600™Series 6-Quart Bowl-Lift Stand Mixer is perfect for heavy, dense mixtures. Burnished metal flat beater, PowerKnead™ Spiral Dough Hook and 6-wire whisk will help you mix, knead and whip ingredients into culinary masterpieces quickly and easily." Masterpieces. Masterpieces!
Now for the proofer. I first wrote about the Brod & Taylor Proofer back in 2011. I was a pretty early tester, and I fell in love immediately. Head over heels. This is just what the gluten free community needed for gluten free bread. A sure thing! With Brod & Taylor's carefully controlled temperature and humidity, you just can't lose. Especially for creating the wild yeast sourdough starter in Chapter 5 of Bakes Bread, you almost can't live without it. And although I don't do this nearly enough, the proofer is also a yogurt-maker! Since you can modify the temperature in the proofer during the process, you can create a smoother, more stable yogurt than you can with a machine that only allows for a single, constant temperature. Plus, you can see above how the proofer folds flat for easy storage. I keep it tucked away on the side of a cabinet, and never hesitate to set it up whenever I have the need.
So enter today in the BIG giveaway to win the mixer and proofer, and help me reach 500 orders between now and December 10, 2013 (the official publication date of the new book!) and the BIGGER giveaway will be triggered!