Is it just me or is the end of the school chock full of even more food-related celebrations than ever? There are always birthday celebrations, like, every other minute all year long. I get the "please send in an extra snack for Jonathan" email about my gluten free son.
But the end of the year has all that and more. And then there are the well-meaning parents who decide to celebrate, say, the end of state testing (?) with … some impromptu Dunkin Donuts munchkin donuts. My son is caught out, so he just reaches into his classroom stash of granola bars and bears it.
He's a trooper! But then he comes home, looks at me plaintively, and the conversation goes like this:
Jonathan: "I really wonder what Dunkin Donuts munchkins taste like."
Me: "Are you asking me to make you gluten free donut holes like munchkins?"
Jonathan: "No that would be pressuring you. I don't want to pressure you."
So, yeah. You can guess what happened next. And it turns out that the Yeast-Raised Donut Dough from page 151 of GFOAS Bakes Bread makes the perfect Dunkin Donuts munchkin donut hole copycat.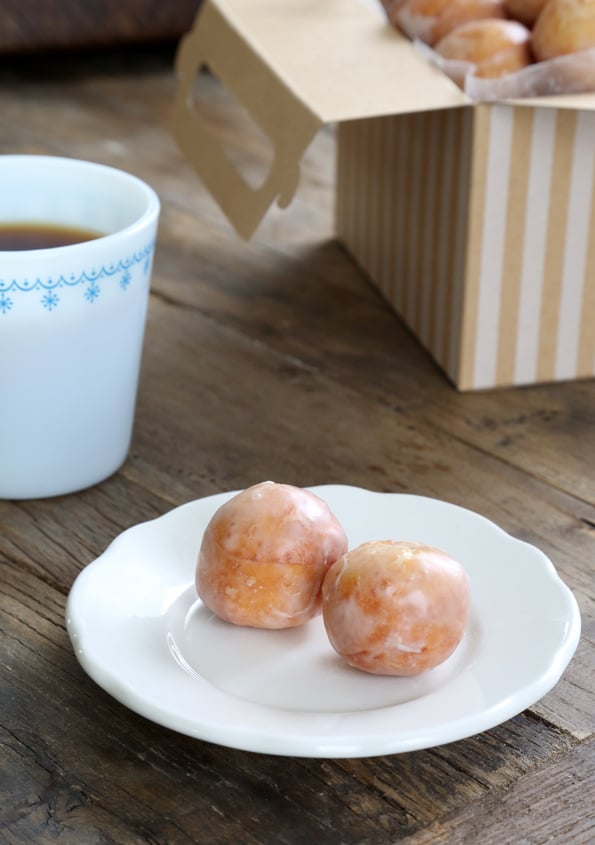 Now before anyone starts throwing tomatoes at me, claiming that this is some sort of horrible, evil "advertising scam," although of course I prefer the new sort of bread dough from GFOAS Bakes Bread.
I do want you to buy my newest book, the yeast-raised gluten free donut dough of days gone by here on the blog still works and actually works very well. It's one of the best old-style gluten free bread dough recipes I have, in fact. If you're looking for more gluten free donuts recipes, we've got those too.
You can see from the step by step photos that the donut holes are not perfect circles. Rather than rolling the dough into rounds, I use a small round cookie cutter to cut out shapes from the dough.
If you try to roll rounds of dough between your palms, you'll compress the dough and the fried donut holes won't be the lovely, light and fluffy little gems they are meant to be.
So I don't want to pressure you, like my son didn't want to pressure me. But I will say that these gluten free donut holes really do taste just like the ones that come in that box from Dunkin Donuts.
And even if it's already getting steamy outside where you live, frying doesn't heat up the kitchen like the oven does. Everybody wins! Especially my gluten free son. He won BIG.