If you're learning how to eat gluten free, you need to start somewhere. These are the 10 gluten free recipes you need to master now to help you eat great and stick to that diet!
Whether you've been cooking and baking gluten free for the better part of a decade (like me!), or you're brand new to the gluten free diet, it helps to have a can-do attitude. Whoever tells you just to stick to foods that are naturally gluten free and you'll be fine simply doesn't live in the real world with the rest of us. Although we all know that a diet rich in vegetables, naturally gluten free complex whole grains (like quinoa and brown rice), lean meats and fruits for snacking is ideal, for most of us that's just not a long-term solution—especially for those of us who are raising children in a gluten free household.
Maybe you have kids who need to pack a school lunch. Sometimes you need to wrap up a burrito for a quick dinner and you just can't bring yourself to buy those expensive, taste-free gluten free packaged brown rice tortillas. How about the proper side to serve with your famous spicy chili? Maybe you even want to serve an actual gluten free birthday cake that tastes, well, like birthday cake. You see where I'm going with this.
These are the 10 gluten free recipes that, should you master, you will never feel deprived on a gluten free diet. By all means, stock your refrigerator with fruits, vegetables and lean meats. I try to do the same. But for those times when real life intervenes, here's how to cook and bake for it.
Gluten free flour tortillas. These are the perfect soft, flexible gluten free flour tortillas, the kind you simply can't buy (along with a how-to video for visual learners). The best part, other than the authentic taste? They freeze perfectly. Just stack the cooked tortillas, wrap them tightly, and freeze. When you're ready to eat them, either defrost them in the refrigerator and refresh them in a hot, dry skillet until flexible. You can even prepare the tortillas, fill and wrap them with your favorite burrito ingredients, and freeze. Defrost in the refrigerator or microwave and enjoy warm!
Fresh homemade naturally gluten free corn tortillas are made with masa harina corn flour, salt and warm water. The moment you open a bag of the masa, you'll know from the smell that you're about to make authentic corn tortillas.
Although packaged gluten free corn tortillas are way less expensive and easier to find than gluten free flour tortillas, they simply can't compete with the fresh kind. Make them at least once, and you'll always know what's possible with just a few minutes of effort—and 3 simple ingredients.
DIY Gluten Free Pancake Mix. Anyone who has ever baked with a Bisquick mix knows how versatile it is. I always keep this mix on hand in my house. It's perfect for everything from straight up pancakes and pancake muffins to breakfast casseroles and super quick muffins.
The store-bought gluten free Bisquick is, sadly, rather gritty and just not nearly as tasty and versatile as the conventional, gluten-containing kind. But this mix fills that gap—with just a few basic gluten free pantry ingredients.
Homemade Against the Grain Rolls recipe. I have many, many recipes for gluten free bread here on the blog. And I even wrote a whole book about gluten free bread. But the best entry point for someone just getting started on a gluten free diet doesn't begin with a flour blend at all. It's a riff on Brazilian cheese bread that is just as good as the crazy-expensive Against The Grain tapioca rolls that you can buy frozen in the grocery store.
There's no yeast, no special technique (you make the dough in a food processor), and they save you tons of money. Perfect for lunchboxes!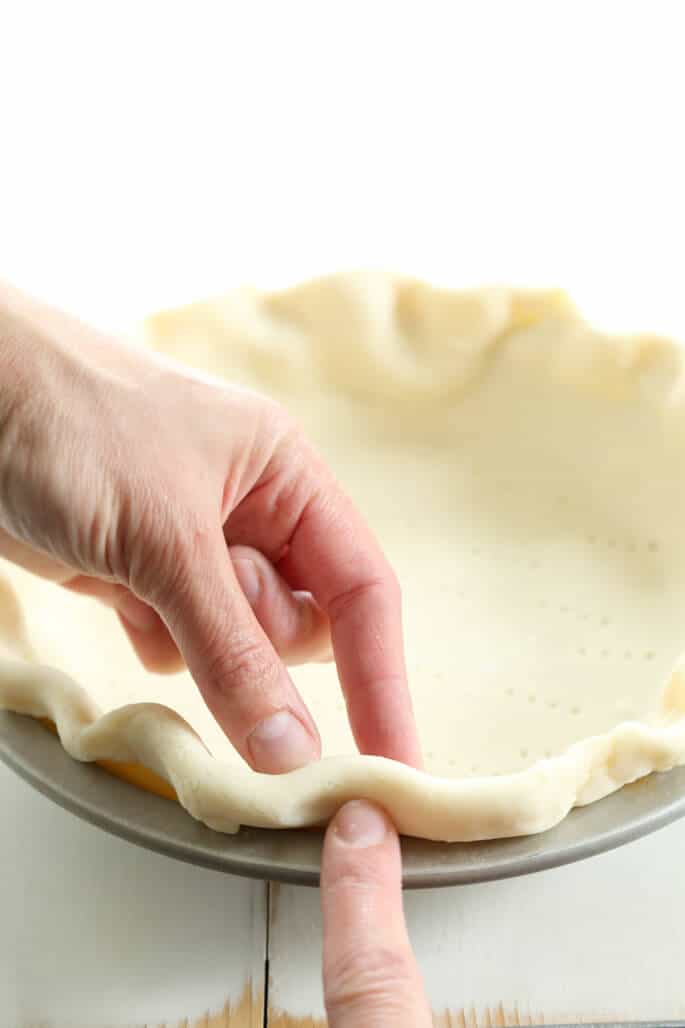 This extra flaky gluten free pie crust is made with sour cream, and rolls out beautifully. Pie crust is good for so much more than making actual pies (although it does come in handy in that regard). It's really just a basic pastry dough. Use it to wrap hand pies or your favorite sweet fillings in any form. You can even pat it into a disk and cut out biscuits or scones.
You don't need my gluten free pie recipes if you have your own favorite. But of course mine are available for the taking (click here).
If you're looking for the perfect side to almost any meal, this naturally gluten free cornbread is just the thing. The only grain is cornmeal—no rice flour blend—and this forgiving recipe can be made with sour cream or even milk (nondairy is fine!) instead of yogurt.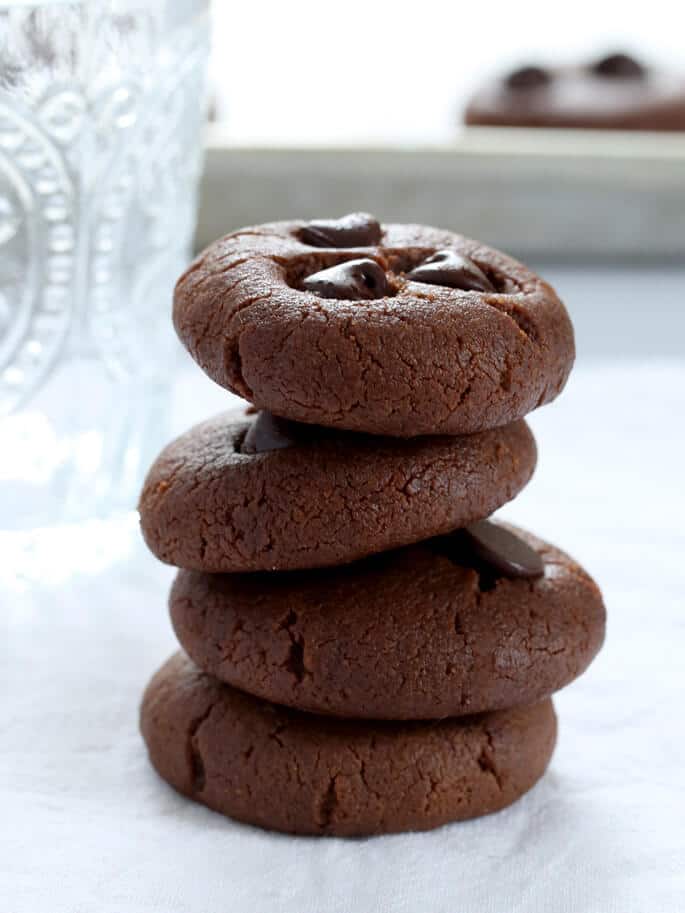 These flourless chocolate peanut butter cookies are gluten free, grain free, dairy free, and even packed with protein. They're perfect for breakfast, even (leave off the chips if it makes you feel better :) or a snack.
If you're worried about baking with gluten free flour blends, or simply don't have any available to you, this is where you begin. Not a speck of flour of any kind in sight.
This super simple recipe for chocolate chip yogurt gluten free quick bread always makes a perfectly moist and tender loaf. It's my go-to quick bread recipe, since you can mix in whatever you like. If you're not feeling the chips, replace them with fresh or frozen berries or dried fruit like raisins or currants. It's a versatile enough recipe that many readers have made it into muffins. Go for it!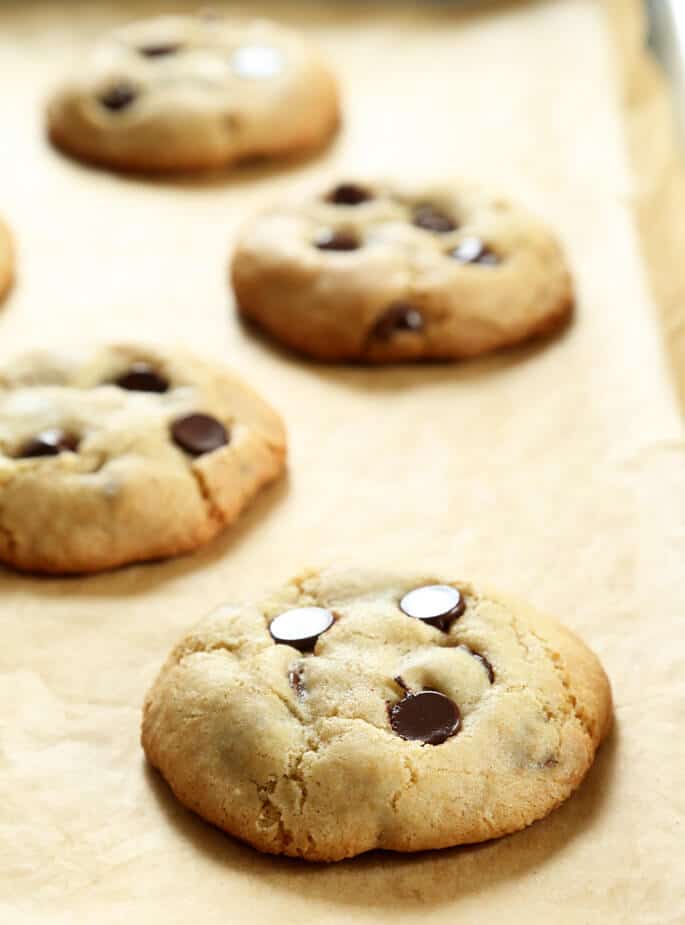 A classic thick and chewy delight, these gluten free chocolate chip cookies set the standard for everything a cookie should be. And they're easy drop cookies, ready in a flash.
Whenever a reader (or a friend or acquaintance) asks me how to get started baking gluten free, I always say drop cookies. They're so easy, never fail and make you feel like a champ since they come out perfectly every time. And who doesn't love a chocolate chipper?
Finally, we have these easy gluten free cake mix recipes for basic chocolate and vanilla cakes. Keep them on hand and you'll never be without the perfect birthday cake. Sometimes, you just need a piece of cake, for crying out loud! These easy mixes are the perfect starting point.
For my gluten free son, I consider even the "unhealthy" recipes for cookies and cake in this list to be a form of health food. Since we have these recipes, I feel confident that he'll never "cheat" on the diet. Since it's not really a diet, is it. It's a way of life. And my promise to you remains as it has always been:
If they can make it with gluten, we can make it without!