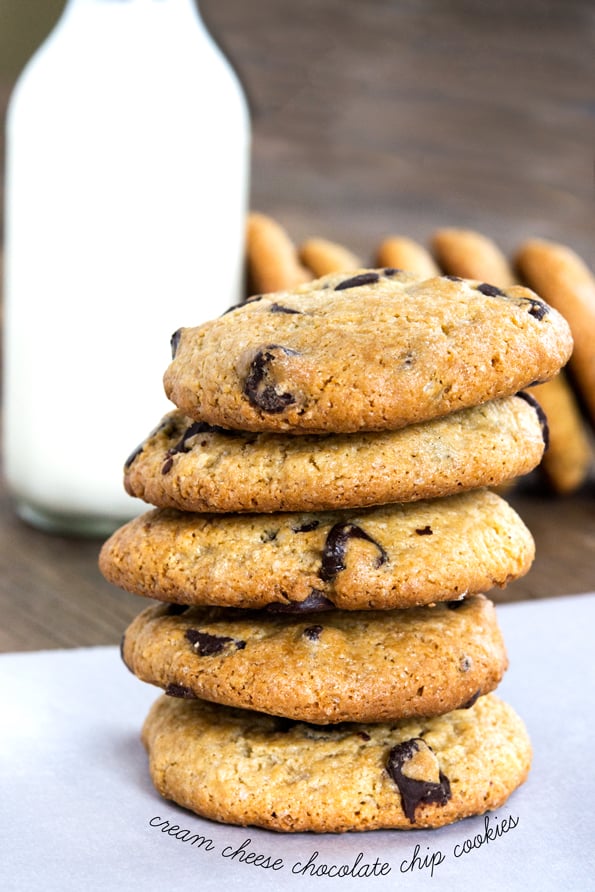 [pinit] Did you think that I had exhausted the world of gluten free chocolate chip cookies? Hah! I have come to accept that that … is never going to happen. I'm relaxing into it. Going with the flow. Keeping my cool. This time, cream cheese changes everything.*
*Okay fine not really everything. But in a world like mine, where butter-sugar-eggs-vanilla-glutenfreeflour are everything, cream cheese changes nearly everything. Get it? It's tangy and almost, I don't know, kind of sweet. And it makes these particular chocolate chip cookies thick and so delightfully chewy, even straight from the freezer. Which is really how I love love love to enjoy chocolate chip cookies. In fact, I recently hosted a few friends for a gluten free carb fest of a dinner (authentic Reubens on No-Rye Gluten Free Rye Bread from Chapter 5: Pure Sourdough Breads bestillmyheart), and I had planned to serve these cookies. But I forgot to defrost them. Imagine my delightful surprise when our guests told me they actually preferred cookies straight from the freezer! These are my people.
The dough for these cookies is super easy to slice and bake, too. Oh how I love a good slice-and-bake. Who doesn't, right?
All that's left is to bake them up nice and easy. You can enjoy them soon after they come out of the oven, but may I humbly suggest that you freeze them once they cool, and try one right out of the icebox? Pure chocolate chip cookie heaven. Just ask my guests.