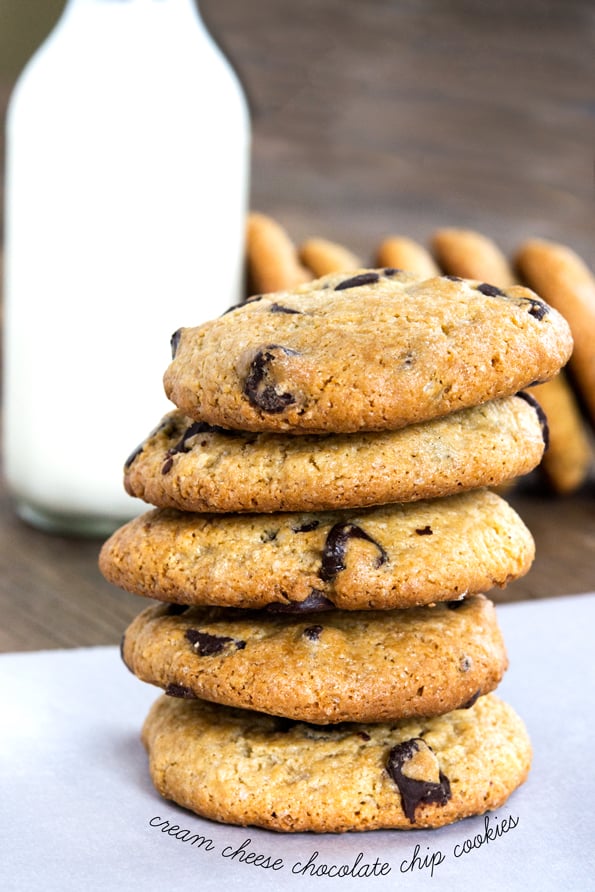 [pinit] Did you think that I had exhausted the world of gluten free chocolate chip cookies? Hah! I have come to accept that that … is never going to happen. I'm relaxing into it. Going with the flow. Keeping my cool. This time, cream cheese changes everything.*
*Okay fine not really everything. But in a world like mine, where butter-sugar-eggs-vanilla-glutenfreeflour are everything, cream cheese changes nearly everything. Get it? It's tangy and almost, I don't know, kind of sweet. And it makes these particular chocolate chip cookies thick and so delightfully chewy, even straight from the freezer. Which is really how I love love love to enjoy chocolate chip cookies. In fact, I recently hosted a few friends for a gluten free carb fest of a dinner (authentic Reubens on No-Rye Gluten Free Rye Bread from Chapter 5: Pure Sourdough Breads bestillmyheart), and I had planned to serve these cookies. But I forgot to defrost them. Imagine my delightful surprise when our guests told me they actually preferred cookies straight from the freezer! These are my people.
The dough for these cookies is super easy to slice and bake, too. Oh how I love a good slice-and-bake. Who doesn't, right?
All that's left is to bake them up nice and easy. You can enjoy them soon after they come out of the oven, but may I humbly suggest that you freeze them once they cool, and try one right out of the icebox? Pure chocolate chip cookie heaven. Just ask my guests.
Gluten Free Cream Cheese Chocolate Chip Cookies
Ingredients
2 cups (280 g) all purpose gluten free flour
1 teaspoon xanthan gum (omit if your blend already contains it)
1/2 teaspoon kosher salt
1 teaspoon baking soda
8 ounces semi-sweet chocolate chips
4 tablespoons (56 g) unsalted butter, at room temperature
4 ounces cream cheese, at room temperature
1 cup (200 g) granulated sugar
1/4 cup (55 g) packed light brown sugar
2 eggs (120 g, out of shell) at room temperature, beaten
1 teaspoon pure vanilla extract
Instructions
In a medium-size bowl, place the flour, xanthan gum, salt and baking soda, and whisk to combine well. Place the chocolate chips in a separate small bowl, add about 1 tablespoon of the dry ingredients, and toss to coat. Set both bowls aside.

In the bowl of a stand mixer fitted with a paddle attachment (or a large bowl with a hand mixer), place the butter and cream cheese. Beat until light and fluffy. Add the granulated sugar and light brown sugar, then the eggs and vanilla, beating to combine well after each addition. Add the dry ingredients, and beat until just combined. Add chips and reserved dry ingredients, and mix to combine by hand with a large spoon or spatula. The dough will be soft.

Divide the cookie dough into 2 equal portions and roll each into a log in a large piece of unbleached parchment paper or plastic wrap. Wrap tightly, and place the dough in the refrigerator to chill for at least two hours (or in the freezer for about 15 minutes) or until mostly firm.

Once the cookies are chilled, preheat your oven to 325°F. Line rimmed baking sheets with unbleached parchment paper and set them aside.

Unwrap the cookie dough, one at a time, and slice each into 12 disks with a sharp knife. Place the disks 2 inches apart on the prepared baking sheets and place, one at a time, in the center of the preheated oven. Bake for about 10 minutes, or until the cookies are lightly golden brown all over, slightly darker on the edges, and set in the center. Remove from the oven and allow to cool for 5 minutes on the baking sheet before transferring to a wire rack to cool completely.