Incredibly moist and tender gluten free zucchini bread, made with tons of summer's pushiest vegetable. This is your new favorite zucchini recipe!
The importance of solid zucchini recipes
When the zucchini plants start to flower, you know you've got to get your recipes ready if you have any hope at all of staying ahead of things. Or at least not falling miserably behind.
Like night follows day, it's just the way things are. At least baking with zucchini is truly a pleasure (so much moisture!), and this chocolate chip gluten free zucchini bread is a time-honored favorite. It just so happens to be dairy-free, too.
The recipe for vegetable haters
Do you have a vegetable-hating child (or adult?) in your home? I have one. It would be a total drag, but her saving grace is that she's now old enough that she wishes she liked vegetables.
She's accepted that vegetables will be a part of every meal, and understands why. So when I can, I try to give her vegetables hiding in a healthy homemade popsicle or, say, baked into this lightly sweet, moist and tender zucchini bread. It's the least I can do.
How we prepare zucchini for baking
Zucchini and other summer squash naturally have a ton of moisture, which is probably a large part of how they grow so quickly. The moisture isn't a problem for a recipe like this one, which could easily be designed to account for the moisture since it's not being baked until crisp, like our gluten free zucchini tots.
But baking requires consistency, and the moisture in zucchini varies tremendously from one vegetable to the next. Draining the zucchini of as much moisture as possible before measuring it by weight is the way we standardize our ingredients.
You can drain the grated zucchini by placing it in in the center of a tea towel (just a kitchen towel with a flat weave that doesn't shed) or even an old t shirt. Just wrap the cloth around the grated vegetable, and squeeze until the liquid is all gone.
You can also use cheese cloth to do the same, but it tends to be too fragile and tears easily under pressure. My favorite way to drain the moisture from zucchini and cauliflower is with a nut milk bag, which is just a strong mesh bag designed for filtering out the nut pulp left behind from making a nut milk.
When you use a nut milk bag to drain zucchini or cauliflower, you're preserving the solid and discarding the liquid. Drain it over the sink and flush the liquid away.
Here's my favorite nut milk bag (affiliate link; feel free to shop around), if you're interested. I like that it's larger than many, and strong enough for repeated use. In fact, mine has lasted through many years of regular.
Some is pureed
I originally posted this recipe back in 2012 (oh the humanity of those photos!), back when I used to add some mashed banana to my gluten free zucchini bread. I've started replacing the banana with more zucchini.
I also now puree the zucchini along with the eggs and oil in the recipe. The result is even more moist and delicious. Zucchini, you really are a wonder.
The rest is used as grated and drained of moisture
The remaining grated zucchini is tossed with the dry ingredients so the pieces don't clump together. They're baked right into the loaf, and show up as tiny green flecks in the bread.
P.S. Looking for a chocolate version? Try my recipe for Double Chocolate Gluten Free Zucchini Bread.
Ingredients and substitutions
Dairy: Luckily, since this gluten free quick bread is made with oil instead of butter, it's naturally dairy free. Be careful about your chocolate chips, though. Some are dairy-free, but others are not.
Make sure yours are if you need to be dairy-free. The semi-sweet chocolate chips from Trader Joe's are dairy-free.
Eggs: Since there are two eggs in this recipe, you may be able to successfully replace each of them with a "chia egg" (1 tablespoon ground white chia seeds + 1 tablespoon lukewarm water, mixed and allowed to gel). I haven't tried this substitution, though, so proceed with caution!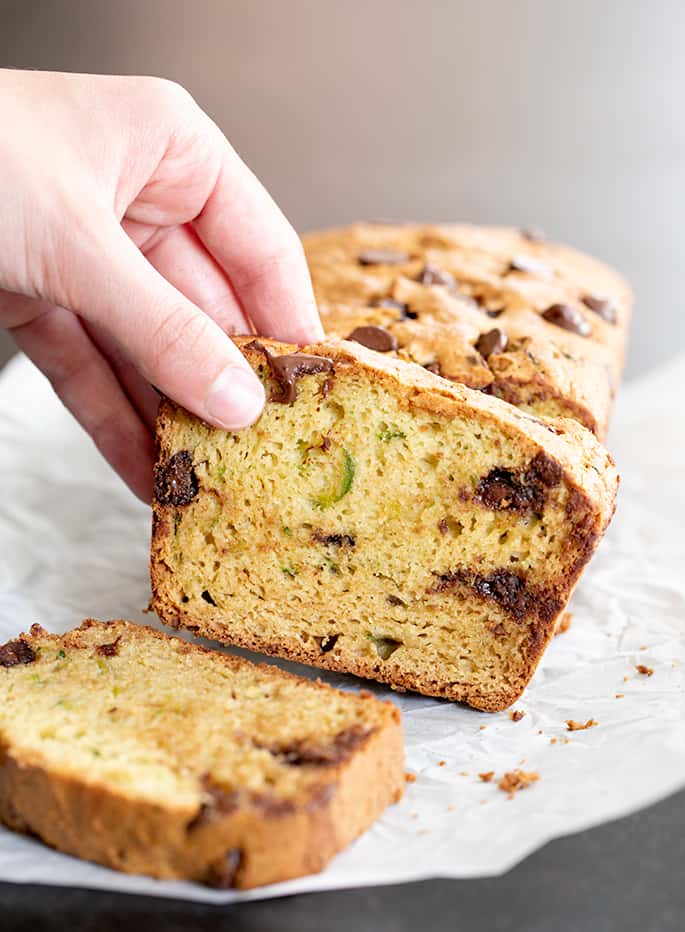 Chocolate Chip Gluten Free Zucchini Bread
Yield:
1 standard loaf quick bread
Ingredients
1 1/2 cups (210 g) all-purpose gluten-free flour (I used Better Batter)
1/2 teaspoon xanthan gum (omit if your blend already contains it)
1/2 teaspoon kosher salt
1/2 teaspoon baking soda
1/2 teaspoon baking powder
1 teaspoon ground cinnamon
2/3 cup (4 ounces) semi-sweet chocolate chips (use dairy free chips to keep the recipe dairy free, if necessary)
1/2 cup (100 g) granulated sugar
1/2 cup (109 g) packed light brown sugar
2 1/8 cups (215 g) drained grated zucchini
2 eggs (100 g, weighed out of shell) at room temperature
1/4 cup (56 g) neutral oil (like grapeseed, canola or vegetable oil)
1 teaspoon pure vanilla extract
Instructions
Preheat your oven to 325°F. Grease a standard 9-inch x 5-inch loaf pan and set it aside.

In a large bowl, place flour, xanthan gum, salt, baking soda, baking powder and cinnamon, and whisk to combine well. Place the chocolate chips in a small bowl, add about 1 teaspoon of the dry ingredients to the chips and toss to combine. Set the chips aside. To the flour mixture, add the granulated sugar and light brown sugar, and whisk to combine (working out any lumps in the brown sugar). Add 1 1/4 cups (125 g) of the grated zucchini to the dry ingredients, and mix gently to combine. Set aside the dry ingredients.

Place the remaining 7/8 cup (88 g) of grated zucchini, the eggs, oil and vanilla in a blender, and pulse until well-blended and beginning to emulsify. Create a well in the center of the bowl of dry ingredients, and add the wet ingredient mixture. The batter will be very wet. Add about 1/2 cup of the chocolate chips and reserved dry ingredients to the batter and mix until the chips are evenly distributed throughout the batter. Scrape the batter into the prepared loaf pan, and smooth the top with a wet spatula. Scatter the remaining chocolate chips on top and press down lightly to adhere.

Place the loaf pan in the center of the preheated oven. Bake, rotating once, until the top is golden brown and a toothpick inserted in the center of each loaf comes out with a few moist crumbs attached (about 50 minutes). Remove from the oven and allow to cool for at least 30 minutes in the loaf pan before transferring to a wire rack to cool completely before slicing and serving.

Originally published here on the blog in 2012. Recipe tweaked to increase eggs slightly and replace mashed banana with pureed zucchini, blended with eggs and oil.