The best gluten free cookies of 2020 are here, and they will not be ignored! Get that oven started—you're not going to want to miss these treats.
Every year, we review the year's best gluten free cookies here on the blog. We've done it before (2013 is here and here; 2014's best is here; 2015's best here; 2016's best here and who could forget 2017's best here. Oh oh wait don't leave out 2018's best. And 2019's cookie hall of fame) Oh, look…We did it again!
How we decide which cookies make the "best of" list
If you're a gluten free cookie, and you want to make this list, you'd better have been published (or republished) on the blog in calendar year 2020. And you'd better be beloved.
Listen, the competition this year was fierce, so some new cookie recipes aren't represented here. There are a whopping 18 cookies in this roundup, though.
Where are the actual recipes?
For each of the these best gluten free cookie recipes, please click on the link below each photo to see the full recipe for that particular cookie. It might sound crazy, but I have this Best Gluten Free Cookies of [Current Year] in mind the whole year.
If I don't work hard enough on cookie recipes throughout the year, there won't be enough for the roundup and I will have failed. And not just you…but myself. So I'll meet you back here next year!
All the warm spices and a touch of molasses make these gingerbread gluten free fudge puddles a fun twist on a classic cookie cup. Some of you have already called these a "new favorite."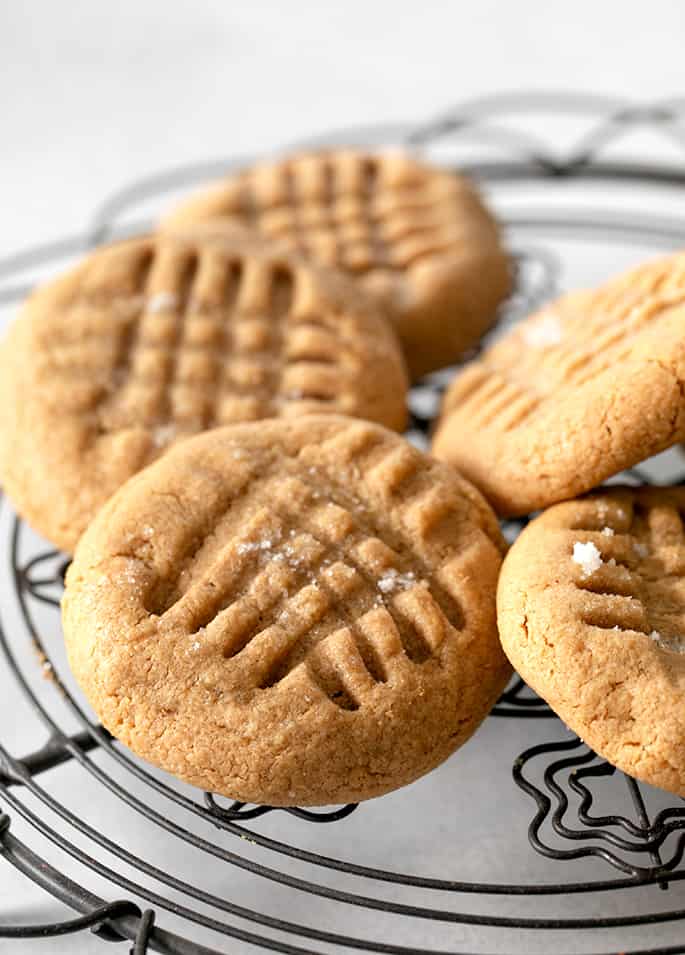 These plain flourless peanut butter cookies are made simply with just 5 regular pantry ingredients, and have that crispy outside and soft and chewy inside. Use a sugar substitute, and they're an amazing low-carb cookie!
Listen, there is no shortage of recipes for these simple cookies, but most of the recipes out there make ugly cookies that have terrible texture. These are the real deal.
The ones you see in the photo are what they basically all look like. Those aren't just the few that turned out pretty. :)
These gluten free chocolate crinkle cookies, with the fudgy center and crispy sugar shell, are a beautiful addition to any holiday cookie plate. The secret to guaranteed crackles on top is to dip 'em in confectioners' sugar not just once, but twice.
These vegan gluten free chocolate chip cookies are thick and extra chewy, and they're perfect if you're out of eggs or just don't eat them. No chilling required!
Rich and chocolatey, but never fudgy, these double gluten free chocolate cookies have melted chocolate and cocoa powder, plus chocolate chips.
Have some fun this holiday season with sugar cookies made into gluten free celebration pinwheel cookies. Just a single batch will bring a cookie plate to life, like magic!
The slight tang and cinnamon-sugar flavor of snickerdoodles meets the rich apple flavor of apple butter in this simple recipe for gluten free apple snickerdoodle bars. Cookie bars are cookies' lazy cousin, and that's a compliment!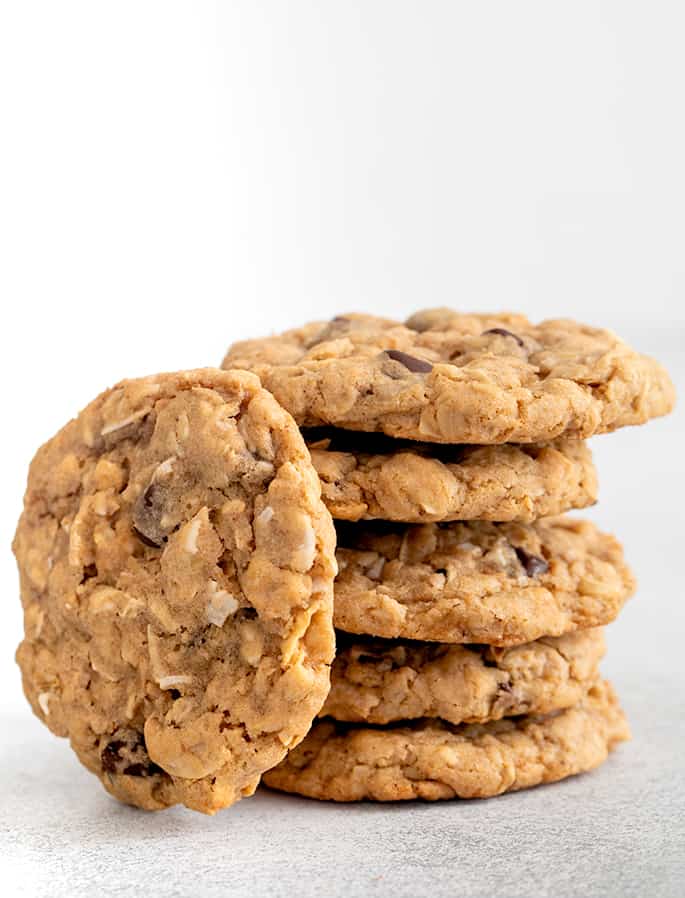 There's no chilling required to make these big, beautiful, nubby brown chocolate chip gluten free cowboy cookies. Whatever their origin story, these are universally beloved!
True story, I republished this cookie recipe during the election season, and I was worried people were going to think I was being somehow partisan. What a year you've been, 2020!
Rich chocolate gluten free brownie crisps have the impossibly crisp texture of the very edge of a well-baked pan of brownies. And yes, they're cookies because they're certainly not brownies and what else would you call them? ?
If you love brownies, but not the edges like the brownie crisps above, then this one's for you. Gluten free brownie cookies have all the richness of brownies in a soft, chewy and tender cookie. They're made without chocolate chips because they don't need them!
The ideal salty-sweet cookie, these gluten free potato chip cookies have every texture you can imagine. They're chewy on the inside and buttery-crisp on the edges, with the crunch of potato chips throughout.
Like all the cookies on this list (and most cookies in general), these freeze well—but they are best enjoyed at warm room temperature. That's when they're at their chewy best. Just let them defrost naturally.
These lovely bakery-style gluten free sugar cookies are chewy and satisfying, and have the tiniest bit of zing for a slightly more complex cookie flavor. Dress them up, if you like, in nonpareils, or keep them simple.
These soft and chewy gluten free molasses cookies are perfect for lunchboxes or to enjoy with a cup of hot cider. Remember these from Archway? They're like that!
More than just sugar cookies baked into a bar, these gluten free sugar cookie bars are extra tender and moist. The crackly vanilla sugar crust takes them over the top.
This recipe was an unexpected and enthusiastic hit with readers. And here I thought they'd be hard to explain. Sometimes, I simply just have to ride the blogging rollercoaster, sitting right next to you! ?
These gluten free gingersnaps, with just the right warm spices and a little cracked black pepper, are baked low and slow for the perfect, ultra-crispy texture. Store them in a glass jar at room temperature and they'll stay crisp!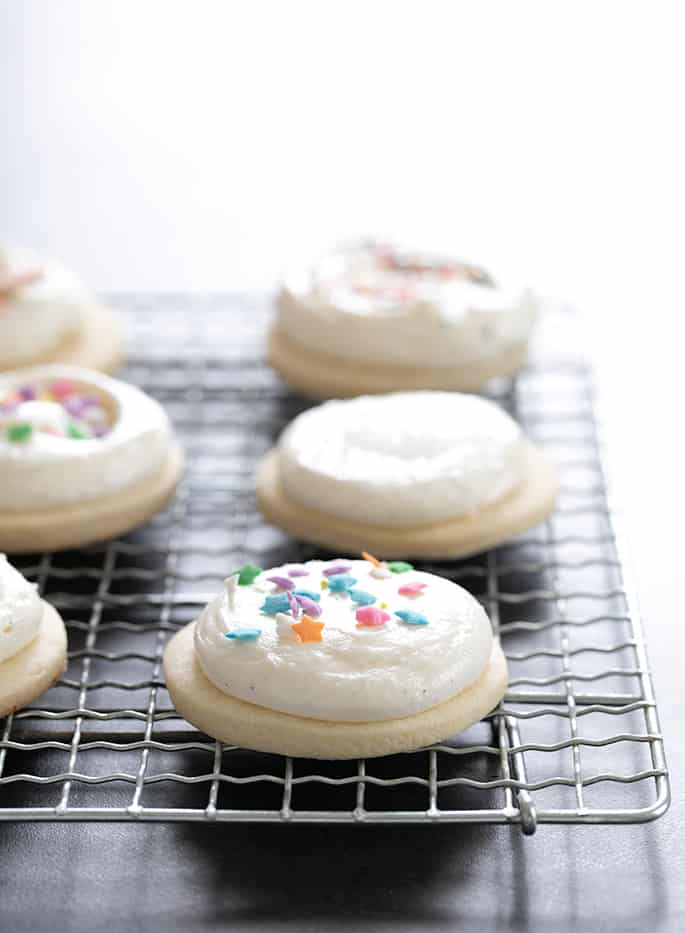 These soft gluten free cutout sugar cookies with a meringue-type frosting are in a class by themselves. They'll hold any shape you like, and they're beautiful.
I feel like 2020 is the year these republished beauties finally got the attention they deserve. Sometimes, you just have to wait your turn, like everybody else!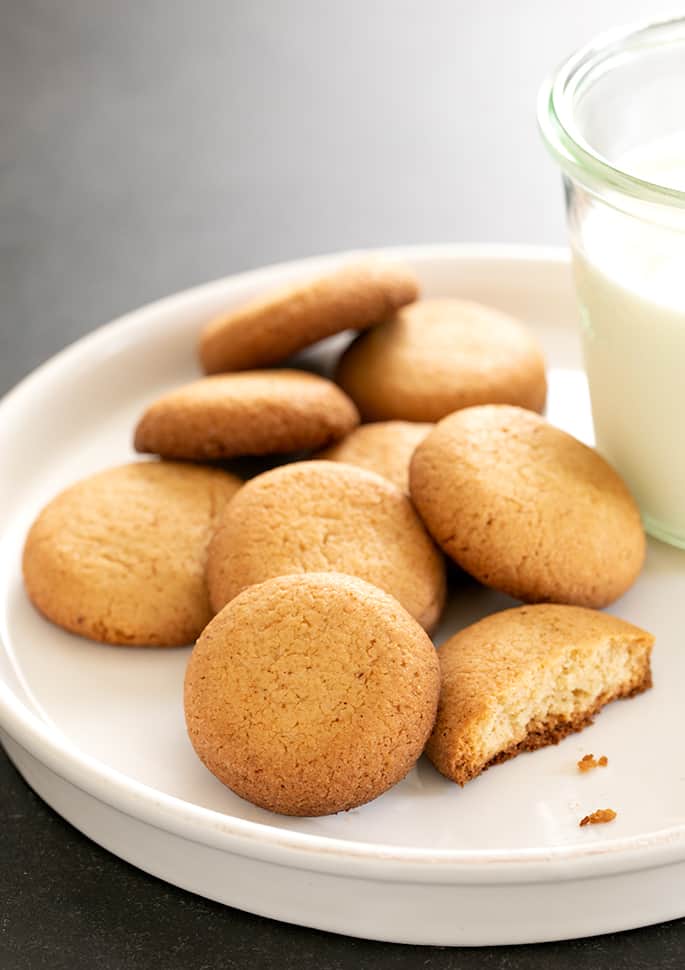 These gluten free "Nilla wafers" are the ultimate crispy vanilla wafer cookie, made with plenty of butter and brown sugar. They taste just like Nabisco, and they're better than any packaged gluten free variety.
This versatile recipe for gluten free shortbread cookie mix is ideal for making 5 flavor varieties that each taste completely distinct. One recipe can make a beautiful cookie plate all on its own.
The 5th variety, not pictured, is the plain one. Poor Cinderella got stuck at home, doing the dishes.
All but two of the cookies pictured above are on this "best of" list. One exception is the plain, simple gluten free meltaway cookie. They're just a never-ending favorite, and I happened to have made a quick batch, so they showed up.
The other is soft gluten free gingerbread men. They're on the plate because they got a new how-to recipe video this year, which is worth seeing!
I hope you get all you wish for this holiday season. My wish for you is that you are able to bake, be merry, eat good food, and show yourself some kindness.
Like I always say, may your holiday be happy and if it can't be happy, let it at least go quickly. 2021 is going to be a good one. I can feel it!
Much love,
Nicole