Only the best gluten free cookies of 2019 make this list, so you're going to want to make every single recipe here. Fire up the oven and start mixing!
Every year, we review the year's best gluten free cookies here on the blog. We've done it before (2013 is here and here; 2014's best is here; 2015's best here; 2016's best here and who could forget 2017's best here. Oh oh wait don't leave out 2018's best.) And with any luck ? we will live to do it again.
How we decide which cookies make the "best of" list
In keeping with tradition of the last few years on the blog, these recipes are not the only gluten free cookies published on the blog in 2019. They're just the best gluten free cookies of 2019 on the blog according to you and your views and clicks.
In the earliest days of the blog (bless), the "best of" lists were based simply on total visits and clicks, without regard to the year in which the recipe was posted. But the way the Internet works is that oldies tend to do better today than they did when they were first published—and than any other more recently-published post. So it became a ho-hum boring as heck process, repeating the same oldies time and again.
Now, to be eligible, each cookie recipe must have a blog publication date in the calendar year 2019. And things have gotten much more EXCITING ever since. ?‍♀️??
Each and every one of the 14 cookie recipes here in this collection freezes beautifully, so double and triple up on your favorites so your freezer stash is prepped. Let's plan to eat our feelings in 2020.
A quick note ? about the supposed evils of sugar
Have you heard of "intuitive eating" in 2019? Well, it says that no foods are "good" or "bad" and as someone who writes what is primarily a baking blog, I LIKE IT.
Maybe I'll link people who email me to say that I'm killing everyone by encouraging sugar consumption a link to one of those articles… ?
Where are the actual recipes?
For each of the these fabulous gluten free cookie recipes, please click on the link below each photo to see the full recipe for that particular cookie. Meet you back here next year the Friday before Christmas for 2020's best!

These gluten free chocolate kiss cookies are rich and fudgy with a thin, crispy shell, all topped off with a single Hershey's kiss after baking. There's even a chocolate and peanut butter-flavored variation!
This gluten free butter cookie recipe turns out perfect icebox or spritz (cookie press) cookies every time. They hold their shape and can be as simple or as fancy as you like.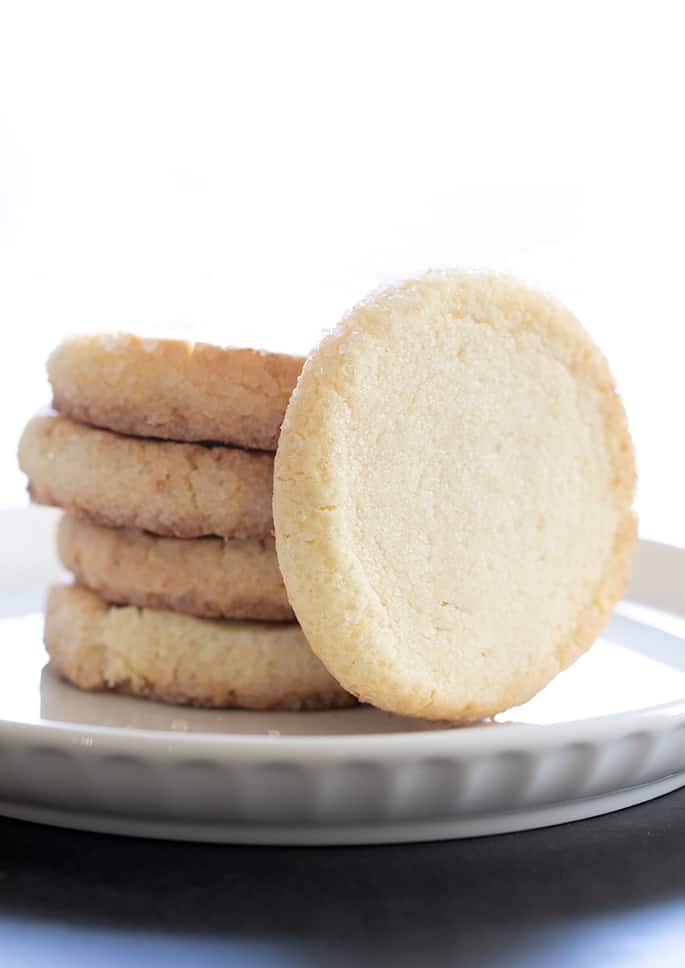 Gluten free sablé cookies are simple slice-and-bake French-style buttery shortbread cookies. Crunchy outside, chewy inside, with sparkly coarse sugar all around. And they have an accent mark in the name, for better or worse.
These Nutella monster cookies are like a cross between a nut butter cookie and an oatmeal cookie. Made with Nutella instead of the traditional peanut butter, they're a truly special treat for the Nutella lovers in the house.
These soft, chewy cutout gluten free lemon sugar cookies are just like Lofthouse cookies, but with a simple lemon icing and just enough bright, citrus flavor. They're beautiful, and special, and tasty.
These naturally gluten free peanut butter oatmeal chocolate chip cookies are made with oats, oat flour and some cornstarch for the perfect chewy cookie. They have sugar, but they're all whole grains and so I feel a wee bit better about serving them all.the.time.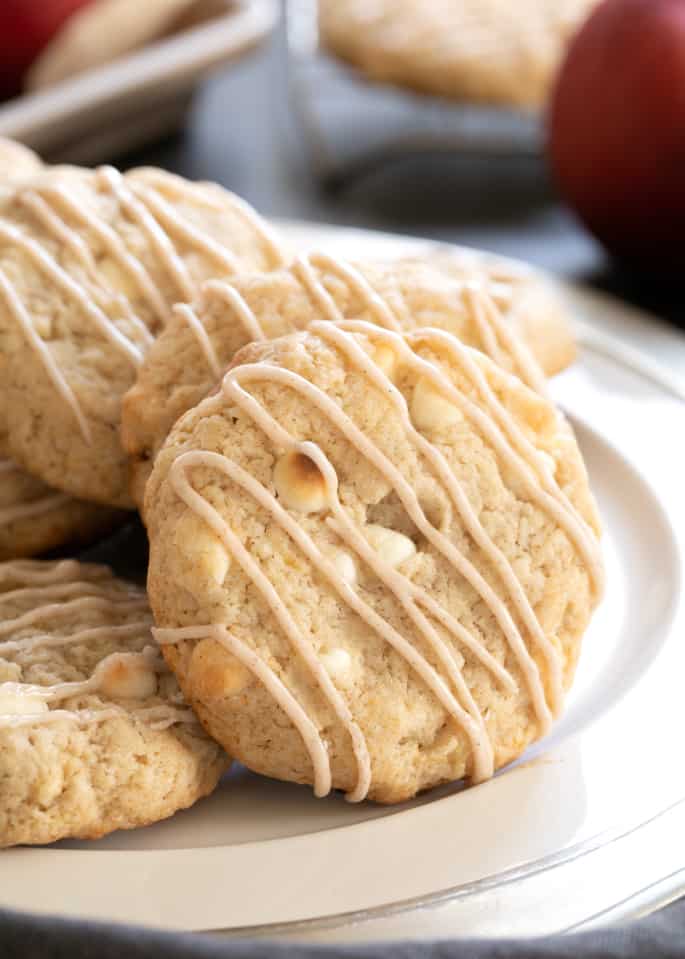 These gluten free apple pie cookies are a simple drop cookie with all the taste of apple ? pie, plus a little extra sweetness from white chocolate chips. Don't worry if you've never heard of such a thing.
They're thick and chewy and will be a new favorite—if you'll just make one little batch.
This recipe for flourless peanut butter chocolate chip cookies, with only 6 simple ingredients, makes perfectly soft and chewy cookies. You'll never believe they have no flour.
And by "no flour" I really do mean no flour. The oatmeal peanut butter chocolate chip cookies above are not no flour because they have oats ground into flour. I take pride in that sort of somewhat-meaningless distinction.
These gluten free "Thin Mints" cookies, crisp chocolate mint cookies in a rich chocolate coating, make you forget you can't have "real" Girl Scout Cookies. And for the record, it's nice that the Girl Scouts made an effort, but their gluten free cookies simply don't compare.
These cutout almond flour sugar cookies will hold any shape you like so you can celebrate any holiday and still eat grain free.
These stained glass gluten free sugar cookies are the easy way to dress up cutout cookies for the holidays. You can even hang them from the tree.
What's that? You think they're too fussy to get right? The center is crushed candies that melt easily and without any extra help in the oven.
Have a look at the comments on the post from people who thought juuuuust that and were proved wrong. And then get baking!
These crispy but tender peanut butter oatmeal cookies with a sweet, creamy peanut butter filling taste just like Do-Si-Dos Girl Scout Cookies—but they're gluten free. Some matters you just have to take into your own hands (see Thin Mints above).
These gluten free cinnamon roll sugar cookies somehow manage to be soft and tender, and even light and flaky. Just like a "real" cinnamon roll—but in a neat little cookie. And no rising time. They're cookies, after all!
These easy gluten free iced oatmeal cookies are soft and chewy in the center, and crisp around the edges. A light coating of icing on top makes them extra beautiful.
So many of you seem to share my fond memories of Archway oatmeal cookies. These are like a balm to the soul.
Even if you make just 4 of these recipes, you can have a cookie plate that looks just like the one above. Well, I mean, it's my actual plate but you get the idea.
Bake, be merry, eat things that taste delicious, and enjoy yourself. Like I always say, may your holiday be happy and if it can't be happy, let it at least go quickly.
Much love,
Nicole