Gluten free cinnamon sugar gluten free soft pretzel bites just like Auntie Anne's—with sweet glaze. Get your Auntie Anne's back!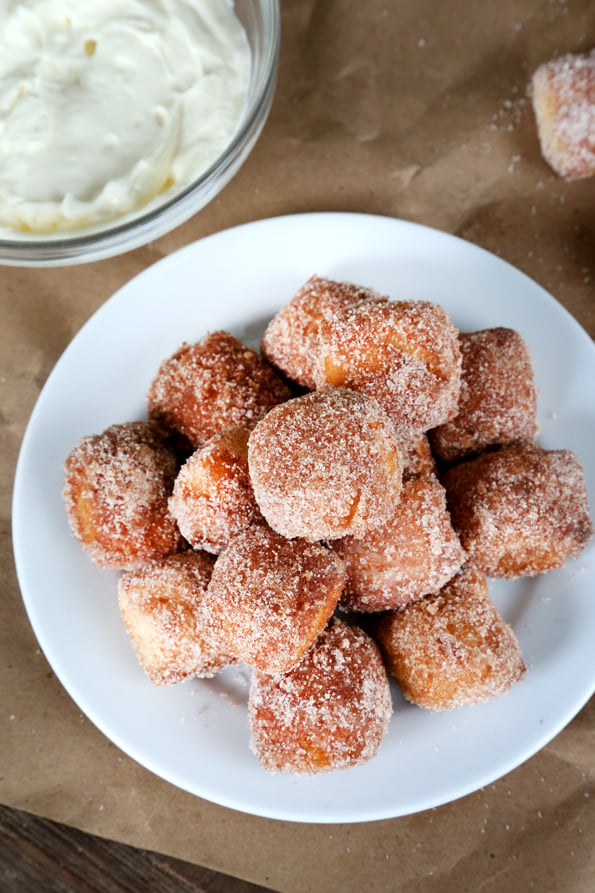 It's a Friday, and here I am with another recipe. This isn't even what I had planned to write about today. But then my son reminded me that I had to go to the mall to buy a gift for his friend (a 10-year-old boy who already has everything!), and that got me thinking about our dear Auntie Anne and her mall pretzels. We've already made her traditional soft pretzels (copycat gluten free style) with that delicious sweet mustard dipping sauce from the recipe for Pretzel Rolls from page 153 of GFOAS Bakes Bread with just a few decadent modifications. But I quickly followed that with cinnamon sugar gluten free soft pretzel bites and sticks. It may or may not have been a transparent excuse to whip up a copycat version of dear Auntie Anne's sweet glaze.
Personally, I'm partial to the sticks. I have my reasons.
Okay, my reason is pretty thin. They're just easier to dip in the glaze without having to dirty your fingers and then be faced with resisting the licking of the fingers. As a person who cooks and bakes for other people all day every day of my life, I am very sensitive to the licking of fingers. I never, ever do it. EVER. Even when I'm totally alone. I just … can't.
Now, I made the bites and the sticks. Half bites, half sticks. The bites remind me of donuts. The sticks? A soft, sweet chewy glaze delivery system.
It's really a personal thing. Mine is not to judge.
Mine is merely to show you the light and fluffy, chewy inside of those gorgeous gluten free soft pretzel sticks, coated with cinnamon sugar, ready to be dipped in that gorgeous glaze. Oh, and a word about the glaze: I realize that it seems ridiculous to use light cream cheese when a person is whipping it with heavy whipping cream. It's just that the light cream cheese is a bit thinner and can be easier to whip. If you only have regular cream cheese, just roll with it.