These gluten free carrot muffins look and taste like they just came out of your favorite bakery! And a pretty, light sprinkling of brown sugar on top adds lots of flavor.
Make them with or without raisins. You can even add chocolate chips!
What's special about these gluten free carrot muffins?
Muffins from a bakery always have a big, bold dome on top. There are usually tiny crumbs of something especially delicious, too.
These gf carrot muffins are perfectly browned all around, and have an extra sprinkling of brown sugar on top of a lovely dome. They look like they came out of your favorite bakery, but they came out of your own kitchen!
Once you see how easy the batter is to make in just one mixing bowl, you'll make this recipe again and again.
Do these gf carrot muffins taste like gf carrot cake?
These muffins taste similar to gluten free carrot cake, but there is less sugar in these muffins, and their crumb is a bit denser. These muffins are still super tender, but they're not quite as soft as cake or cupcakes.
Muffins are usually made to be heartier and more satisfying than cupcakes. They're usually eaten for breakfast or a snack, so you want them to fill you up.
I wouldn't serve these muffins with frosting on top. But I would happily serve cupcakes with frosting—since they're for celebrating!
Tips for making the best gluten free carrot muffins
I've done all the testing for you, so you can have all the glory! Here are some things to keep in mind as you set out to make these gf muffins:
Baking is precise by nature. Measure everything that has a weight measurement provided on a simple digital kitchen scale.
Avoid making substitutions whenever possible. If you have other dietary restrictions, use the suggestions below to accommodate your needs.
Temperature matters! If an ingredient is meant to be at room temperature, bring it to room temperature or the batter won't combine properly, and the muffins won't turn out.
Use one of my recommended all purpose gluten free flour blends to make this recipe. Other flour blends are gritty, or poorly balanced and won't make muffins that have the taste, texture, or even shaped you expect.
Can you freeze these gluten free carrot muffins?
Yes, these muffins freeze perfectly! Just place the baked and cooled muffins in a single layer on a small, rimmed baking sheet or tray.
Place the baking tray in the freezer and freeze the muffins until they're solid, about 2 hours. Then, pile the frozen muffins into a freezer-safe bag, and remove as much air as possible.
Trapped air is what causes freezer burn, which is what makes your frozen baked goods taste stale.
Then, defrost the muffins as you need them, one by one. You can defrost them at room temperature, or pop one in the microwave for a few seconds to help it thaw.
Then, try refreshing the muffins in the toaster oven by sprinkling them lightly with water and toasting or warming them in a 300°F oven. They'll taste freshly baked!
Substitutions to try for some gluten free carrot muffin ingredients
Gluten free egg free carrot muffins
If you can't have eggs, you can try replacing the eggs in these carrot muffins with one "chia egg" each. For each chia egg, place 1 tablespoon ground white chia seeds with 1 tablespoon lukewarm water in a small bowl, mix, and let it sit until it gels.
There are 4 eggs in this recipe, which is a lot of eggs to try to replace. I would recommend reducing the size of the recipe by half, or even reducing it down to 1/4, to test whether the egg replacer will work here.
Gluten free dairy free carrot muffins
There isn't any butter in these muffins, since they're made with virgin coconut oil that softened (at warm room temperature). The only dairy in these muffins is the buttermilk.
If you can't have dairy, you can replace the buttermilk with half unsweetened nondairy milk and half nondairy plain yogurt, each by volume.
How to replace buttermilk in baking
Even if you can have dairy, you may find that you don't have buttermilk on hand. Don't try replacing buttermilk by simply adding some lemon juice to milk!
Adding lemon juice to milk doesn't replace the thick, rich texture of buttermilk. It just adds some tang.
Instead, in place of buttermilk, combine half whole milk and half plain yogurt, each by volume. Mix and bring to room temperature, and you have the perfect buttermilk substitute.
What is virgin coconut oil and do I have to use it in this recipe?
Virgin coconut oil is an unrefined coconut oil that is solid at cool room temperature. This recipe calls for using it at
Virgin coconut oil has a very faint coconut aroma that is mostly undetectable. If you're very sensitive to the smell of coconut, try using triple-filtered virgin coconut oil, which has no aroma.
You can also use nonhydrogenated vegetable shortening in its place, which is odorless.
I don't recommend using butter in place of coconut oil. It causes the muffins to brown too much during baking, and changes the look and taste of the muffins pretty significantly.
You cannot use an oil that is liquid at room temperature in place of virgin coconut oil. The muffins will turn out feeling, tasting, and smelling oily.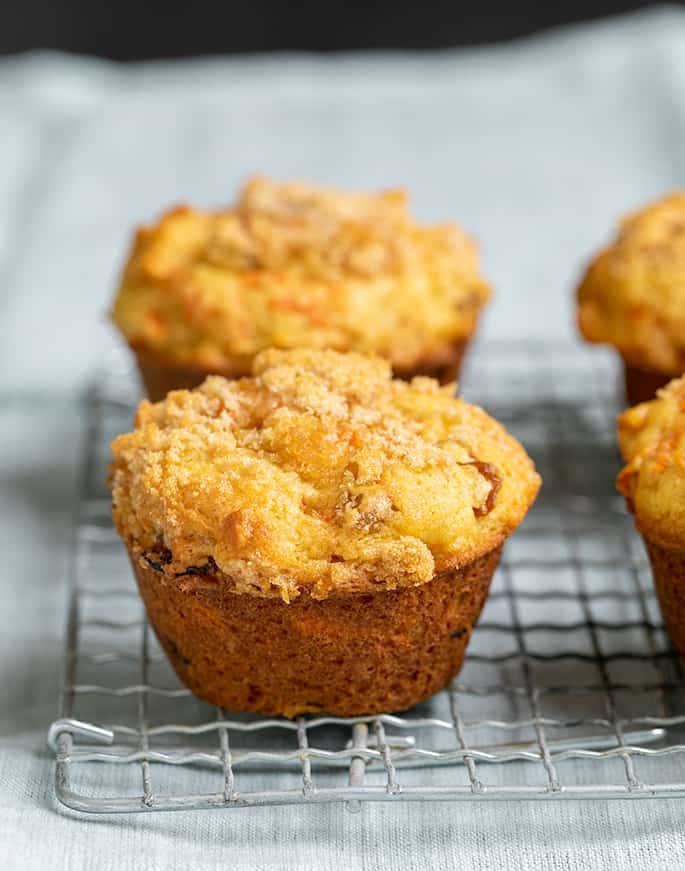 How to make gluten free carrot muffins, step by step
Gluten Free Carrot Muffins
These gluten free carrot muffins look and taste like they just came out of your favorite bakery! And a pretty, light sprinkling of brown sugar on top adds lots of flavor.
Ingredients
2

cups

(

280

g

) all purpose gluten free flour blend

(I used Better Batter; click through for details)

1

teaspoon

xanthan gum

omit if your blend already contains it

2

tablespoons

(

18

g

)

cornstarch

1

teaspoon

baking soda

1 ½

teaspoons

baking powder

½

teaspoon

kosher salt

1

cup

(

200

g

)

granulated sugar

2

cups

(

200

g

)

fresh carrots

peeled and grated

6

ounces

raisins

or semi-sweet chocolate chips

9

tablespoons

(

108

g

)

virgin coconut oil

at warm room temperature (See Recipe Notes0

4

(

200

g (weighed out of shell)

)

eggs

at room temperature, beaten

¾

cup

(

6

fluid ounces

)

buttermilk

at room temperature

1

teaspoon

pure vanilla extract

2

tablespoons

(

26

g

)

light brown sugar

for sprinkling (optional)
Instructions
Preheat your oven to 350°F. Grease the wells of a standard 12-cup muffin tin and set it aside.

In a large bowl, place the all purpose flour, xanthan gum, cornstarch, baking soda, baking powder, salt, and sugar, and whisk to combine well.

Add the grated carrots and mix to combine, breaking up any clumps. Add the raisins or chocolate chips, and toss to coat. (See Recipe Notes)

Create a well in the center of the dry ingredients and add the coconut oil, beaten eggs, buttermilk, and vanilla, and mix to combine. The batter will be thick but soft.

Fill the prepared wells of the muffin tins about completely full with batter. With wet fingers, smooth the tops of the batter in the wells.

Sprinkle the tops of the batter in the muffin wells evenly with the optional brown sugar.

Place the tin in the center of the preheated oven and bake until the tops of the muffins spring back when pressed gently (18 to 20 minutes).

Remove the muffin tin from the oven and place on a wire rack. Allow to sit for at least 5 minutes before transferring to a wire rack to cool completely.
Notes
About the mix-in raisins or chocolate chips: You can leave out the mix-ins entirely, or you can use whatever you prefer in their place. Raw coconut chips might be nice. Use good-quality raisins, though, or they'll be too chewy in the muffins. If your raisins seem hard, soak them in some warm water for about 15 minutes first. Then drain the water from the raisins, and add them to the batter once all the other ingredients, including the wet ingredients, have been added.