These extra thick and chewy gluten free blondies with white chocolate and butterscotch chips are perfect as they are. Add some maple butter sauce if you dare.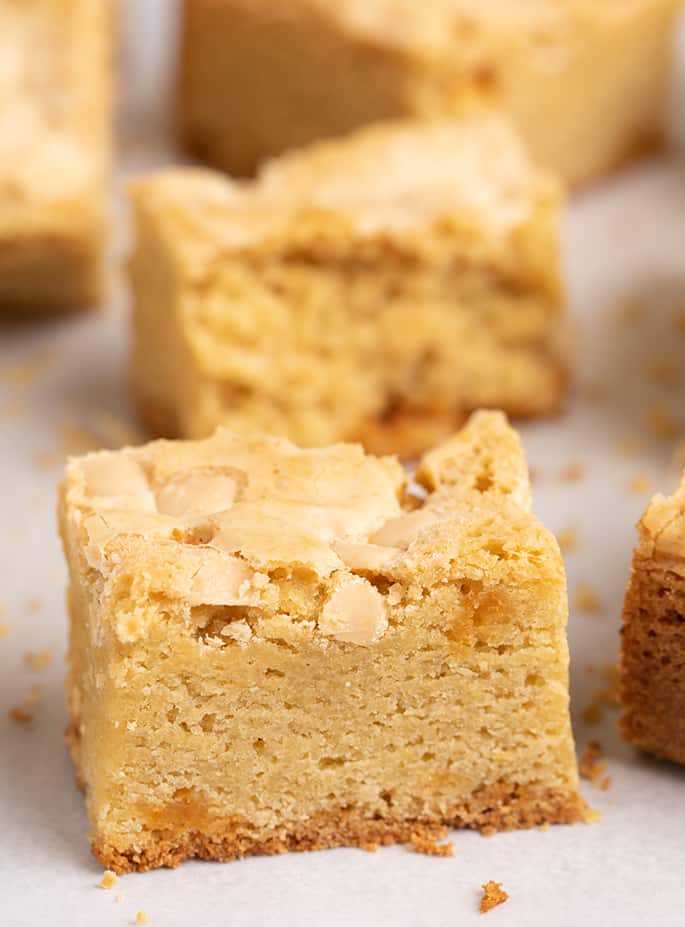 What's the difference between a brownie and a blondie?
The main difference between a brownie and a blondie is the dominant flavor. In brownies, the main flavor is chocolate. In blondies, the flavor of brown sugar, which tastes faintly like butterscotch, is dominant.
Blondies are also often called "blonde brownies." I assume that's because brownies, which are of course brown, are the original, and blondies are the blonde variety.
Chewy brownies, which are similar in texture to these blondies, have very little gluten free flour in them. Instead, they rely heavily on cocoa powder as a dry ingredient.
Blondies aren't made just by eliminating the cocoa powder from our chewy brownies recipe. They're completely rebalanced with more butter, and plenty of brown sugar.
If you add pecans, like I sometimes do, and top the blondie with ice cream and the maple butter sauce, it tastes like a deconstructed butter pecan ice cream. It just happens to be in the form of a thick, chewy blondie studded with pecans and white chocolate chips.
Much later than brownies and blondies, of course, came thick, chewy bars of other flavors. My favorite is our gluten free lemon brownies, or "lemonies."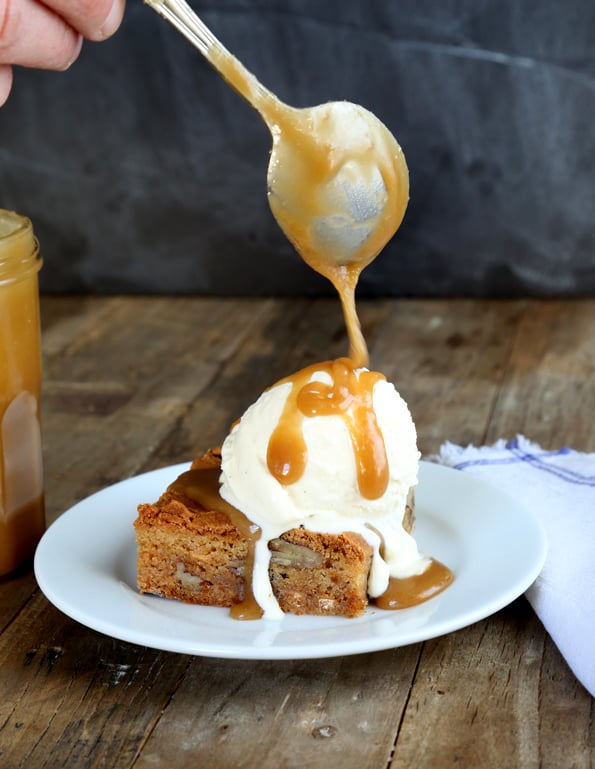 How to make Applebee's maple butter sauce
When I first published this recipe way back in 2014, I was focused mainly on the maple butter sauce. I was dying to replicate the maple butter blondies from Applebee's, as requested by a reader at the time.
These days, I don't always make the sauce to accompany the blondies. But when I do, I serve it with these blondies, but also over ice cream, or even just our chewy gluten free brownies, with no regrets.
To make the maple butter sauce, we take a basic butterscotch sauce, which is made with brown sugar, butter, salt, and cream, and add maple syrup. All you do is cook the sugar, butter, and maple syrup low and slow, then add cream and reduce it slightly.
Make the sauce ahead
The sauce can be made ahead of time, and stored in a sealed container in the refrigerator. It will solidify, so you'll just have to reheat it gently until it's smooth.
When you're ready to serve the sauce, just uncover it and warm it in the microwave on reduced power, stirring frequently. You can also place a heat-safe container in a water bath in a small saucepan on the stovetop and stir stir stir.
Is there gluten in white chocolate chips?
There does not have to be gluten in white chocolate chips. But since white chocolate chips are frequently made with a bunch of different ingredients, and often not made with any cacao butter, they do sometimes have gluten.
The same is often true of butterscotch chips. They can contain gluten.
That doesn't mean that you can't have white chocolate chips or butterscotch chips if you're gluten free. It just means that you have to be mindful of your sourcing.
Hershey's brand, at least in the U.S., is usually gluten free. Just be sure to read labels and check websites to make sure.
In fact, if you want white chocolate with real cacao butter, you often have to make your own. If you're feeling adventuresome, you can try our recipe for homemade vegan white chocolate.
Ingredients and substitutions
Dairy
There's a lot of dairy in this recipe, both in the blondies and in the maple butter sauce. I think you can replace it in the blondies, but the sauce is much harder.
For the butter, in all cases, I recommend vegan butter. Miyoko's Kitchen and Melt are my favorite brands.
Instead of white chocolate chips, I recommend replacing them with dairy free chips of another kind.
Eggs
I'm afraid there are just too many eggs in this recipe for me to suggest trying to replace them. They provide nearly all the rise in them, since there's only a bit of baking soda.