The simplest, most classic savory gluten free Irish soda bread, made with flour, baking soda, buttermilk, and just a touch of cold butter.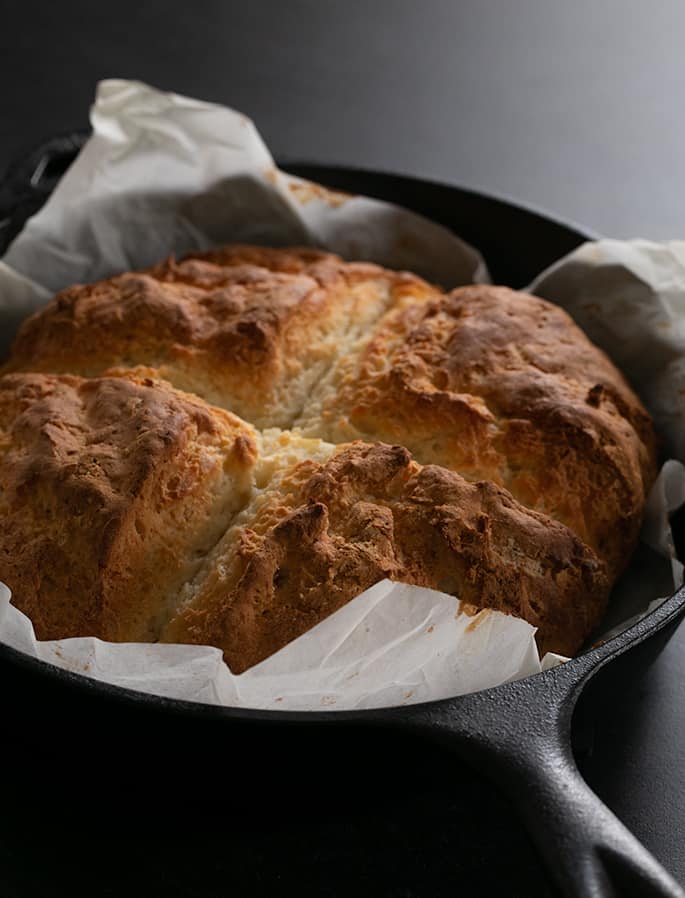 Why I love this recipe
I first developed my original recipe for gluten free Irish soda bread when my gluten free son was in grammar school, so he wouldn't feel left out during those celebrate-every-holiday-with-food years.
The older he gets, of course, the more powerless I've become in that way (all ways?). If I think too hard about that, I'll need a bonus therapy session this week ? so let's move on…
All 3 of my children love even the very idea of Irish soda bread, since it's, well, sort of like a big old biscuit, no matter which way you make it. This version is quite different than the first, though, as it's a savory gluten free Irish soda bread.
I serve it for breakfast, for an after school snack, and as a dinner side. It can even be used for a sandwich, if you can believe that, since it's delightfully soft but chewy inside and crusty inside.
Only the simplest ingredients
The most traditional Irish soda bread, as I understand it having admittedly not a drop of Irish ? blood to be sure, is a simple quick bread recipe, made with flour, baking soda, salt, and buttermilk.
Perhaps because we Americans can't resist, we've added sugar, butter, and made it into more of a sweet treat, like in my original soda bread recipe. This recipe is little more than the most traditional flour, baking soda, salt, buttermilk formula. The two tablespoons of sugar help round out the flavor of the bread, but they're entirely optional.
For a bit of richness and additional moisture, I've added a few tablespoons of unsalted butter. Since it's such a simple recipe, you must use all of the ingredients if you want a beautiful loaf that's crisp on the outside, soft and chewy inside.
For a more highly enriched, sweetened bread with raisins or currants, I recommend my original recipe for gluten free Irish soda bread.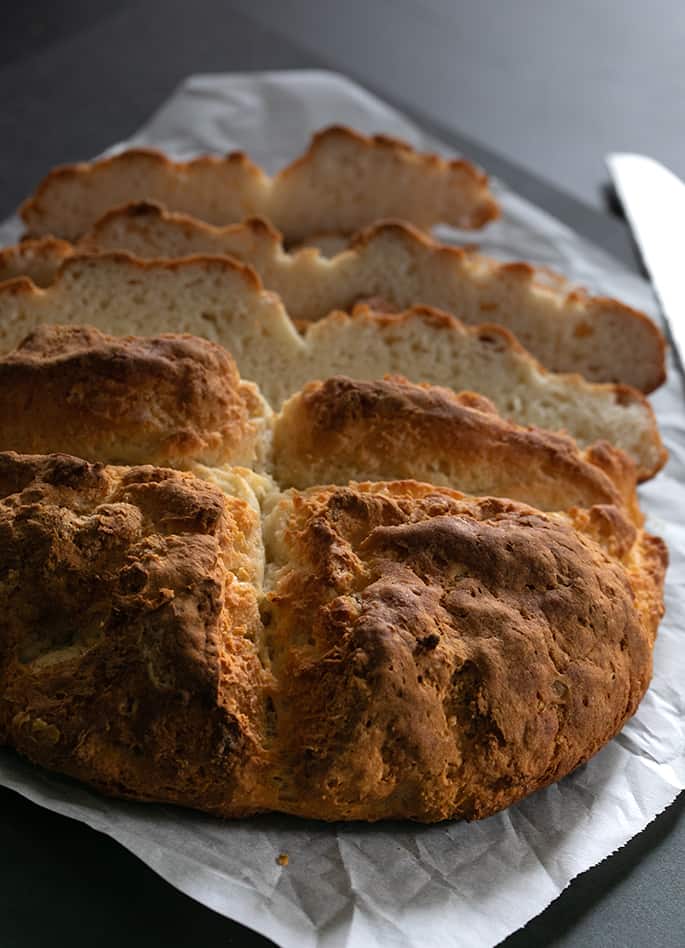 Buttermilk is not just milk with vinegar or lemon
You'll find heaps of information on the Internet from all sorts of reputable websites claiming that buttermilk can be replaced in any recipe that calls for it with a "soured" milk of one kind or another. Please … don't do that?
Souring milk with a tablespoon or so of lemon juice, cream of tartar, or white vinegar will make your milk taste a bit sour, and may even form a few curdles if it's cow's milk. But it will not replicate the thickness and taste of modern, store-bought buttermilk.
Originally, buttermilk was the liquid left over when butter was churned from cream. Modern buttermilk, however, is cultured which results in a more distinct taste and thickness. It's thinner than plain yogurt, but similar in taste.
That's why my favorite substitute for store-bought buttermilk is a mixture of half milk, half plain yogurt (the thinner, European-style of yogurt works best). I do tend to use that mixture interchangeably in recipes with buttermilk, and truly have no issue.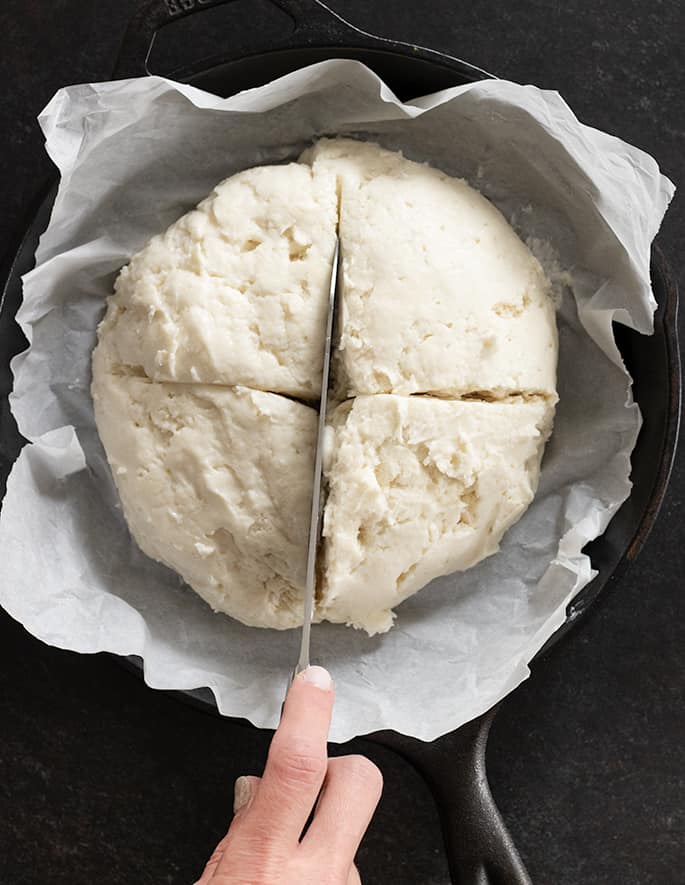 Ingredients and substitutions
Dairy: There is dairy in both the butter and the buttermilk in this recipe. In place of the cold, grated butter, try using Melt brand or Miyoko's Kitchen brand vegan butter (my favorite butter replacements for most purposes).
If you can't find either brand of vegan butter, you can try using Earth Balance buttery sticks, but use 2 tablespoons instead of 3. I also think that Spectrum brand nonhydrogenated vegetable shortening (preferably butter flavor) would work great, but even the whisper of shortening seems to send some into a tailspin. In that case, forget I said anything. ?
In place of buttermilk, try using half plain nondairy yogurt and half nondairy milk. Please scroll up for a more complete discussion of replacing buttermilk in recipes. TL;DR version: do not use milk "soured" with some acid.
Cream of tartar: If you can't find cream of tartar, you can leave this ingredient out but I prefer the results when I add it. It's an acidic agent, which is already present in the buttermilk, but it also helps the bread maintain its rise and white color inside.