Let's make a big gluten free cookie cake, with chocolate chips, the blue and white frosting and everything. It's a celebration!
I may be aging myself (I'm 46 and my oldest child is a junior in high school someone hold me), but when I was growing up in the suburbs of New York City, you were just as likely to see a cookie cake for your friend's birthday as you were a traditional layer cake.
The cookie was slightly crisp outside and had a perfect chewy bite inside. And the frosting was thick. I think the company that made the cookie cakes was David's, but it might have also been Mrs. Fields. And you'd often find a storefront at your local suburban mall, selling regular-sized cookies and cookie cakes.
How is this different from a traditional chocolate chip cookie recipe?
This recipe of course makes a pizza-style cake that tastes, well, like a chocolate chip cookie. But to get it to bake up just right, we need a different balance of the basic cookie ingredients (butter, sugar, vanilla, gf flour, baking soda, salt, chocolate chips).
The mix of shortening and butter creates just the right cookie dough that is easy to shape into a round, and bakes up with that crisp crust and thick and chewy center. Adding 1 whole egg plus two egg yolks helps make the cake extra chewy and soft in all the right places.
You do need a round pizza pan, something I don't ever use for making homemade pizza, though. For gluten free pizza, I use a baking stone and pizza peel since it makes for a more perfectly crisp crust.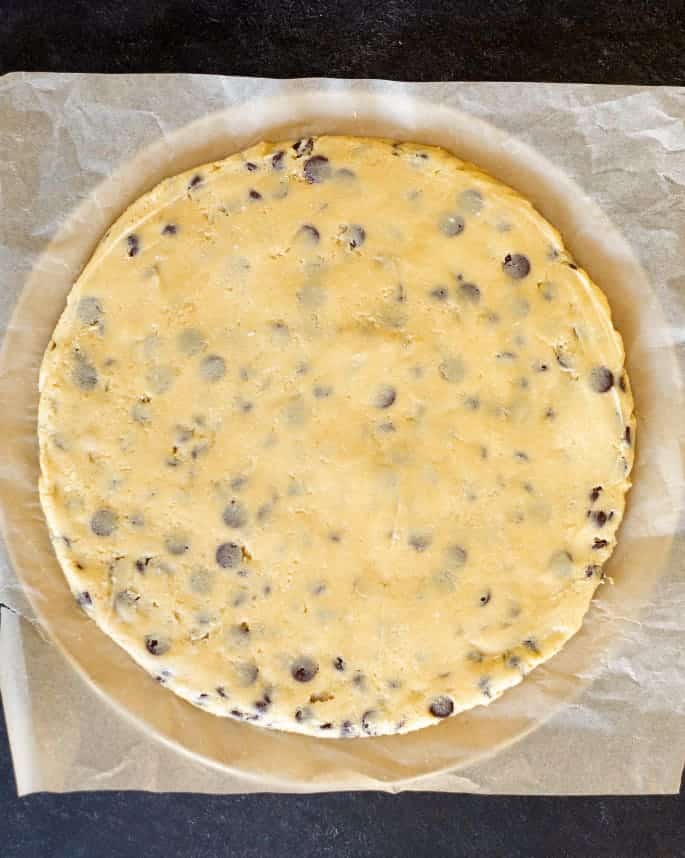 How to decorate this cookie cake
In my experience, there are just a few messages ever written on cookie cake (and always in blue and white!): 1. Congrats 2. Happy Birthday or 3. Good luck. I've written happy birthday on a cookie cake before, but it's a bit of a labor of love.
The number of letters actually in the simple phrase "happy birthday" is never more apparent than when you're trying to use a relatively thick frosting to write all those letters in the center of a 12-inch diameter round—with a star border. You can shorten it to "happy bday," and that's what I would recommend, for the sake of sanity.
Using meringue powder in an otherwise simple buttercream frosting allows us to make frosting that is thin enough for using to pipe words, but is still stable at room temperature after it sets. Of course, you can add a thick layer of frosting over the entire top of the cake, like you would a soft frosted sugar cookie.
Here, I left about 2/3 of the frosting white and placed it in a piping bag fitted with a large open star tip. I used that frosting to make the stars around the border. Then, I mixed some Americolor brand blue gel food coloring into the remaining 1/3 frosting and placed it in a piping bag fitted with a small open round tip. I used the blue frosting to write a message in the center of the cake and then filled in the rest of the open spaces with more stars using the remaining white frosting.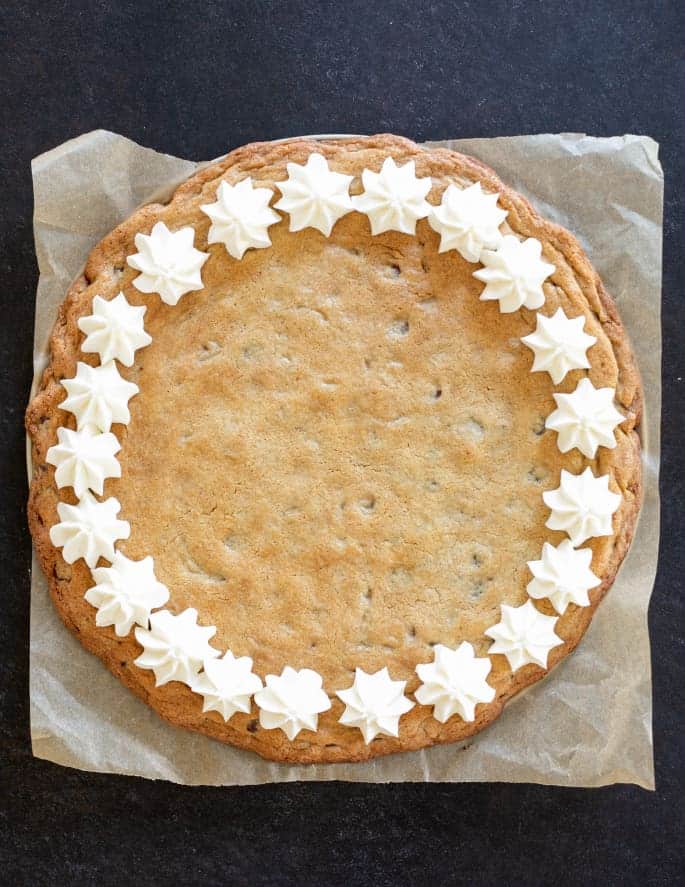 How to make this cookie cake ahead of time
This cookie cake is so easy to make ahead of time. It will keep, fully frosted, in the refrigerator for at least 24 hours, without compromising its texture or flavor. Allow it come to room temperature before serving it.
If you'd like to make it more than a day ahead of time, try making the cookie cake itself completely. Allow the cake to cool fully, then wrap it tightly in freezer-safe wrap (I really like culinary beeswax wrap or Glad Press n Seal for a disposable option) and place it, flat, in your freezer for at least a month. Make the frosting and decorate the cake up to a day ahead of time, and store it in the refrigerator.
Ingredients and substitutions
Dairy-free: The cake recipe calls for both butter and Spectrum nonhydrogenated vegetable shortening for the proper mix of moisture in the cookie dough. It's this exact balance that produces the proper slightly crisp, lightly brown outside on the cake with a chewy center. It also allows the cake to spread slightly during baking, while still holding its shape.
If you need to make the recipe dairy-free, try replacing the butter with 4 tablespoons (56 grams) Earth Balance buttery sticks (reduce the salt a bit, since Earth Balance is quite salty), and increasing the vegetable shortening to 8 tablespoons (96 grams). That might approximate the moisture balance of the recipe as written.
In place of the butter in the frosting, try using Spectrum nonhydrogenated vegetable shortening. Just expect to use less confectioners' sugar since the frosting will naturally have less moisture. And be sure to use dairy-free chocolate chips and nondairy milk in the frosting.
Vegetable shortening: You can try replacing the Spectrum nonhydrogenated vegetable shortening with virgin coconut oil (the kind that's solid at room temperature), but coconut oil is softer than shortening so I'm really not sure how it will work.
Egg-free: Since this recipe calls for 1 whole egg and 2 additional egg yolks, replacing the eggs is not a simple matter. You can try replacing the whole egg with one "chia egg" (1 tablespoon ground white chia seeds + 1 tablespoon lukewarm water, mixed and allowed to gel), and the two egg yolks with 1 tablespoon of additional unsalted butter each.
I'm only cautiously optimistic that it might work, but it will require some real experimentation, I'm afraid. If you must eat egg-free, you'll probably need to omit the meringue powder in the frosting…
Meringue powder: I use LorAnn Oils brand meringue powder because it's reliably gluten free. Wilton brand is not. I purchase it on Amazon and it lasts quite a while. It simply helps the frosting to harden a bit on the outside so the cookie cake is less fragile and prone to being smeared if you brush up against it. If you don't have it or can't use it, just omit it and add a bit more confectioners' sugar for thickness.