These low carb tortillas are made with a blend of almond flour and coconut flour, and the dough is amazingly easy to handle. With less than 2 net carbs per tortilla, they're going to be your new favorite gluten free tortilla!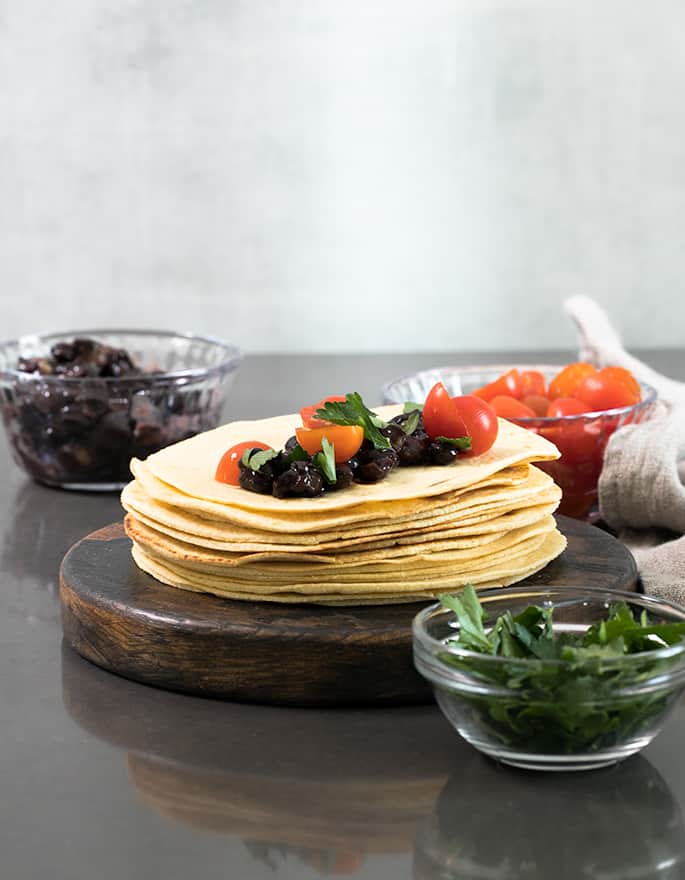 Almond flour tortillas
Almond flour is kind of a magic baking ingredient. It's not cheap, though, so it's nice if you can extend both its reach and its versatility by combining it with another flour.
In the past, I've reached for tapioca starch/flour as a match for it as I did in these soft Paleo flour tortillas, in my beloved coconut flour pancakes which are so good and amazingly so fluffy, and in my almond flour muffins and almond flour cookies. It really is one of my absolute favorite baking ingredients.
Tapioca starch as it's one of the most versatile gluten free baking ingredients of all. But it's, well, a starch (even though it's sometimes referred to as tapioca flour). It's a really stretchy, useful starch, but it's not really packed with health benefits.
Coconut flour
For these low carb tortillas, I chose to pair coconut flour with almond flour. It's not only less expensive, it's also very low carb and high in fiber. I really do love baking with almond flour, as it's high in good fats and low in carbs, but I only like baking with coconut flour.
Coconut flour tends to require the addition of many, many eggs as it absorbs so much moisture. There is a tipping point, though, where whatever you're baking can just taste like an omelet if you're not careful. Instead, I've been experimenting with replacing some of that moisture with, well, water.
Shaping these tortillas
Before you begin working with this dough, please read through all of the instructions in the recipe card below. The instructions are pretty specific, but that's only to help you understand what to expect.
If you mess up and find that the dough is just too wet to roll out properly, add more coconut flour by the pinch (literally—1/8 teaspoon) and knead it into the dough, then try again. Generally, it's easier to add moisture than to take it away, so go slowly when adding water to the food processor.
For a closer look at how to make these low carb tortillas, watch the video below. But rest assured that this dough is actually very durable and therefore easy to handle. You'll be amazed by how thin you can roll the dough and still move it from the rolling surface to a hot griddle.
Fun extra "equipment"
If you're curious about the "equipment" that I used, above you'll find the Presto 15″ Tilt-n-Fold Griddle (that's an affiliate link, but please feel free to shop around). I absolutely love this griddle for its size and the shape and use it for everything I can these days. It's so easy to store, heats very evenly and was really reasonably priced.
The 6-inch cake cutter (affiliate link) that I used (scroll up for that photo) to get neat edges on the tortillas is a very useful little trinket to have in the kitchen, but it's totally not necessary at all. The lid of a pot works great for the same purpose, or rough edges left intact are of course perfectly fine!
By the way, I've become less and less interested in what's exactly Paleo and what's not. The definition of Paleo really seems to be such a moving target (now you can have dairy on a Paleo diet? come on!). Plus, dogmatic adherence to what really are arbitrary rules (as opposed to a gluten free diet, which has established medical benefits for those who need it) tends to annoy me.
Ingredients and substitutions
Almond flour: This recipe calls for finely ground blanched almond flour, which is really the only sort of almond flour I use for baking. You can't use almond meal, which is a much more coarse grind and is made using almonds that still have their skins.
If you'd like to replace the almond flour entirely, you should be able to use finely ground cashew flour without any issue. To make this recipe nut-free, you can try sunflower seed flour, but the tortillas may turn green. ? The chlorophyll in the sunflower seeds reacts with baking powder, leading to a green color, but it's harmless. Maybe perfect for St. Patrick's Day?!
Coconut flour: Generally, there is absolutely no substitute for coconut flour on a 1:1 basis. It's entirely unique, filled with fiber and absorbs a ton of moisture.
But I tested this recipe with 6 tablespoons (48 g) of tapioca starch/flour in place of the coconut flour, and it still worked! The dough isn't quite as resilient when handling, and the tortillas tend not to bend as well. I found that they were better the next day when stored in a sealed plastic zip-top bag along with a moistened paper towel. They will definitely have more carbs, though!
Xanthan gum: You really really need the xanthan gum in this recipe. Without it, though dough is very crumbly and you just won't be able to roll it out and have it hold together long enough to even get it on the griddle.
Guar gum should work in its place if you prefer that. I do have a recipe for Paleo tortillas made without xanthan gum (that isn't nearly as low carb) that you might prefer if xanthan gum is a problem.
Egg-free: I haven't tested this recipe with an egg substitute, but my favorite "chia egg" (1 tablespoon ground chia seeds + 1 tablespoon lukewarm water, mixed and allowed to gel) should work since it's only one egg in the recipe.
Baking powder: Baking powder is a mix of starch, baking soda, and cream of tartar. Conventional baking powders are typically made using cornstarch, which is not appropriate for a Paleo diet.
If you'd like to make these low carb tortillas Paleo-friendly, just use a Paleo baking powder, made with a starch like tapioca or arrowroot.
P.S. If you're following Weight Watchers, each tortilla has 3 SmartPoints and is really satisfying!