These gluten free mini apple pies are just like McDonald's or Hostess fruit pies, but baked and not fried, with a warm chunky apple filling.
Growing up, we didn't have a McDonald's nearby, which now seems completely strange. Like anything else you experience as a child, it was totally normal to me at the time. But somehow I still adored McDonald's apple pies.
The thin cookie-like crust and the thick, chunky apple filling were heavenly. And in my memory, they were actually warm in my hand when I ate them. Hostess apple fruit pies were a close second in the competition for my affection.
I wonder if McDonald's still makes those apple pies. All I know about McDonald's these days is that they basically have the very best coffee in the world. And it's so cheap!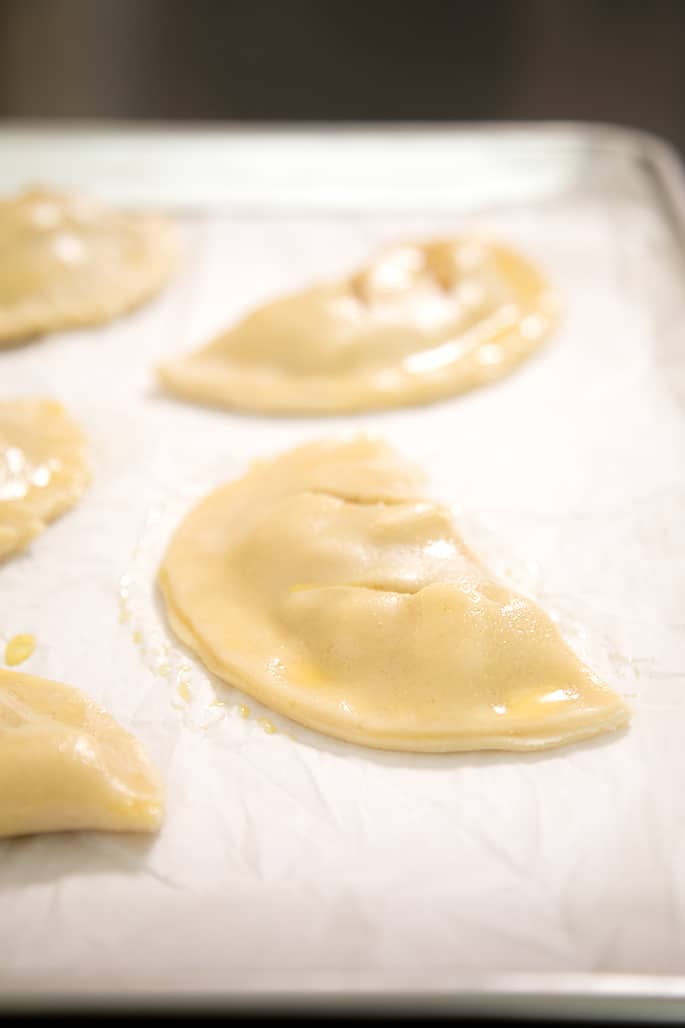 A different sort of crust.
This is not your typical apple pie, and it's not made with your regular gluten free pie crust. The point of this crust is for it to be more cookie-like than flaky like you would use for a regular pie.
You can, of course, use a pastry-style pie crust, but then it would just be a miniature version of apple pie. I adore that sort of apple pie, but this is just a bit different. After all, McDonald's makes it different, so we make it different.
The filling is made up of diced apples, not sliced like apple pie filling, and it's cooked ahead of time on the stovetop. This way, you don't have to bake the pies too much just to soften the apples. And the apples keep their shape and texture.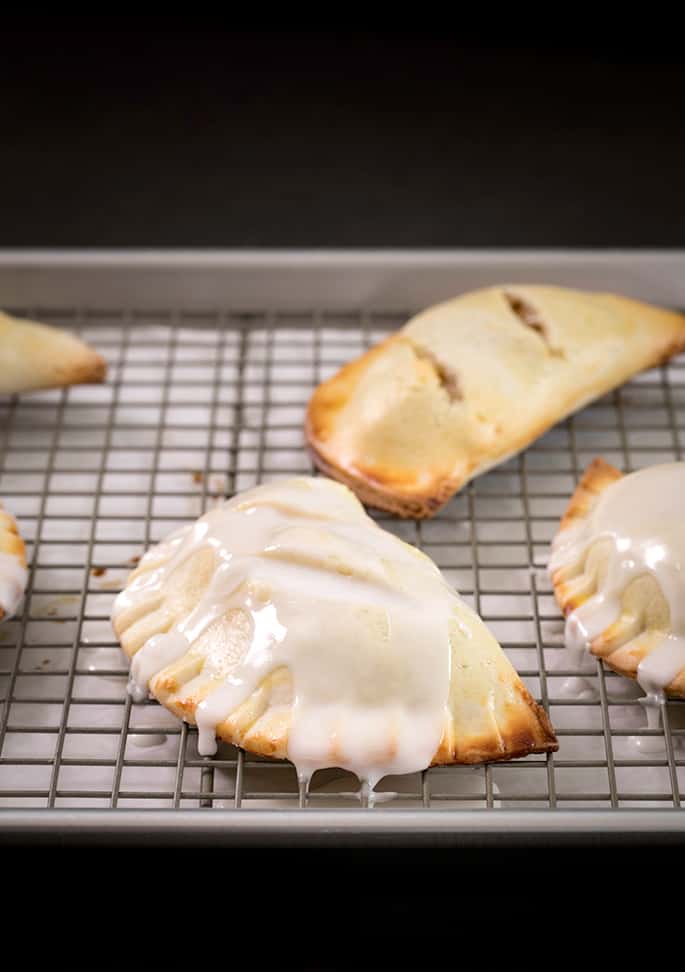 Ingredients and Substitutions
As always, I haven't tested this recipe with any of these substitutions. They're just my educated guesses for how to satisfy other dietary restrictions and preferences!
Dairy-Free: Try replacing the butter with Earth Balance Buttery Sticks gram for gram. Leave out the salt in the crust, then, as Earth Balance is super salty. The milk in the crust can be replaced with any sort of unsweetened nondairy milk. My favorite is always almond milk, as it's relatively neutral in flavor and has some fat.
Egg-Free: Since it's only 1 egg in the crust, I'd recommend trying a "chia egg" (1 tablespoon ground chia seeds with 1 tablespoon lukewarm water, mixed and allowed to gel). The egg wash can be replaced with a high-fat milk.
Corn-Free: It should be pretty easy to replace the cornstarch with another simple starch, like arrowroot or potato starch. Be sure to use a corn-free confectioners' sugar for the glaze, or just skip the glaze entirely.