These healthy fruit dips, in strawberry and chocolate flavors, with Greek yogurt, light cream cheese, honey, fresh or frozen strawberries, and a bit of melted chocolate and cocoa powder are a hit at parties—or any time!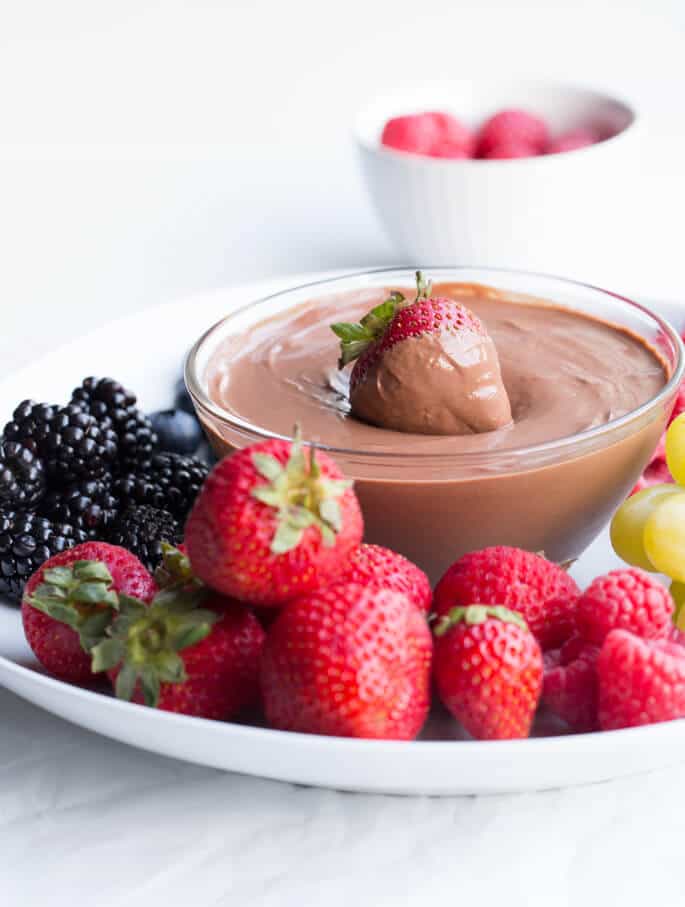 It's not like fruit dips are anything revolutionary. But if you've ever grabbed an overpriced fruit platter from the grocery store and popped open the dip in the center and thought, hey, I wonder if I could do this better—and healthier? These healthy fruit dips are the recipes for you.
The chocolate dip is made with both cocoa powder and one tiny little ounce of melted dark chocolate. If you can, use Dutch-processed cocoa powder, as natural cocoa powder can be rather acidic-tasting. If you do use natural cocoa powder, be sure to add the extra honey to balance out the acidity. The melted chocolate really does balance out the flavors nicely, and provides a slightly richer chocolate flavor.
Both the chocolate dip and the strawberry dip recipes have plain Greek yogurt as a base. I really like both the thick texture and zingy tang that it brings to the table. Using Greek yogurt also means that we can sweeten the dips with honey, instead of something like confectioners' sugar. If we began with a thinner yogurt, we'd have to start thickening it with confectioners' sugar, since it's not only powdered sugar but has some thickening starch in it.
If you wanted to shortcut the strawberry dip, you could of course use strawberry-flavored Greek yogurt, in place of plain, but that will also contain added sugars and other ingredients. I like to start fresh, especially since I typically use defrosted frozen berries for this recipe, and they're not only economical but have a really deep strawberry flavor. Sometimes, fresh strawberries can be kind of *meh* if they're not bought right in the heart of strawberry season.
When it's berry season, serve with the summer's best berries for dipping. In the colder months, when berries are either not available or just not worthwhile, try serving with grapes and apple slices. Either way, these thick, delicious and healthy fruit dips are so simple to throw together. Never be tempted by those overpriced grocery store fruit platters again!