This soft and tender gluten free strawberry bread is lightly sweet and packed with strawberry flavor. A perfect alternative to banana bread, and it can even be made with frozen berries.
Even though my children never seem to tire of asking, you're not going to make a sandwich for lunch on a couple of thick slices of this gluten free strawberry bread. But it's not exactly cake, either.
Cake is much sweeter, and lends itself to being frosted. This strawberry quick bread isn't at all that type of loaf. It's not at all very sweet, and you can serve it for breakfast with total confidence. I bet it has less sugar than most cereals, and it's definitely more satisfying. And that's not just because it's homemade.
I am a big believer in frozen berries and frozen vegetables. They're picked at the peak of freshness and frozen right away. The peak! How often do you buy fresh fruits and vegetables and have to rush to use them immediately, lest they commit vegetarian self-destruction when you're not looking?
Frozen berries are always big and beautiful, and they're always willing to wait for you as long as you like. What's not to love?
All that being said, frozen berries do post their own challenges when it comes to baking. You can bake this bread with frozen berries, but you'll find that the batter does behave differently in the oven. The loaf won't rise quite as high, since it will be heavier, and it will take a few extra minutes to bake. I've included full instructions for precisely how to make that fresh-frozen switch below, in the recipe ingredients list.
If you have some fresh strawberries and want to help them go a long, long way, I recommend using only 1 cup of fresh berries and the rest defrosted, frozen berries.The first 3/4 cup of strawberries is blended with the wet ingredients in the recipe before being mixed into the dry ingredients. The 1 cup is chopped up and folded into the batter, and really benefits from being fresh.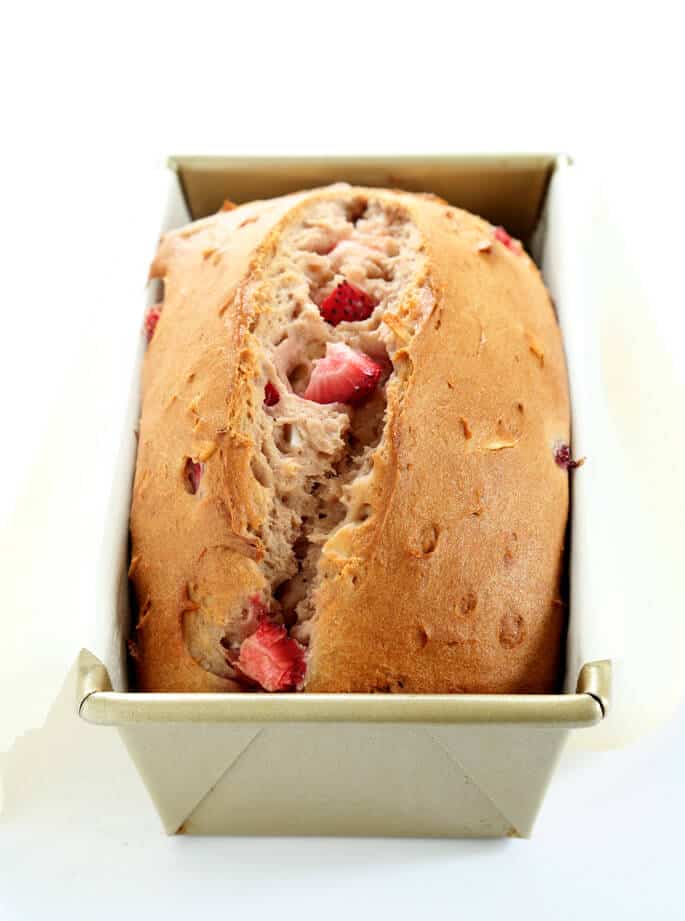 The gluten free strawberry bread loaf that's made with fresh berries will be a bit more beautiful, like you see here. But I've made this recipe with all manner of fresh and frozen permutations, and they're all simply delicious. A moist and tender loaf with an unmistakable strawberry flavor.
Long live perfect gluten free quick breads!
Links:
How To Use Frozen Berries in Baking
All About Strawberry Season
One Bowl Gluten Free Banana Bread