The December holiday season means that I get to focus all of my recipe-development energy (& that's a lot of energy!) on two main categories: cookies (yay Christmas cookies!) and brunch. You don't need me to shower you with step by step photos for how to spatchcock a turkey (BEST Thanksgiving decision I ever made) or cook a holiday ham. There are plenty of other reliable resources for such important matters (oh hello, Mel ?). But when it comes to Christmas morning, a holiday dessert plate and edible hostess gifts? Follow me! The first stop this year is this cheesecake-filled gluten free Danish bread. It's ridiculously easy to make (the dough is a dream to shape!), and so soft, tender and lightly sweet that some might even call it a religious experience ?(see what I did there?).
All you do is throw the dough together, let it rise (it shouldn't double—it's a low-yeast, low-moisture enriched dough), fill it with a heavenly but simple and lightly sweet cheesecake-style filling, then roll up like a jelly roll. Let rise again (again, no doubling, please), then brush with an egg wash and bake. 15 minutes later?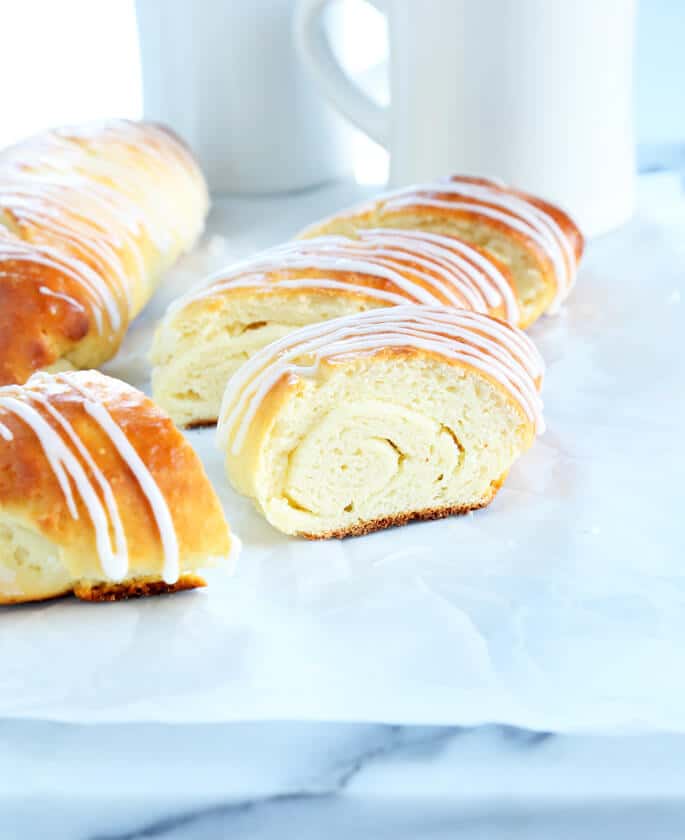 Well you've got yourself the most tender, soft and pillowy brunch bread that tastes like a cross between a lightly sweet cheesecake and brioche. What could possibly be better than that?
A few recipe notes:
If you have extra filling, add another egg yolk to it, beat it well, then pour the filling into a small greased ramekin. Bake it at 325°F until nearly set. Cheesecake!
I drizzled the finished bread with the simplest glaze ever. Just place about 1/2 cup (58 g) confectioners' sugar in a small bowl and add milk or water by the 1/4-teaspoon, mixing well after each addition, until you have a very thickly pourable glaze. Add water slowly and sparingly as it's much easier to thin, than to thicken, a glaze.
Make-ahead option: You can make the bread dough a day ahead of time, place it in a proofing bucket and let it sit covered in the refrigerator for its first rise, but for no longer than 1 day.