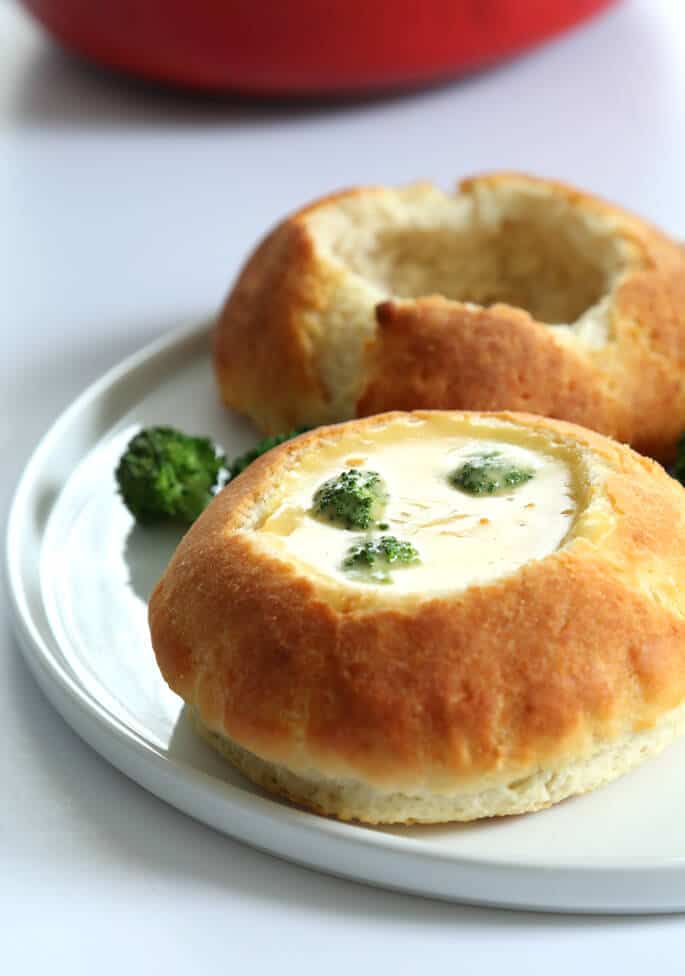 A proper gluten free broccoli cheddar soup is a beautiful thing—and it is not cheese fondue. Does it sound like taking a spoon to a heaping bowl of warm, melted cheese might be a delicious experience? Please for the love of Mike take my word for it: it's not delicious past the first bite. This gorgeous, creamy broccoli cheddar soup is, indeed, soup. It can be ladled into a bowl quite easily, and delivered to your mouth spoonful by spoonful without a fuss. And it'll fill you up without making you feel ugh stuffed.
It starts the way all good creamy soups start, with a roux. And it's that roux that does most of the thickening for us, not the cheese. A roux is just a fat-and-flour mixture that thickens liquids, and I like to start the roux in this soup with butter. You can start yours with an equal amount of extra virgin olive oil, though. No problem.
A note about the broccoli: I believe that the very worst thing you can do to broccoli is to overcook it. So to save the broccoli from that fate, I don't cook it in the soup. Instead, I blanch the broccoli very quickly in some stock, juuuuust until it turns bright green.
I couldn't resist making some bread bowls to show you that, yes, gluten free baking can do that. I have used my recipe for Gluten Free Texas Roadhouse Rolls to make them, and my recipe for Olive Garden-Style Gluten Free Soft Breadsticks from page 177 of GFOAS Bakes Bread. I love them both very much. Just shape the dough after its first rise into individual rounds, allow them to rise until doubled, then brush with melted butter and score the tops before baking. Allow the bread to cool before removing the tops, scooping out the soft insides and filling with the creamiest, dreamiest gluten free broccoli cheddar soup ever. But an actual soup bowl works too. :)