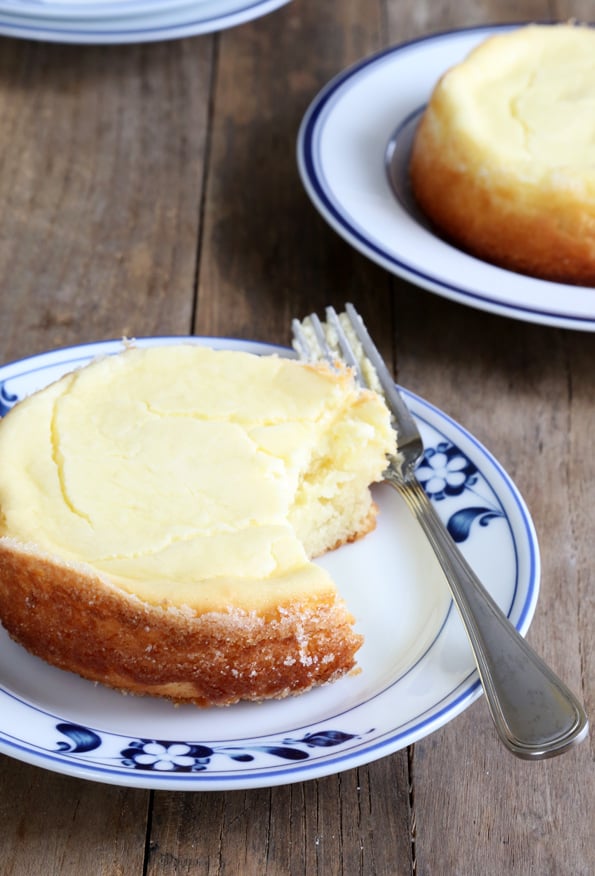 I've never had the butter cake from California Pizza Kitchen. It's true! You got me! But Camille (who answers my blog emails with such style and grace) suggested this recipe because she's so smart. And also because a reader asked for it. I'm surrounded by such smart people! So I looked it up, and California Pizza Kitchen, of BBQ Chicken Pizza Fame, does seem to know what they're doing in the cake department. Cheesecake on top, butter cake party on the bottom, and a light crust of caramelized sugar you get just from buttering and sugaring the pan, this California Pizza Kitchen-Style Gluten Free Butter Cake is pretty much a cake home run.
I tried a bunch of different cake recipes and methods to make this butter cake. They allllll failed miserably except for this one of course. We're talking about cake in the trash failures, which kills me dead. And then since I didn't want you to have to buy a special wee little springform pan just to make this cake (and since I only have 2 of those plus could only locate one in my kitchen cabinets), I tried baking it in a bunch of different pans and ramekins. It worked in them all! And you could still unmold a gorgeous cake without a springform pan.
And anyway with the right recipe (which of course I provide for you below because I'm no miser), this butter cake is actually really simple to put together. The cheesecake layer is going to crack a bit and so what big whoop. I tried baking the whole thing in a water bath and let's just say that it took so long to bake that it ended up in the trash. :(
My favorite part, speaking as someone who adores cheesecake? The crusty caramelized sugar part. No scary kitchen torch required. No contest. Oh, and you know at some point you just have to serve this with …
the CPK-Style Gluten Free BBQ Chicken Pizza. It's the law.