Gluten Free Chalupas, a homemade Taco Bell style recipe. Crispy, crunchy fried gluten free chalupa shells filled with beef and cheese!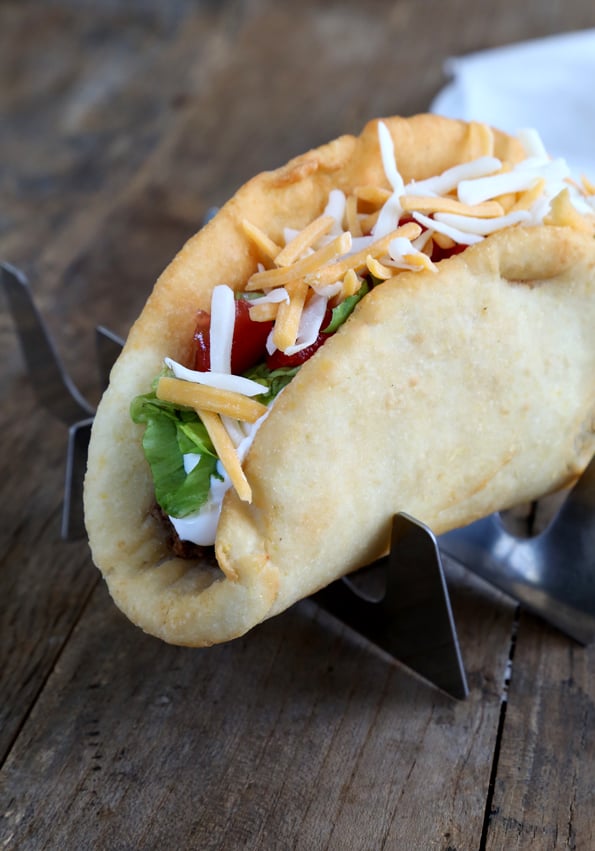 When you fry them lightly, the shells really do hit that sweet spot between crunchy and chewy. And even though you would never expect it, they actually reheat rather well. A fried food miracle!
I used pretty typical fillings, but of course you could make these your own, any way you like. They'd be delicious with shredded chicken—even with the Chicken Gyro fillings. Fusion food!
The dough from GFOAS Bakes Bread is, of course, easier to work with and just plain better. But the old recipe still works, as all my old bread recipes do work just as they did before!
And believe it or not, this made enough food (with some veg on the side) that even my ever-hungry family had 2 leftover chalupas that I wrapped up tightly in plastic and placed in the refrigerator—and crossed my fingers that it wouldn't be a soggy mess the next day.
Lo and behold, we gave it a quick spin in the microwave and served it for lunch the next day, and it was still really good. I think it's because the shells are fried very, very lightly in the oil. And that crispy/chewy texture just does better as leftovers than if we fried them crisp. And of course, the dough is a dream. Magic chalupas!