This no bake strawberry yogurt pie is made simply with plain yogurt, strawberry syrup, and whipped cream. Perfect for the warm weather!
This no bake strawberry yogurt pie is a (much better) riff on the yogurt pies I used to have as a kid. Those were a tub of thawed Cool Whip mixed with some strawberry flavored yogurt (probably nonfat, at least if it was the low-fat 90's when everyone got fatter), pour into a premade graham cracker pie crust, and then frozen.
This pie is worlds apart from that one (which, sadly, makes me shudder when I recall the plastic taste). Lightly sweet, totally real and absolutely fresh and creamy.
Instead of strawberry flavored nonfat yogurt, we use full fat plain Greek yogurt mixed with a simple homemade strawberry syrup. Instead of Cool Whip, fresh whipped cream stabilized with some unflavored gelatin. You can skip the gelatin, but the pie will be much more icy in texture.
There will be leftover strawberry syrup (not a bad thing)
After I made the pie a few times, I bought more strawberries and made more of that gorgeous, bright red strawberry puree and have been drizzling it over gluten free waffles, mixing it into yogurt and stirring it into lemonade.
I also like to drizzle some more strawberry puree on the pie after smoothing the top. It's also extra special when you serve it with some more strawberry sauce on the side. The syrup can also be used in many other recipes here on the blog, including our no bake strawberry cheesecake or strawberry yogurt popsicles.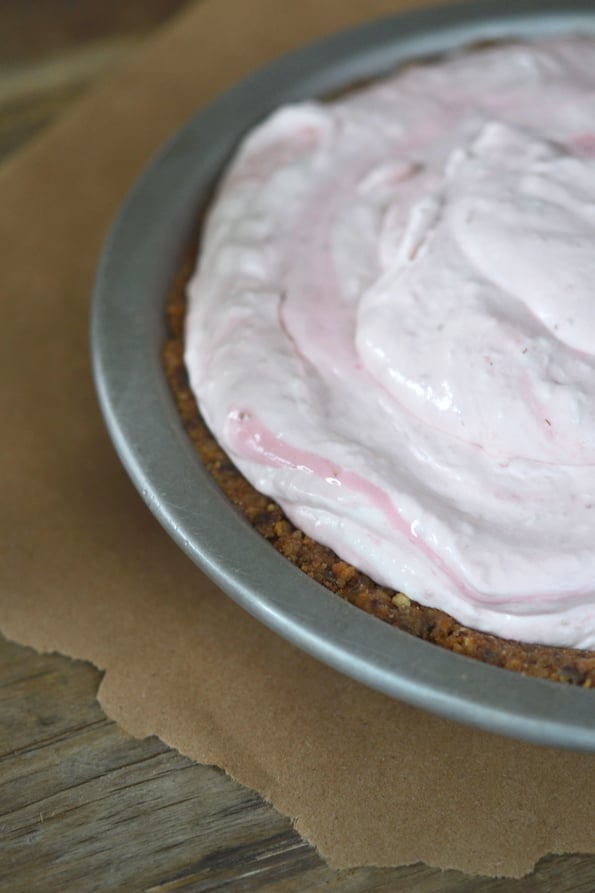 Ingredients and substitutions
Dairy
If you're dairy-free, this is a tough recipe for you to make. You'd have to replace both the Greek-style plain yogurt, and the heavy whipping cream. I think it can be done, but I don't think you'll find Greek-style nondairy plain yogurt.
But if you can find nondairy plain yogurt, just place it in a fine mesh sieve positioned above a bowl. Allow the liquid to drain off until about 10 ounces of it become about 8 ounces of yogurt that is similar in texture to Greek-style yogurt.
In place of the heavy whipping cream, try using coconut cream from a can of full fat coconut milk. Place the can in the refrigerator overnight, upside down.
Remove the can from the refrigerator, open it, and scoop off the cream. Then, whip that cream with the confectioners' sugar and proceed with the recipe as written.
Gelatin
You can make this recipe without the gelatin, but you'll have to freeze it rather than just refrigerating it until set (because it won't fully set). And if you freeze it without using gelatin, you'll have a rather icy pie.
The crust
You can make this recipe with or without the crust. If you make it without the crust, I recommend lining the pie plate or springform pan well with parchment paper, to help prevent the pie from sticking to the pan.
I typically make a no bake gluten free graham cracker crust with homemade gluten free graham crackers. But I have made it with crushed crunchy gluten free chocolate chip cookies and it's been extra special.
No Bake Strawberry Yogurt Pie
Ingredients
Gluten free graham cracker crust
8 ounces frozen strawberries, or fresh, hulled and halved
1/2 cup (100 g) granulated sugar
1/8 teaspoon kosher salt
2 tablespoons (1 fluid ounce) cool water
1 tablespoon (8 g) unflavored powdered gelatin
1 1/2 cups (12 fluid ounces) heavy whipping cream, chilled
2 to 4 tablespoons (14 to 28 g) confectioners' sugar (or more to taste)
8 ounces plain Greek-style yogurt, at room temperature
Instructions
Make the crust according to the recipe instructions. Press the mixture into the bottom and up the sides of a 9-inch greased pie plate or springform pan. Place the pie plate in the freezer until firm (at least 10 minutes, but longer is fine).

Make the strawberry syrup. In a medium-sized heavy-bottom saucepan, place the strawberries, granulated sugar and salt, with a tablespoon or two of cool water if you're using frozen berries, and mix to combine. Cook over medium heat, stirring occasionally, until the strawberries are softened and have release much of their juice, and the mixture has begun to reduce in volume (about 7 minutes). With an immersion (stick) blender, puree the strawberries until smooth. Set the strawberry syrup aside to cool briefly.

Hydrate the gelatin. Place the water in a small, microwave-safe bowl, add the gelatin in an even layer on top, and mix well to combine. Allow to sit for a few moments until the gelatin swells and becomes lumpy. Microwave the gelatin mixture for 30 seconds on HIGH to liquefy it, then set it aside until no longer hot to the touch.

Make the whipped cream. In the bowl of a stand mixer fitted with a paddle attachment (or a large bowl with a hand mixer), beat the heavy whipping cream and the confectioners' sugar on medium-high speed until soft peaks form. Place the whipped cream in the refrigerator to remain cold.

In a large bowl, place the plain yogurt and whisk until smooth. While whisking the yogurt constantly, add the gelatin and water mixture in a steady stream. While still whisking, add about 1 cup of the strawberry syrup to the yogurt mixture. Continue to whisk until very well combined. Remove the whipped cream from the refrigerator and add it in two parts to the mixture, whisking gently to combine after each addition. Remove the pie shell from the freezer, and pour the filling into it. Drizzle another few tablespoons of the strawberry puree on top of the filling, swirl the syrup into the pie, and gently smooth the top with a spatula. Place the pie in the refrigerator until set, about 4 hours. If you used a springform pan, run a warm knife around the edge to make sure it isn't stuck, and unmold the pie. Slice and serve chilled.

Originally published on the blog in 2013. Most photos, video, and text new. Recipe method modified.