These naturally gluten free peanut butter oatmeal chocolate chip cookies are made with oats, oat flour and some cornstarch for the perfect chewy cookie.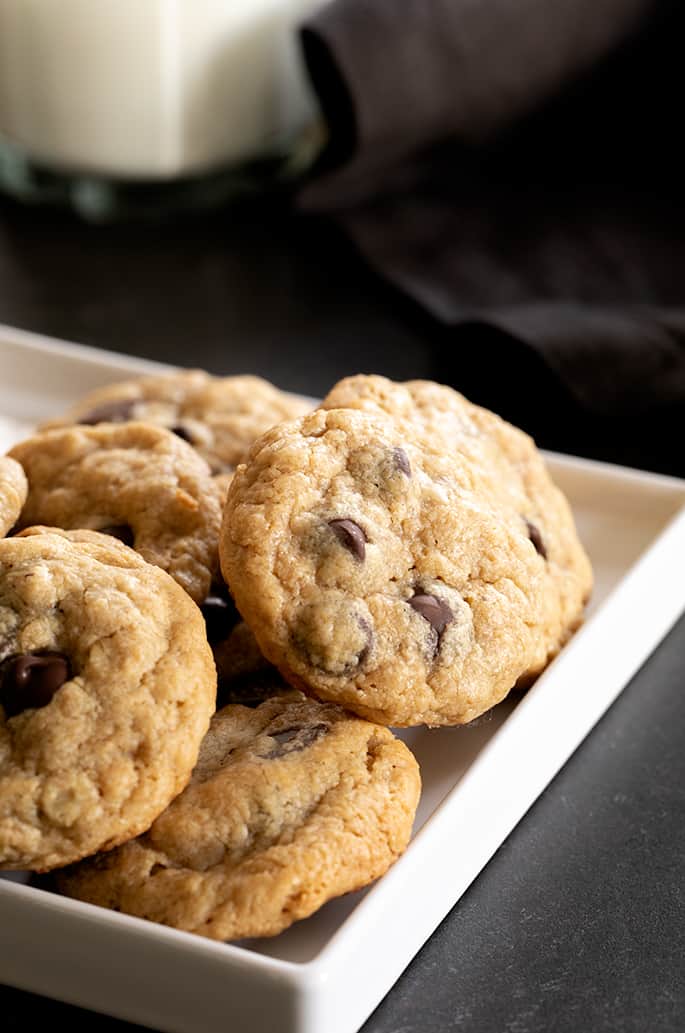 I originally created this simple recipe for chewy, peanutty, oatmeal cookies in 2014 using an all purpose gluten free flour, and they were amazing. There's still a photo of the original cookies below, and I've included the original recipe since so many of you loved it when it was first published.
But I love flourless baking, mostly because of its simplicity. This recipe isn't technically flourless, since it contains old fashioned rolled oats ground into a flour (I never buy oat flour—it's just too expensive and too easy to make in a blender or food processor as needed). Plus, it has cornstarch. But no rice flour at all.
What makes these almost flourless cookies so special
I truly consider this recipe to be a "starter recipe." If you're new to the gluten free diet or just starting out in gluten free baking, you can make this recipe with nothing more than regular grocery store ingredients.
I remember what it was like starting out baking gluten free, way back in 2004. There are so many products available in most grocery stores these days, but my favorite all purpose gluten free flour blends are all based on rice flour—and most are not sold in neighborhood grocery stores.
If there had been an option to make a chocolate chip cookie that my children would absolutely love ❤️and be proud to serve to friends without any special ingredients, it would have been such a relief, you know? I want you to have that available to you.
Plus, I'm so happy to be able to point reader in the direction of recipes like this when they email me to say that they can't have rice flour but still want to bake a great cookie. These peanut butter oatmeal cookies are great cookies. And a drop cookie is easy for everyone to make.
How to make these simple peanut butter oatmeal cookies
I always begin any oat-based recipe with old fashioned rolled oats (certified gluten free, since my son has celiac disease), which I buy in huge bags at my local Trader Joe's (love you TJ's!). Place those oats in a food processor and you're one or two pulses away from quick-cooking oats. Place them in a blender and you'll have oat flour in less than 60 seconds.
All you have to do to make these cookies is place all of the dry ingredients (oat flour, cornstarch, baking soda, salt, oats, granulated sugar, brown sugar) in a bowl and mix them. Then add the butter, peanut butter, eggs and vanilla.
Then just add the chips, mix and roll the dough into balls and chill them. That will help them hold their shape during baking.
The cookie dough is suuuuuper thick, but keep mixing and it will all combine. I really like using the back of the spoon to press down the wet ingredients into the dry when a cookie dough is thick. If you've measured properly by weight, I promise everything will combine in the end.
There is only 1/2 cup of peanut butter in this recipe, so it's not a deep peanut butter cookie like our peanut butter sandwich cookies. Resist the urge to add more chocolate chips, though, since they'll create a flatter cookie by separating the dough more.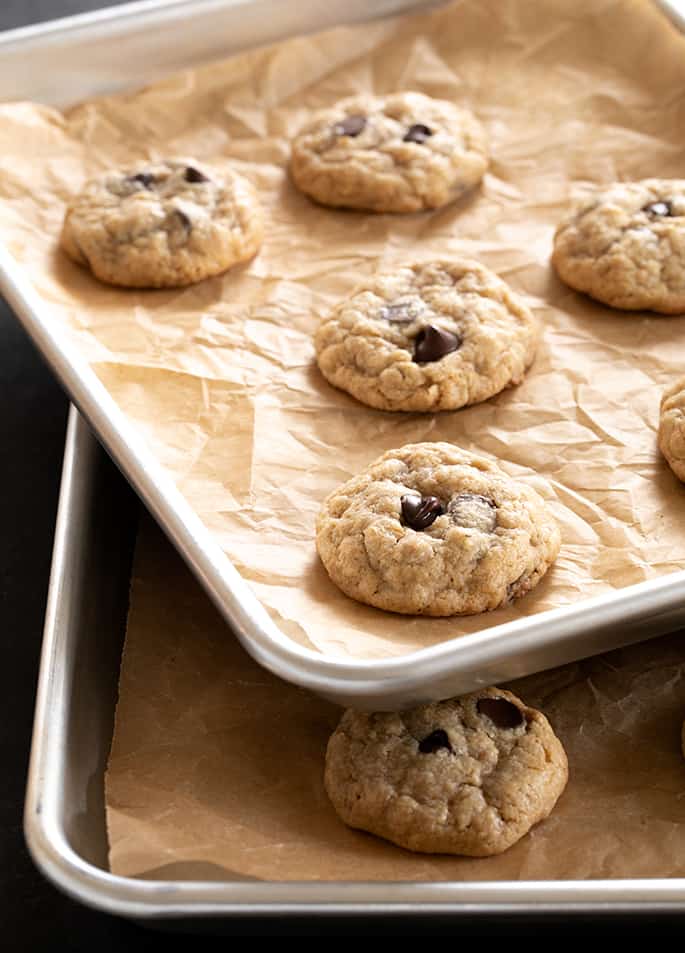 The "original recipe" for these cookies
Originally, this recipe was made using most of the same ingredients, with just a few changes:
3/4 cup (105 g) all purpose gluten free flour, including xanthan gum (instead of oat flour)
3 tablespoons (27 g) cornstarch (instead of 90 grams)
1/4 cup + 2 tablespoons (72 g) granulated sugar (instead of a full 1/2 cup)
3/4 cup (75 g) old fashioned rolled oats (instead of a full cup)
Everything else in the ingredient list was the same as the recipe is written now. The cookies were also baked in flattened disks at 350°F for 8 minutes instead of 10 minutes at 375°F.
The photo just above shows exactly what the old recipe looked like. They were thick and chewy, still, and had a similar balance of chew from the oats and flavor from the peanut butter. In case you prefer the old recipe, I wanted to be sure you had it.
Ingredients and substitutions
Dairy-free: In place of the butter, you can try using half (56 g) Earth Balance buttery sticks and half (56 g) Spectrum brand nonhydrogenated vegetable shortening. That combination of fats should create the right moisture balance.
If you have Miyoko's Kitchen or Melt brand vegan butter, you can try using just that, since those butter replacements are relatively well-balanced on their own. The cookies won't brown as much, but they should still taste great. Be sure you're using dairy-free chocolate chips.
Egg-free: The egg should be able to be replaced with a "chia egg" (1 tablespoon ground chia seeds + 1 tablespoon lukewarm water, mixed and allowed to gel). The additional egg yolk helps provide a chewy texture to the cookies. You can try replacing that with an additional tablespoon of unsalted butter, melted and cooled.
Corn-free: The cornstarch in this recipe can easily be replaced with arrowroot if you can't have corn. Potato starch (not potato flour) should also work just fine.
Peanut-free: These cookies should be great with a no-stir (the kind that you don't have to stir to combine any oil that has separated on top of the jar) almond butter, like Barney Butter.
Oats: Certified gluten free oats are safe on a gluten free diet. But if you're avoiding oats, you should be able to use quinoa flakes in place of the oat flour, and beaten rice in place of the rolled oats. Please see my full discussion of how to replace oats in baking.
Peanut Butter Oatmeal Chocolate Chip Cookies
Yield:
About 30 cookies, depending upon size
Ingredients
3/4 cup (90 g) oat flour (certified gluten free if necessary)
1/2 cup + 2 tablespoons (90 g) cornstarch
1 cup (100 g) old fashioned rolled oats (certified gluten free if necessary)
1 teaspoon baking soda
1/4 teaspoon kosher salt
1/2 cup (100 g) granulated sugar
1/2 cup (109 g) packed light brown sugar
8 tablespoons (112 g) unsalted butter, at room temperature
1/2 cup (128 g) no stir smooth peanut butter
1 egg (50 g, weighed out of shell) + 1 egg yolk (25 g) at room temperature, beaten
1 teaspoon pure vanilla extract
4 ounces semi-sweet chocolate chips
Instructions
Preheat your oven to 375°F. Line rimmed baking sheets with unbleached parchment paper and set them aside.

In a large bowl, place the oat flour, cornstarch, oats, baking soda, salt, and granulated sugar, and whisk to combine well. Add the brown sugar, and mix to combine, working out any lumps. Create a well in the center of the dry ingredients and add the butter, peanut butter, egg and egg yolk, and vanilla, and mix to combine. The dough will be very thick, but just keep mixing and it will come together. It helps to press the dough down with the underside of the spoon sometimes while mixing. Add most of the chocolate chips and mix until the chips are evenly distributed throughout the cookie dough.

Divide the dough into pieces of about 1 1/2 tablespoons each, roll each tightly into a ball and then place about 1 1/2-inches apart on the prepared baking sheets. Do not flatten the balls of dough at all. Add a few chocolate chips to the tops of the balls of dough and press lightly to help them adhere. Chill the dough in the freezer for about 10 minutes or the refrigerator for about 30 minutes, until mostly firm.

Place the baking sheets, one at a time, with the chilled dough on them, in the center of the preheated oven and bake for 10 minutes, or just until the balls of dough have melted and spread and the cookies are just beginning to brown around the edges. Some may even be slightly wet toward the center. Be careful not to overbake them. Remove from the oven and allow to cool for at least 10 minutes on the baking sheet or until firm.

Original recipe posted in 2014. Recipe adapted to be made without any rice flour or other all purpose gluten free flour blend.