These soft gluten free chocolate cutout cookies roll out so easily and hold their shape perfectly during baking. Perfect for any holiday!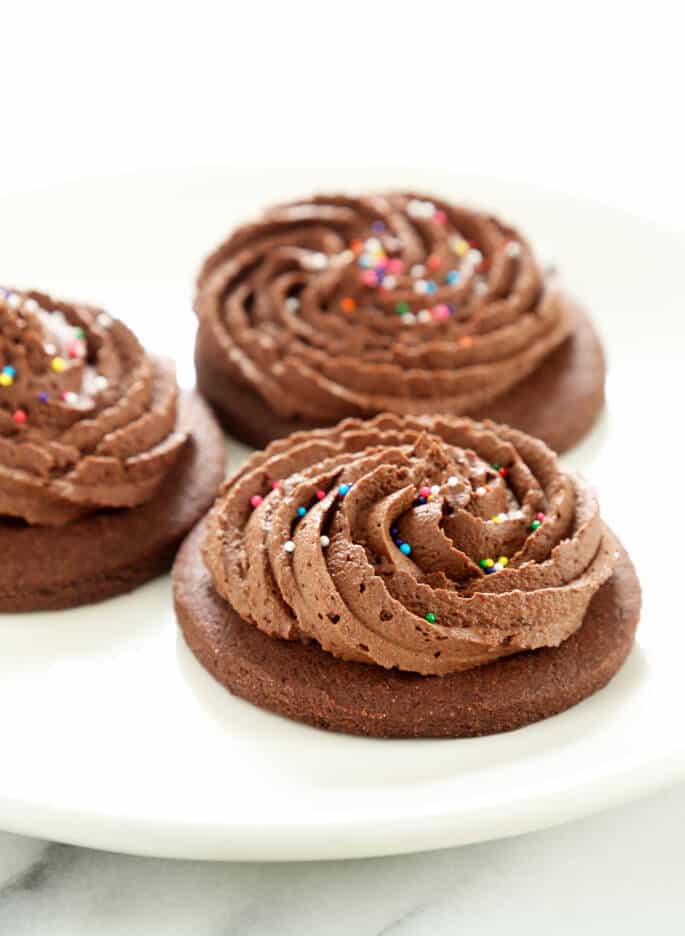 Whatever the season, whatever the occasion, a good cutout sugar cookie recipe is a must, don't you think? It might be that Easter is coming, and you're itching to use that cut little bunny cookie cutter. Or it's Christmas, and Santa needs a plate of cookies shaped like snowmen or stars. Or you're missing Lofthouse cookies now that you're gluten free, and soft, tender round sugar cookies topped with thick frosting are what you're after. Since we already have the definitive recipes for classic gluten free cutout sugar cookies and cream cheese cutout sugar cookies here on the blog, it's time we settled on the perfect recipe for soft gluten free chocolate cutout cookies. Well, maybe "settle" is the wrong word…
These extraordinary sugar cookies are super easy to make, roll out like a dream and hold their shape perfectly.
The dreamy chocolate frosting is, of course, completely optional, as are the nonpareils. But I've never been able to resist nonpareils. If you're in the U.S. like I am, Signature Brands makes Betty Crocker and CakeMate nonpareils and sprinkles (jimmies?), and they're safely gluten free.
About half the time, I load the frosting into a piping bag and pipe a lovely swirl of chocolate frosting with a 1M or similar open star tip, and the other half I just spoon a mound on there. For you, though, I swirled. You're worth it. And in case you're wondering, the cookies themselves do freeze beautifully for months. I wouldn't freeze the raw dough, though, as it will take quite a while to defrost enough to be rolled out. And the dough is so easy to make that I'd make it fresh, then roll out the dough, cut your shapes, bake, cool and then freeze.
Soft Gluten Free Chocolate Cutout Cookies
Ingredients
For the cookies
1 1/2 cups (210 g) all purpose gluten free flour (I used Better Batter)
1/2 teaspoon xanthan gum (omit if your blend already contains it)
1/4 cup (36 g) cornstarch (or try arrowroot)
1/2 cup (40 g) unsweetened cocoa powder (natural or Dutch-processed)
3/4 teaspoon baking powder
1/8 teaspoon baking soda
1/4 teaspoon kosher salt
1/2 cup (100 g) granulated sugar
8 tablespoons (112 g) unsalted butter, melted and cooled
1 egg (50 g, weighed out of shell) at room temperature, beaten
1/2 teaspoon pure vanilla extract
Lukewarm water by the 1/4-teaspoonful, as necessary
For the frosting
4 ounces unsweetened chocolate, chopped
1/4 cup (2 fluid ounces) heavy whipping cream
8 tablespoons (112 g) unsalted butter, at room temperature
3 cups (345 g) confectioners' sugar
1/8 teaspoon kosher salt
Instructions
Preheat your oven to 350°F. Line baking sheets with unbleached parchment and set aside.

In a large bowl, place the flour, xanthan gum, cornstarch, cocoa powder, baking powder, baking soda, salt and sugar, and whisk to combine well. Create a well in the center of the dry ingredients, and add the butter, egg, vanilla and 1/4 teaspoon lukewarm water, mixing to combine after each addition. Add more water by the 1/4 teaspoonful as necessary to ensure that the dough holds together and isn't stiff. Roll the dough between two sheets of unbleached parchment paper into a rectangle a bit less than 1/3-inch thick. Using a 2 1/2-inch round cookie cutter, cut out rounds of dough and place them about 1-inch apart on the prepared baking sheets. Gather and reroll scraps until you have used up all the dough. Place the baking sheets in the freezer for 5 minutes or until the dough is firm.

Remove the baking sheets from the freezer and place in the preheated oven. Bake until firm to the touch, about 12 minutes. Remove from the oven and allow to cool completely on the baking sheets.

While the cookies are cooling, make the frosting. Place the chopped chocolate in a medium-size heat-safe bowl. In a small saucepan, heat the cream until simmering. Pour the cream over the chopped chocolate, allow it to sit until the chocolate begins to melt, mix until melted and smooth and set aside to cool briefly. In the bowl of your stand mixer fitted with the paddle attachment (or a large bowl with a hand mixer), place the butter and salt, and beat on high speed until creamy. Add the confectioners' sugar and salt, mix on low speed until the sugar is incorporated, raise the speed to high and beat until light and fluffy. Reduce the mixer speed to low, and add the chocolate and cream mixture in a slow, steady stream. Beat until well-combined.

Once the cookies are completely cool, pipe or spoon a generous amount of frosting onto each, and sprinkle with any decorations, like nonpareils or sprinkles, immediately. Allow the frosting to set at room temperature or in the refrigerator.

Versions of the recipe were first published on the blog in 2012 and 2013. Recipe, method and photos all updated in 2016.